Russia Planning Rapid Offensive Before Leopard Tanks Reach Battlefield—ISW
Russia is looking to launch a renewed offensive on Ukrainian forces in as little as a week, according to an operational update, ahead of Western main battle tanks arriving in the war-torn country.
Several Ukrainian officials have suggested that Moscow is gearing up to launch a "large-scale decisive offensive in eastern Ukraine in mid-to-late February," the Institute for the Study of War (ISW) think tank said on Monday.
On Sunday, Ukraine's defense minister, Oleksii Reznikov, told a media conference that Ukraine was expecting a new major offensive in the coming weeks because of the "symbolism" of such a move.
A fresh push from Russian forces would likely come before February 24, he said, according to Ukrainska Pravda. This will mark the one-year anniversary since the full-scale invasion began.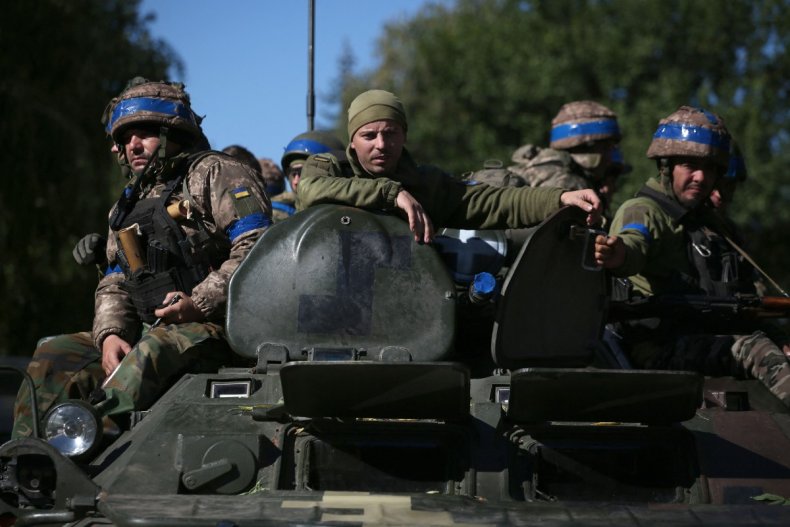 Serhiy Haidai, the governor of the eastern Luhansk region, said on Telegram on Monday that an "enemy offensive can begin at any time after February 15." Later on Monday, he described increased attacks in Luhansk, adding: "This is not a full-scale offensive, but preparation for it."
One anonymous Ukrainian advisor described a similar time frame to the Financial Times and Nataliya Humenyuk, a spokesperson for Ukraine's Southern Operation Command said Moscow is likely concentrating its efforts on the east of Ukraine, rather than the south.
A Russian military blogger, affiliated with the mercenary Wagner Group, said Russian forces had a limited time period to be able to launch any large-scale offensive before it is too difficult to execute, the ISW said.
Other "milblogger" comments also seem to indicate that Russian military commanders appear "to be in a rush to launch the decisive offensive," the ISW added.
This is likely to get ahead of the arrival of new Western military aid, including Leopard 2 main battle tanks, and the "muddy spring season" from around April that "hindered Russian mechanized maneuvers in spring 2022," the think tank argued.
On January 25, German Chancellor Olaf Scholz confirmed that Berlin would send 14 Leopard 2A6 tanks to Ukraine and allow third party countries to also supply Kyiv with the main battle tanks.
President Joe Biden announced that the U.S. would send 31 M1 Abrams tanks, although it is expected to take months for them to arrive on the battlefield and for Ukrainian crews to complete necessary training.
On Monday, the first of Canada's donated Leopard 2 tanks arrived in Poland, ahead of its transportation to Ukraine.
Speaking on January 26, Ukrainian President, Volodymyr Zelensky, said he was "very happy" and "thankful" for the deliveries the sophisticated tanks, which are a significant upgrade from the Soviet-era main battle tanks used by Ukraine's armed forces.
"I would like to say thank you to Germany, to Britain and to the United States that they made this decision," he told Sky News.
"But speaking frankly," he added, "the number of tanks and the delivery time to Ukraine is critical."