Wagner Troops Renew Bakhmut Barrage, Ukraine Forced to Dig In
Ukrainian forces are working to fend off Russian advances around Bakhmut and more than a dozen surrounding settlements, according to an operational update.
Kyiv's forces "fought back the attacks" from Moscow's soldiers in several villages and towns near to the embattled Donetsk city of Bakhmut, the General Staff of the Armed Forces of Ukraine wrote on Facebook on Monday.
Bakhmut has long been the target of heavy fighting and bombardment, and the Institute for the Study of War (ISW) think tank said on Sunday that Russian forces were continuing to conduct ground attacks around Bakhmut.
The ISW pointed to conflicting reports on whether Russian forces were taking control of the city throughout the weekend. The think tank suggested that Russian forces "are likely unable to force an imminent Ukrainian withdrawal from Bakhmut."
Both Russian conventional military forces and the Wagner Group of mercenaries, working on behalf of the Kremlin, are present in Bakhmut.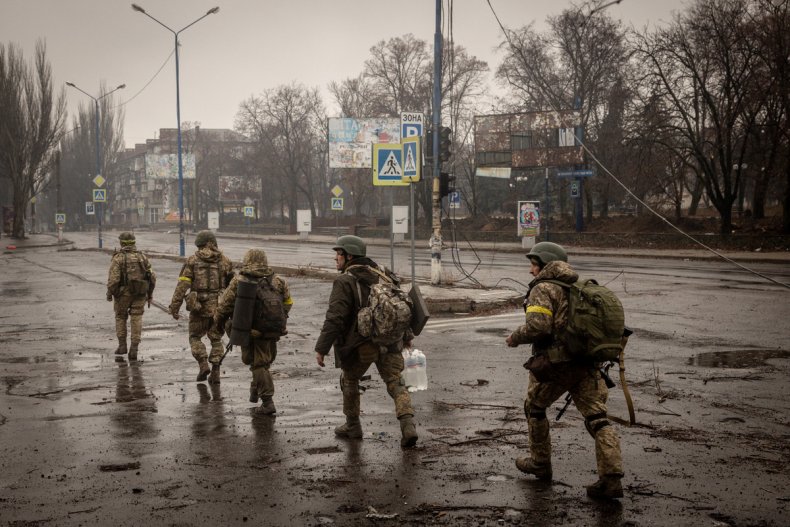 The Ukrainian General Staff added in Monday's update that "there is a complete lack of coordination and interaction" between the Russian military and the members of the shadowy paramilitary outfit.
Wagner Group chief Yevgeny Prigozhin said on Sunday that he was "clarifying" the situation in Bakhmut, but that Ukraine's resistance forces are "not retreating anywhere."
Writing on Telegram, Prigozhin said there were "fierce battles" underway "for every street, every house, every stairwell," but added Kyiv's forces hadn't pulled back from the "northern quarters, or in the south, or in the east."
On February 1, a statement on Telegram attributed to Prigozhin said that "when the city is taken, you will certainly know about it."
In updated posts on Monday, Wagner representatives appeared to say Prigozhin had flown a Soviet-era Su-24 strike aircraft over the north of Bakhmut "to bombard the Armed Forces of Ukraine."
Pavlo Kyrylenko, the head of the Donesk regional administration, wrote on Telegram on Monday that one person, thought to be a civilian, had been killed in Bakhmut on Sunday.
The British defense ministry said on the same day that Russia had made "small advances" around Bakhmut throughout the past week.
Writing in its daily intelligence update, the government department said Wagner forces, along with Russia's military, were looking to surround the regional city. The ministry suggested back in December that Moscow's forces hoped to encircle Bakhmut from the north and south.