Bakhmut Battle Continues as Ukraine Staves Off Russian Attacks
The grinding battle for Bakhmut is continuing to intensify as Ukraine staves off attacks from waves of fresh Russian troops attempting to capture the eastern industrial city.
The Institute for the Study of War (ISW), a think tank based in Washington, noted in its daily assessment of the conflict on Monday that as of February 6, Russian forces continued ground attacks northeast and south of Bakhmut, but still have not encircled the settlement.
While many analysts say the city of Bakhmut holds little military significance, it has remained one of the most intense fighting spots in the war.
Russian forces have been led in Bakhmut by the paramilitary outfit the Wagner Group, which has poured its fighters in the region over the past six months, although Russia is slowly replacing them with conventional forces.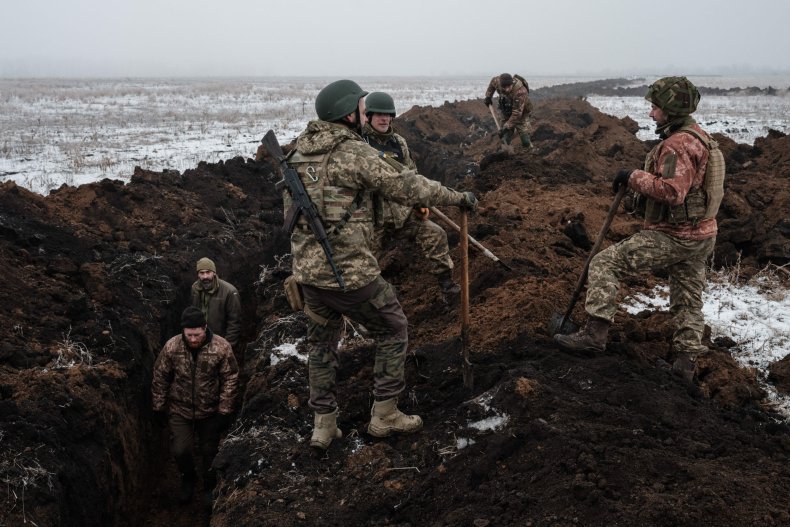 The ISW cited a Ukrainian soldier who is fighting in Bakhmut as saying on February 5 that while Russian forces are continuing efforts to interdict key roads to the west and north of Bakhmut, supply to the city continues.
"The soldier noted that Ukrainian troops are maintaining supply to their grouping in Bakhmut despite constant Russian shelling of critical roads," the think tank said, noting that several Russian sources have also reiterated that Ukrainian troops are not yet withdrawing from the city.
At the same time, Wagner Group financier Yevgeny Prigozhin himself has noted that fierce battles are occurring in Bakhmut and emphasized that Ukrainian troops are not withdrawing from any part of the city.
This indicates that "the Ukrainian command has not yet deemed the threat of encirclement imminent or exigent," the ISW assessed.
Russia has been attempting to capture Bakhmut for at least six months, having failed to make any major gains on the battlefield since the summer of 2022.
In January, Prigozhin gave himself credit for the January capture of Soledar—a small salt-mining town near to Bakhmut. But his forces have been struggling to make any significant advances in Bakhmut itself.
Ukraine's State Border Guard Service said on Telegram Monday that its border guards repelled Russian assault units who attempted to attack their positions on the outskirts of Bakhmut on February 5.
"Under mortar fire and suffering losses, the invaders reached the suburban buildings. Barrage fire from automatic grenade launchers stopped the attack wave. Small enemy groups were killed in close combat," it said.
Denis Yaroslavsky, the commander of the Armed Forces of Ukraine, has said on Ukrainian television that the situation in Bakhmut is "objectively difficult."
"The city is constantly [and] systematically under enemy mortar fire," he said on Monday, noting that some 2,000 civilians remain in the city.
Yaroslavsky said the majority of Russian forces now advancing in Bakhmut are not Wagner Group fighters, but conventional troops.
"The tactics of the Russian Federation now are as follows: they first let thousands of Wagner PMC meat go to slaughter, watch how we work, watch how we counterattack, learn from this. After that, regular troops come out and work for us," he explained.
Newsweek has contacted Russia's foreign ministry for comment.
Do you have a tip on a world news story that Newsweek should be covering? Do you have a question about the Russia-Ukraine war? Let us know via worldnews@newsweek.com.