West 'Cannot Afford' Ukraine Defeat After Weapons Glut: Ex-Security Chief
Eleven months of unprecedented Western military aid to Ukraine means that the United States and its NATO allies "cannot afford" for Russia to win the ongoing war, according to Kyiv's former national security chief.
Oleksandr Danylyuk, who headed Ukraine's National Defense and Security Council under President Volodymyr Zelensky in 2019, told Newsweek that Vladimir Putin's strategic mistakes have left Moscow facing a formidable international coalition, seemingly still intent on Kyiv's success despite the Kremlin's hopes of disunity.
"We are always thinking from the perspective that maybe the West will get tired," said Danylyuk, who has previously also served as a special advisor to the head of Ukraine's Foreign Intelligence Service, and as an adviser to Ukraine's Defense Minister.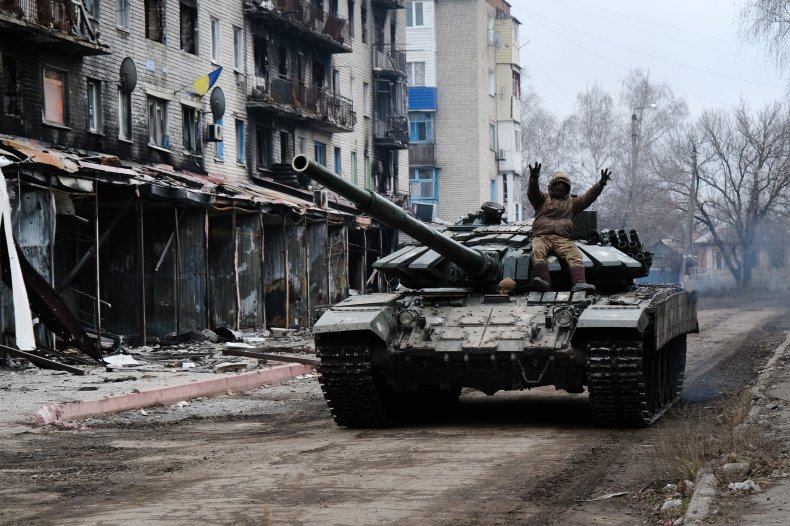 "So far, they're not getting tired, they're actually committing more and more to Ukraine. Russia also expected that the West would get tired, but so far there is no sign of this," he said. "When we compare the resources of the U.S., U.K., Germany, and France to Russia, obviously the West is better off, and isn't risking direct intervention."
"The worst case scenario for the West would be to commit support and then end up losing the war. Because of the political commitment of Western leaders, they cannot afford for Ukraine to lose."
Last week's meeting of the Ukraine Defense Contact Group marked a high point of Western support for Kyiv, even if the representatives of some 50 nations attending ultimately failed to agree on the provision of German-made Leopard 2 main battle tanks to Ukraine.
Still, in the days leading up to the meeting at the American Ramstein air base in Germany, allies committed a wide range of much-needed weapons. Advanced anti-air defenses, modern infantry fighting vehicles, a handful of British Challenger 2 tanks, a wide range of artillery systems and huge stocks of ammunition are all on their way to Ukraine.
Danylyuk said Kyiv will need every weapon it can get—and stressed the need for those not yet provided like the Leopard 2, the MGM-140 Army Tactical Missile System, and Western-made fighter jets—to fend off renewed Russian offensives this year.
Reports in recent days indicate a resurgence of Russian activity on the southern Zaporizhzhia front, which many expect to be the focus of Ukraine's next counter-offensive operation. Ukrainian leaders have warned that Moscow will seek to use its newly-mobilized forces to resume major offensive operations and try to seize momentum back from Ukraine.
Danylyuk said the Kremlin is likely planning to launch new attacks before the recent flood of Western weapons arrives in Ukraine to support Kyiv's expected spring operation.
"I think they will be planning to do this pre-emptive attack, that is the logical thing to do," he said. "They are also watching the developments at Ramstein and other platforms and they make their own conclusions."
"As soon as Russia understands that it is serious, that we will get the weapons, they will try to launch a preemptive attack," Danylyuk predicted. "The good thing for us is that they don't have much time to prepare for it. At the moment, I cannot say that their forces are highly motivated. I think the best thing for us would be for them to launch this attack with unprepared forces."
Danylyuk added: "We will be able to stop these attacks and then launch 'avalanche' attacks, like the one we had in Kharkiv Oblast when we liberated so much territory," referring to the unexpected and humiliating September rout of Russian forces in the northeast of the country.
Moscow is hoping it can bring its mammoth resources to bear in 2023. Hundreds of thousands of troops have already been mobilized to replace those killed and seriously wounded, with rumors of an impending second wave of conscription to come. Meanwhile, Russia's economy is weathering sanctions and pivoting to a long-term war footing.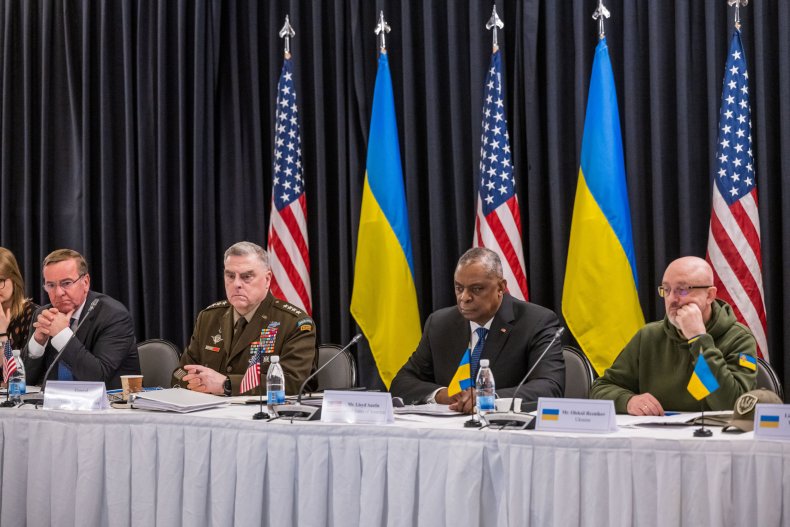 Ukrainian leaders have warned their Western partners that speed is of the essence. A long war will be painful for both sides, but Putin reportedly believes Russia would have the edge in a drawn-out conflict.
"Russia has resources to mobilize itself, to increase production, to mobilize more people," Danylyuk said. "The question here really is whether they are capable of doing that. In theory, of course, they are."
Further battlefield setbacks for the Russians may prove costly, according to Danylyuk.
"It's not only about us preserving momentum, it's about them preserving momentum as well. They need somehow to feed positive news as well. When there is no positive news, I think it will be more and more difficult for them to mobilize people." he said.
"Russia is capable, in theory, of mobilizing itself and producing more," he added. "And I think despite all efforts and the sanctions, they will be able to source all the necessary parts from places like China, India, and so on."
But continued and expanded Western support will level the odds. "The West is not sitting idle," Danylyuk said.