Russian Military Documents Appear to Show Plan for Total Ukraine Occupation
Ukrainian officials say that they have found Russian military documents suggesting a previous plan to seize and occupy all of Ukraine.
Oleksii Sukhachov, director of the Ukrainian State Investigation Bureau, said on Wednesday that officials had discovered the "important" documents in Trostianets, a city located in Ukraine's northeastern Sumy region. The documents allegedly indicate that Russian President Vladimir Putin's so-called "special military operation" into Ukraine, which he initially claimed was intended to "liberate" the country from "Nazis," at one point included plans for a complete takeover.
"The State Investigation Bureau has found important documents belonging to the military personnel of the Armed Forces of the Russian Federation, which make it clear that Russia was preparing to seize the entire territory of Ukraine," Sukhachov said, according to Ukrayinska Pravda. "All this information will be studied and attached to the case files."
The documents were found alongside personal possessions of Russian soldiers during an inspection of what was said to be over 2,000 hectares—or more than 7 square miles—of destroyed city, according to the bureau. Investigators from the bureau surveyed 322 "intentionally damaged" residential buildings and "civilian objects" in Trostianets, which became and early target of the Russian invasion.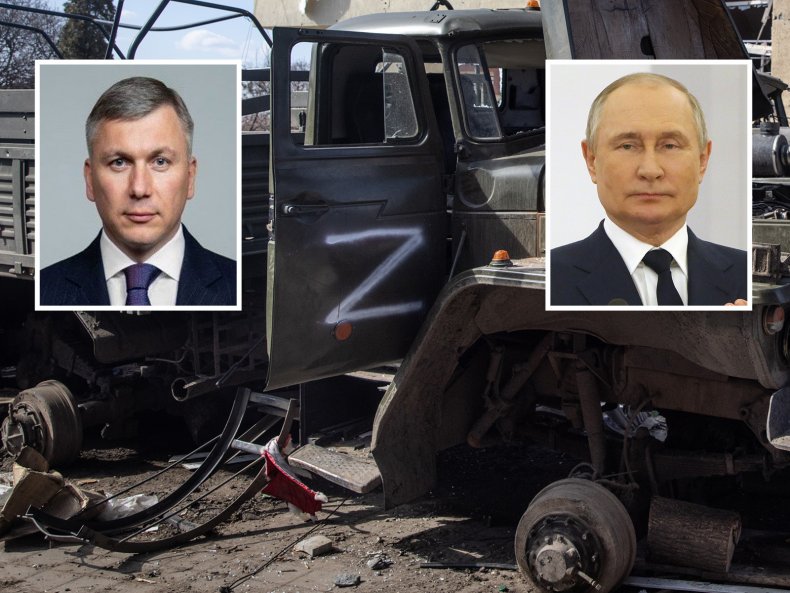 Officials said that evidence of at least 34 incidents involving Russian troops holding, capturing and torturing local residents had been found. Items recovered by investigators included batons, handcuffs, metal pliers and the blood-stained clothing of victims. The bodies of 23 victims, including two children, were also exhumed during the search.
Ukraine's resistance to the Russian attack has been far stronger than most international observers initially expected. When the invasion first began on February 24, three U.S. officials told Newsweek that they expected Kyiv to fall "in just a few days."
Nathan Ruser, a researcher for the independent nonpartisan think tank Australian Strategic Policy Institute, shared multiple maps to Twitter on Tuesday that suggested the Russian army had recently lost control of a significant amount of Ukrainian territory.
On the same day, a tweet from the U.K.'s Ministry of Defense noted that Putin had been unable to announce any war success during his Victory Day speech on Monday, when he instead focused on defending the invasion.
"Russia's underestimation of Ukrainian resistance and its 'best case scenario' planning have led to demonstrable operational failings," the ministry tweeted. "Russia's invasion plan is highly likely to have been based on the mistaken assumption that it would encounter limited resistance and would be able to encircle and bypass population centres rapidly."
Newsweek reached out to the Russian government for comment.