Russian Secret Military Mercenaries Deployed to Venezuela to Protect Maduro From Coup, Capture: Report
As Venezuela's President Nicolas Maduro faces the biggest challenge to his rule since coming to power in 2013, Russia has quite literally come to the strongman leader's defense.
On Friday, Reutersreported that Kremlin-linked military contractors from the Wagner group had traveled to Venezuela in the past several days to provide security for Maduro. At least one source told Reuters that there were around 400 Russian military contractors in the country.
After the head of Venezuela's National Assembly, Juan Guaido, declared himself president of Venezuela on Wednesday, Russian officials have offered their full-throated support for the embattled Maduro. President Donald Trump and other leaders from the European Union and Canada, however, have recognized Guaido as Venezuela's interim president and have backed the position of Venezuelan opposition leaders who say Maduro's presidency is illegitimate.
Maduro's approval rating is currently hovering at around 20 percent, but experts say Russia is unlikely to give up its support for Maduro even if he faces widespread opposition at home. Moscow has continued to support Maduro even as he oversaw a severe economic decline that provoked a humanitarian and regional refugee crisis.
"As the financial situation of the Venezuelan government became precarious due to a lack of oil profits, the Venezuelan leaders have been forced to look to other countries to bring in hard currency, and Russia has been all too eager to support a regime in Caracas that is anti-United States and has taken a number of actions to threaten the interests of not just the U.S. but other countries in the region," Jason Marczak, director of the Adrienne Arsht Latin America Center at the Washington, D.C.-based Atlantic Council, told Newsweek.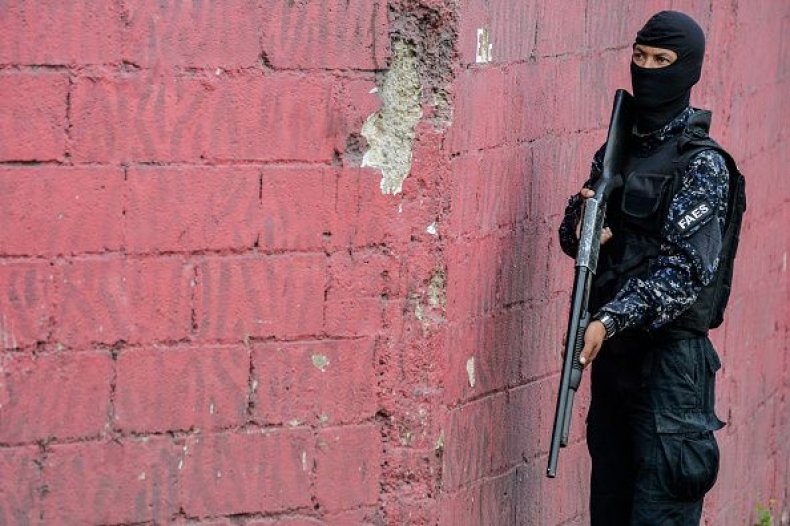 "Russia has gained a strong ally in the Americas as Russia looks to counter the U.S. Also Venezuela has the world's largest oil reserves, so Rosneft has acquired access to oil fields in Venezuela, and Russia supplies arms to Maduro and the military," Marczak added.
Russia has also helped Venezuela develop a cryptocurrency to avoid U.S. sanctions. Maduro announced in February last year that Venezuela would launch an online currency called the petro, which would be backed by the value of one barrel of oil. The move mimicked Moscow's attempt to launch its own digital currency to avoid U.S. sanctions. The petro was widely deemed a desperate and risky attempt to attract foreign currency to the cash-strapped country.
Meanwhile, other Russia-aligned countries such as China and Turkey have also thrown their weight behind Maduro. Researchers at the Atlantic Council who track disinformation online noted that some of the most prominent pro-Maduro Twitter hashtags originated out of Turkey.
The Russian military contractor group Wagner is a secretive organization headed by a Russian lieutenant named Dmitri Utkin who is a member of the Russian military intelligence the GRU. The group has been linked to the death of three Russian journalists who were producing a documentary about Wagner's work in the Central African Republic.
Aside from its incursions into Africa, Wagner is also present in Syria and Ukraine. Russian media claims that Wagner is coordinated by Yevgeniy Prigozhin, a man who has been nicknamed "Putin's chef." Prigozhin allegedly ordered the Russian mercenaries to attack U.S. troops in Syria in February 2018.
Special counsel Robert Mueller indicted Prigozhin, alleging that his St. Petersburg-based troll farm the Internet Research Agency played a major role in Russia's efforts to influence the 2016 presidential election. Both Prigozhin and Utkin are also subject to U.S. sanctions.