Russian Newspaper Slams Putin Ally Over Nuclear War Threats
An editorial in a Russian newspaper has taken aim at the nuclear rhetoric being pushed by former President Dmitry Medvedev in a rare rebuke of officials in a tightly controlled media environment.
The op-ed in Nezavisimaya Gazeta follows a Telegram social media post in which Medvedev, now deputy head of Russia's Security Council, raised the prospect that Moscow may be "forced to use the most formidable weapon against the Ukrainian regime."
Medvedev, an ally of Vladimir Putin who served as Russia's president from 2008 to 2012, said this could happen if Ukraine carried out "large-scale" aggression that threatened the Russian state. Medvedev added that if Moscow's invasion turned nuclear, NATO would not directly intervene because it valued the fate of the alliance more than that of Kyiv.
Nezavisimaya Gazeta's op-ed said it was "not well understood" why Medvedev had gone from being a relative liberal in Moscow to pushing "hard-line rhetoric." One explanation was that the discourse about nuclear weapons was no longer part of the Kremlin's "mind games" but had become "a style of thinking" and part of "a serious agenda" by Moscow.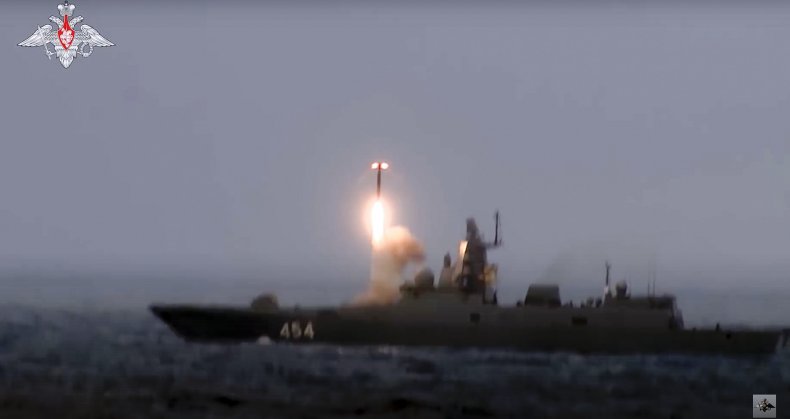 "For a long time, the major powers preferred not to speak directly about their nuclear arsenals, not to remind them, not to frighten the world community," the op-ed said, with Weapons of Mass Destruction (WMD) discussed mostly within the framework of their non-proliferation.
"Now the unspoken taboo has been broken," it said. "the possibility of a nuclear strike or a response to such a strike is directly spoken of."
The op-ed posited that generations of Russians who grew up after the atomic bombings of Hiroshima and Nagasaki to end World War II were reared on the idea that a nuclear strike was "completely unacceptable" but now, "high ranking officials...turn to talking about a nuclear button."
"They do it with ease, as if it were just a new tactical decision and not a systemic leap," the newspaper said, "allowing nuclear conflict in thought and word is a sure step towards allowing it in practice."
This would not just destroy countries and cities but civilizations and it is "hardly possible to protect someone's interests in this way."
Since Vladimir Putin launched his full-scale invasion of Ukraine, Russian state media have been under tight control, and deviating from the Kremlin line about its invasion of Ukraine is all but prohibited.
Russian state television has made frequent threats about Moscow using nuclear weapons on the battlefield and even strikes against western capitals.
However, the op-ed suggests there could be some room to express discontent at the prospect of nuclear weapons, which in any case, the Kremlin has repeatedly said it would not use, despite Medvedev's pronouncements and veiled threats from Putin.
Meanwhile, Pavlo Kyrylenko, the governor of the Donetsk region, warned that Russia would be more likely to launch a nuclear attack following the annexation of four more areas of Ukraine.
Putin will hold a signing ceremony on Friday formally annexing Luhansk and Donetsk in the east, and Zaporizhzhia and Kherson in the south following referendums to join the Russian Federation condemned internationally as a sham.
Newsweek reached out to the Kremlin for comment.