Russian Official Ignores State TV's Nuclear War Threats: 'Fake News'
A Russian official accused the West of spreading "fake news" about Russia's hypothetical use of nuclear weapons amid the war in Ukraine, ignoring numerous instances in which Russian state television has suggested or warned of the use of such weapons in recent months.
Russian Deputy Foreign Minister Sergey Ryabkov made the comments to the Russian state television channel Rossiya-1 on Wednesday when asked about the threat of a confrontation between the West and Russia. He said that Western countries try to "accuse Russia of playing some 'rhetorical game'" about its potential use of nuclear weapons, according to an English translation of his comments on the Russian state-owned news agency TASS.
"These are again inept arguments that have nothing to do with reality," Ryabkov said. "Yet, we have gotten used to the fact that the West has nothing left besides churning out fake news items, or attempting to distort the complex reality in favor of its own geopolitical ideas and preferences. This is the norm of life. This is particularly noticeable in the media."
Though Putin has not definitively said whether he would use nuclear weapons in Ukraine or in response to any perceived provocation by the West, he has suggested that he would respond to threats that take aim at Russia's existence. Russian state television, on the other hand, has left little to the imagination when it comes to its views on using nuclear weapons.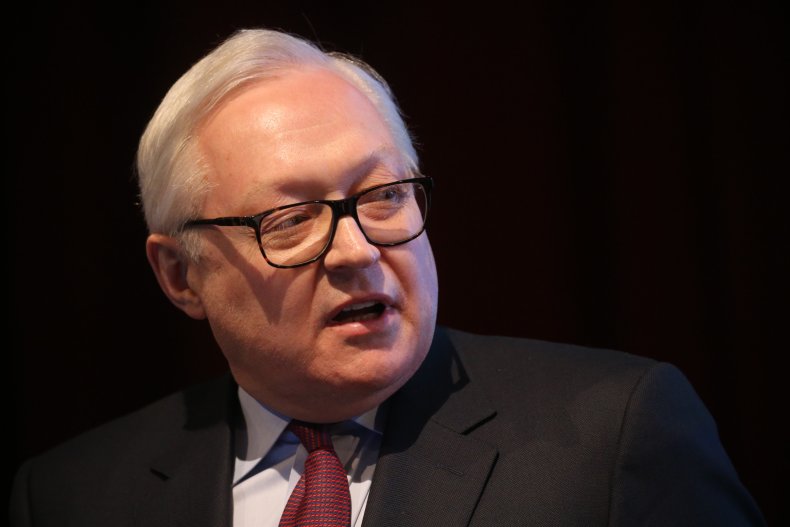 In a clip shared on Twitter Tuesday by a reporter with The Daily Beast, a group of officials on Russian state television argued over how best to show the U.S. the full extent of the threat Russia poses to its national security. The suggestions included threatening the U.S. with nuclear weapons and launching an intercontinental ballistic missile.
Earlier this month, a Russian state television personality warned that continued support from NATO to Ukraine during the war would spur a "massive nuclear strike" that only "mutants" would be able to survive. Though NATO has not sent troops into Ukraine, which could cause the breakout of a larger war against Russia, member states of the military alliance have supplied Ukraine with weapons and other military aid.
Another Russian state television personality said last month that the Russia-Ukraine War will either culminate in a Russian victory or will "end badly for all humanity."
"There's no third option," said Margarita Simonyan, head of state-controlled Russia Today (RT).
In his interview with Rossiya-1, Ryabkov said that Russia has repeatedly warned "U.S.-led pro-Western elements that their hypothetical attempts of direct interference would have far-reaching and grave repercussions."
"Our political leadership, the president, our military leaders, and the foreign minister repeatedly touched on this subject," he said. "I think that the warnings have been heard after all. I hope that they are a factor that is being taken into account."
But Ryabkov did not acknowledge any of the repeated threats of nuclear strikes made on Russian state television since the start of the war in late February.
Newsweek reached out to Russia's Foreign Ministry for comment.