Russian Official Warns Western Diplomats of 'Catastrophic Consequences'
A top Russian official said Thursday that U.S. and NATO involvement in the war in Ukraine could lead to "catastrophic consequences."
Russian Deputy Foreign Minister Sergei Ryabkov made the comment during a speech to diplomats gathered at the United Nations Human Rights Council and Conference on Disarmament session in Geneva, according to the Agence France-Presse (AFP) and Russian news outlets.
RT, a Russian state-operated outlet, wrote that Ryabkov said that "the most acute strategic threat" in the Ukraine conflict comes from U.S. and NATO policies. He added that those policies seek to "further stoke the conflict in Ukraine and [tensions] around it which they deliberately initiated."
In January 2022, the United States, Russia, China, the United Kingdom and France issued a joint statement on the avoidance of war between nations with nuclear weapons. The five countries affirmed "that a nuclear war cannot be won and must never be fought."
According to RT, Ryabkov said that U.S. and NATO policies went against that declaration and could bring about a nuclear standoff.
"Their growing involvement in an armed confrontation is fraught with a direct military clash of nuclear powers with catastrophic consequences," Ryabkov said.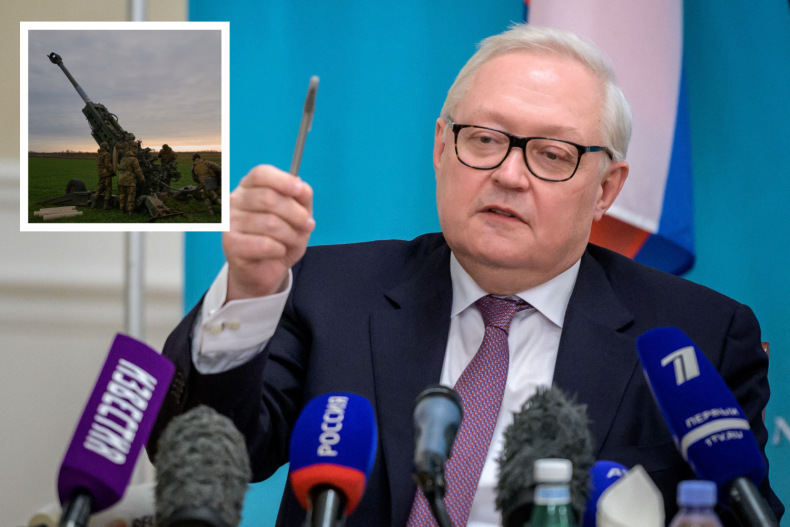 Russian President Vladimir Putin has said that part of the rationale for his invasion of Ukraine on February 24, 2022, was to thwart Western aggression. Various Kremlin officials have also said that the U.S. and Ukraine's other allies have escalated the conflict due to their support of Kyiv.
Western allies have denied such claims, saying the invasion was unprovoked. Over the past year, these nations have called on Putin to end the war. Western officials have also said support for Ukraine is essential for the country's survival and independence.
"If Russia withdraws its troops today, the war is over. Of course, if Ukraine stops fighting today, Ukraine is over." Secretary of State Antony Blinken said during a February 18 press conference.
Ryabkov delivered his Geneva address to a mostly empty chamber as many diplomats reportedly boycotted his appearance to instead partake in a photo opportunity in front of a mural painted in the colors of the Ukrainian flag, the AFP said.
Elsewhere in his speech, Ryabkov charged that Washington must have aided Ukraine with intelligence information during drone attacks on Russian military bases, which Russia has said were carried out by Ukraine.
"Some time ago, Kyiv undertook UAV [unmanned aerial vehicle] attacks on facilities that provide bases for our long-range aviation in Saratov region and also in Ryazan region," Ryabkov said.
He went on, "We know that those attacks would never be possible in the absence of a very deep and sophisticated assistance by the United States to the Ukrainian military, including targeting, of course, intelligence provision and also some technical assistance of other sorts."
This past December, Russia said drone attacks caused explosions at two of its airfields. Ukraine has not taken responsibility for the strikes, and Blinken said on December 6 that the U.S. "neither encouraged nor enabled the Ukrainians to strike inside of Russia."
Newsweek reached out to the Russian Ministry of Foreign Affairs and the U.S. State Department for comment.