Russian Officials 'Panicking' in Face of Ukraine Counteroffensive: ISW
The appeal by Moscow proxies to annex the eastern Ukrainian regions of Luhansk and Donetsk shows how much Kyiv's counteroffensive is worrying Vladimir Putin, according to an assessment by a U.S. think tank.
The Russian president and Kremlin strategists appear to be pondering their next move after Ukrainian forces in Kharkiv in the north-east of the country recaptured more than 3,000 square miles of territory.
The legislatures of the self-proclaimed Donetsk and Luhansk People's Republics (DNR) and (LNR) in the Donbas region are calling for their leaderships to hold a referendum to recognize them as Russian subjects, in a status that aimed to bolster Moscow's military support, said the Institute for the Study of War (ISW).
Kremlin propagandist and RT editor-in-chief Margarita Simonyan wrote on Telegram this would allow Moscow to more easily threaten NATO with retaliatory strikes for Ukrainian counterattacks in a "Crimean scenario," referring to the referendum held after Moscow annexed the peninsula in 2014.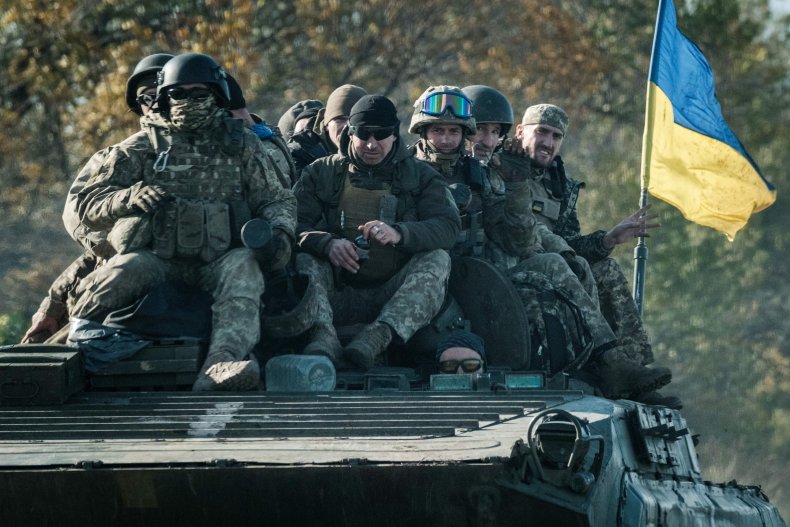 But the Institute for the Study of War (ISW) said on Monday that such a move would be "incoherent" because it would force the Kremlin to demand Ukrainian forces to "unoccupy 'Russian' territory" without the ability to enforce that demand.
Also, recent suspected Ukrainian strikes on targets in Crimea show that Moscow is not automatically able to retaliate against attacks on annexed territory, as Simonyan said.
As such, it was unclear Putin would want "to place himself in such a bind for the dubious benefit of making it easier to threaten NATO or Ukraine with escalation he remains highly unlikely to conduct at this stage," the ISW said.
Such a proposal "suggests that Ukraine's ongoing northern counter-offensive is panicking proxy forces and some Kremlin decision-makers," the analysis said on Monday. It added that Russia "may be running out of ways to try to stop Ukrainian forces as they advance across the Oskil River and closer to Luhansk Oblast."
It was a sentiment echoed by Ukrainian President Volodymyr Zelensky who said on Monday his forces were "stabilizing the situation" in the Kharkiv region and "holding our positions. Firmly. So firmly that the occupiers are panicking tangibly."
Luhansk's governor, Serhiy Haidai, said Ukraine's armed forces were in "complete control" of Bilohorivk, a village close to the eastern city of Lysychansk, which means Russia no longer has full control of the Luhansk region, one of Putin's war aims.
Meanwhile, intercepted documents purportedly left by Russian soldiers of a unit that fled Izium, where Ukrainian authorities say they have uncovered mass graves, include pleas to commanders to dismiss the letters' authors due to "physical and moral fatigue."
The letters published by independent Belarusian media outlet Vot Tak indicate "pervasive morale issues among Russia's most elite units and the degradation of Russia's conventional capabilities against NATO," the ISW said.
Newsweek has contacted Russia's Defense Ministry for comment.