Russian Officials Refusing to Work in Ukraine Despite Double Pay: Ukraine
Russian civil servants are purportedly rejecting pushes to go work in Russian-occupied areas of Ukraine despite being offered double pay to do so, according to Ukrainian defense intelligence.
The Main Intelligence Directorate of Ukraine's Defense Ministry released a new report Monday attributing the intelligence to a "decision" from the administration of the Russian Belgorod region. The directorate alleged that Russian city hall employees, as well as managers and employees of municipal institutions, were being promised a double salary in Russian rubles for a period of potential work in the Russian-backed separatist Donetsk People's Republic (DPR) and Luhansk People's Republic (LPR) in eastern Ukraine.
Additionally, expenses related to business trips and other needs would be compensated for Russian officials who go to work in occupied Ukraine, the report said.
"Promises to increase payments are connected with the categorical reluctance of Russian officials to go to Ukraine due to fears for their own safety," the report read. "However, despite these proposals, Russians continue to massively refuse to go on a dangerous business trip."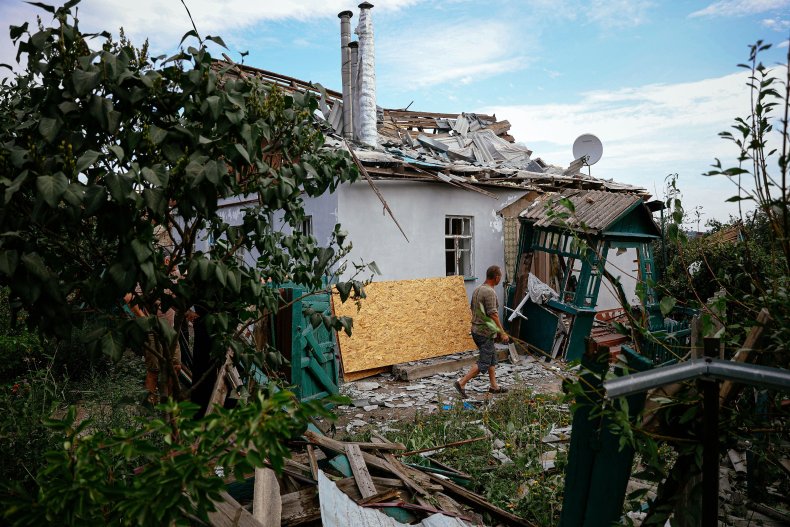 Newsweek was not able to independently verify the report. The Ukrainian defense intelligence directorate and the Kremlin were contacted for confirmation and further comment.
Since Russian President Vladimir Putin launched his war against Ukraine on February 24, Russia's troops have managed to take control of territory in the eastern and southern parts of the country. But Ukraine's intelligence report, if true, indicates that successfully operating the occupied territories may be its own battle as Russia purportedly struggles to entice staff to travel to the war-torn country.
The report said that the Belgorod region's leadership is tasked with supporting Russia's regime in two settlements, Bilokurakin and Troitsky, in Ukraine's occupied Luhansk region.
"Starting in September, schools are planned to be opened there with the participation of teachers from Belgorod," it said, according to an English translation. "Kindergarten teachers from the Russian Federation also go there."
Russia is reportedly planning to hold referendums in some occupied areas of Ukraine, but the legitimacy of such votes was not immediately clear. Ukrainian President Volodymyr Zelensky mentioned and criticized the potential referendums in an August 7 address.
"In this summer time, every week there are more and more reports that the occupiers are preparing for pseudo-referendums in the occupied areas of the south of our country," Zelensky said. "I want to say a very simple thing: everyone who helps the occupiers in any way realize their intention will be held accountable. They will bear responsibility to Ukraine."
"The position of our state remains the same: we will not give up anything of ours, and if the occupiers follow the path of these pseudo-referendums, they will close for themselves any possibility of negotiations with Ukraine and the free world, which the Russian side will definitely need in a certain moment," he added.