Russian Oligarchs Battle To Keep Their Yachts As Multiple Vessels Seized
Russian oligarchs are reportedly scrambling to stash their yachts in safe ports after multiple vessels were seized following Russia's invasion of Ukraine.
The U.S and its allies launched a task force to "identify, hunt down, and freeze the assets of sanctioned Russian companies and oligarchs."
"We are coming for your ill-begotten gains," President Joe Biden told oligarchs during his State of the Union address, saying yachts, luxury homes and private jets would be targeted.
As authorities in France and Germany seized yachts owned by Russians, several others owned by Russians have headed to the Maldives and Montenegro, CNBC first reported.
According to data from Marine Traffic, the 459-foot-long Ocean Victory, a superyacht owned by Viktor Rashnikov, is currently anchored in the Maldives, after setting sail from from Dubai.
It is moored just a few miles away from Nirvana, an 288-foot-long vessel owned by one of Russia's richest men, Vladimir Potanin.
Meanwhile, Vagit Alekperov, the president of Russian energy company Lukoil, ordered his 229-foot yacht Galactica Super Nova to sail from Barcelona to Montenegro, according to Fortune.
It comes as German authorities reportedly seized Russian billionaire Alisher Usmanov's superyacht, worth almost $600 million, in a Hamburg shipyard.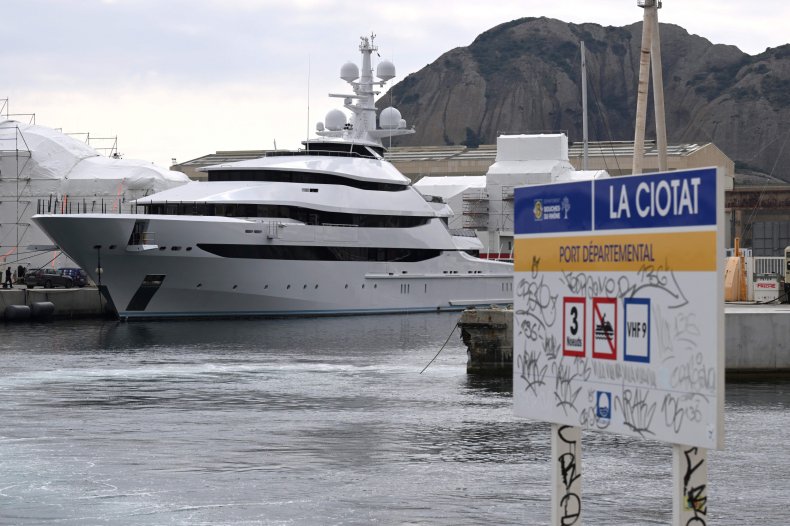 And on Thursday, France's finance minister Bruno Le Maire said authorities had seized a yacht belonging to Rosneft boss Igor Sechin as it tried to leave the Mediterranean port of La Ciotat.
The Amore Vero arrived in La Ciotat on January 3 and was due to stay there until April 1 to undergo repairs, the finance ministry said in a statement.
But customs officers on Wednesday noted the yacht was "making arrangements to sail off urgently, without the repair works being completed."
"Thank you to the French customs officers who enforce the sanctions of the European Union against those close to the Russian authorities," Le Maire wrote in a tweet.
The finance ministry said the yacht belongs to a company whose main shareholder is Sechin.
Monaco-based Imperial Yachts said the yacht was owned by a firm called Kazimo, which appointed them as managers of the vessel in 2018. "The individual you name is not connected with either Kazimo nor the yacht," a representative for Imperial Yachts told Reuters, when asked about Sechin.
On Wednesday, the U.S. Department of Justice announced the launch of a federal task force, dubbed "Task Force KleptoCapture," that is dedicated to enforcing sanctions, export restrictions and economic countermeasures imposed in response to Russia's attack.
"The Justice Department will use all of its authorities to seize the assets of individuals and entities who violate these sanctions," Attorney General Merrick Garland said in a statement. "We will leave no stone unturned in our efforts to investigate, arrest, and prosecute those whose criminal acts enable the Russian government to continue this unjust war."