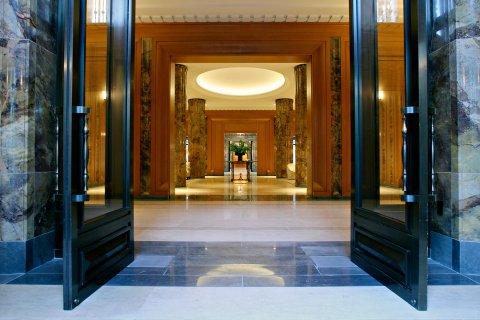 Throughout the late 2000s and early 2010s, the growing presence of fabulously wealthy Russian oligarchs in high-end housing markets such as Manhattan, Miami and Los Angeles was the real estate industry's worst kept secret. Although many eschewed publicity, they weren't hard to spot. They often arrived by private jet and pulled up to luxury buildings around town in cars that cost more than most two-family homes, along with entourages of bodyguards, assistants and traveling maids. They inked purchases so eye-popping that some of them inevitably made the newspapers.
Those headlines may soon come back to haunt them. During his State of the Union address earlier this month, President Joe Biden announced his intention to "go after the crimes of Russian oligarchs," and to "find and seize their yachts, their luxury apartments, their private jets."
"Tonight, I say to the Russian oligarchs and corrupt leaders who built billions of dollars off this violent regime, no more," Biden said. "We're coming for your ill-gotten gains."
Soon after, the U.S. Justice Department announced the creation of a Task Force KleptoCapture, a new unit that promised to "use every tool to freeze and seize" the assets of any Russian the Biden Administration places on a sanctions list.
It's a good bet they will begin by trying to find the owners of what some have called the "world's most expensive safe deposit boxes"—scores of high-end condos in luxury towers that have sprung up in big U.S. cities in recent years and constitute some of the juiciest forfeiture targets. But identifying those assets won't be easy. Anti-corruption and law enforcement experts have been warning for decades that American money-laundering and financial-disclosure laws—particularly in real estate—have failed to keep pace with those of many European nations, increasingly making the U.S. a mecca for those looking to hide their money in plain sight.
The properties in question, which are often worth tens of millions of dollars, are especially appealing to those who reside in unstable countries or have reason to fear their assets may someday be confiscated elsewhere. Due to the relative stability of the U.S. political system and the U.S. dollar, these foreign property buyers can be reasonably assured these assets will retain their value. The U.S. legal system can usually be counted on to protect the rights of property owners. And the origin of the money used to buy the assets can be easily obscured by funneling the money through a labyrinth of trusts and LLCs. Thanks to aggressive lobbying by the real estate industry and other special interests, in many U.S. states it's often easier to obscure one's identity by setting up an anonymous shell company than to get a driver's license.
"There's a bunch of this money in condos," says Gary Kalman, U.S. director of Transparency International, a nonprofit that monitors corruption. "But much of it they're never going to be able to figure out. And that should be a scary wakeup call to Congress to close these gaps as soon as they can. It's a problem."
Nowhere is the influence and presence of this Russian money more evident—and more maddeningly difficult to pin down—than in Manhattan. (That's the subject of my new book, The New Kings of New York, Renegades, Moguls, Gamblers and the Remaking of the World's Most Famous Skyline.) Over the last decade, the city's developers have put up a series of supertall, jagged, toothpick towers at the bottom of Central Park, designed and marketed to the world's .01 percent, a tiny group in which Russian oligarchs are disproportionately represented.
These condos, which can fetch upwards of $200 million each and cast shadows over the park's beloved Great Lawn, have helped drive Manhattan land prices into the stratosphere and contributed to a populist anti-development backlash that in 2019 derailed the city's long sought efforts to lure Amazon to build a second headquarters.
Is it fair to blame the Russians? Jonathan Miller, one of the city's leading real estate appraisers, makes a compelling case. He attributes the frenzy of building at the foot of the park to a single transaction: the 2011 sale of former Citigroup chairman Sandy Weill's 7,000-square-foot park-facing penthouse at 15 Central Park West to the Russian fertilizer king Dmitry Rybolovlev, who agreed to pay $88 million—double the amount Weill had paid just a few years before. Rybolovlev, who owns the professional soccer club AS Monaco FC and in 2008 purchased Donald Trump's Palm Beach mansion for $95 million, put the condo in the name of his college-age daughter. He was soon sued by his estranged wife, Elena, who accused him of shielding his assets from her by spending freely using trusts linked to their children.
Whatever his motivations, the Rybolovlev transaction changed the city's real estate landscape.
"That number was so shocking," Miller told me. "It looked like he just picked a number out of the air. That sale triggered a new thinking in New York—it was the catalyst that lit the fuse."
The price came to $12,571 per square foot for real estate that, just seven years earlier, many had been skeptical could fetch even $2,000 a square foot. It sent the amount developers were willing to pay for real estate around the park, and other desirable areas of Manhattan, sky high. To make back the money required to win bidding for coveted Central Park-facing real estate, developers created more products designed to appeal to the world's ultrarich.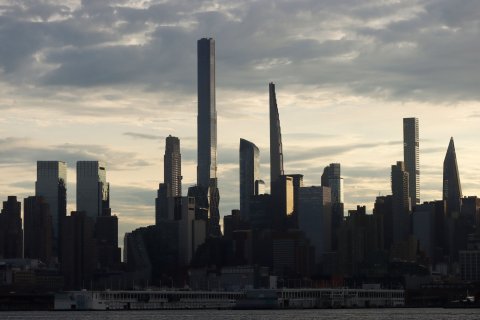 In the years following that sale, ultra-luxury real estate, costing $10 million and up, would account for roughly 50 percent of all new construction, according to Miller. Fertilized by Rybolovlev's free-spending ways, eight needle-thin towers sprouted like gleaming, metallic weeds along a stretch of West 57th street south of Central Park, an area that would come to be known as Billionaires' Row.
These apartments offered all the luxury money could buy, with towering Cathedral ceilings, herringbone floors, corridors sheathed in silk wall coverings, marble bathroom fixtures, steam showers, handcrafted kitchen cabinetry, built in wine cells, and floor to ceiling glass walls with king of the World views of the Park and Manhattan South.
The greatest amenity these opulent dwellings offered to Russian oligarchs, and others looking for a safe place to park their cash, was anonymity.
Unlike the tony Upper East Side co-ops that have traditionally housed Manhattan's financial elite, these towering monstrosities lacked the nosy, societal gatekeepers of traditional co-op boards—who had famously turned their noses up at a wide array of celebrities from Richard Nixon to Barbra Streisand. Every new building on Billionaires' Row was a condominium. And there was only a single requirement for admission and membership in these towers—money, heaps of it.
"Temporary" exemptions
The nation's gaping real estate disclosure loopholes are well known to policymakers in Washington. In the wake of the 9-11 World Trade Center attacks, the Senate Permanent Subcommittee on Investigations held hearings aimed at choking off the flow of illicit funds to terrorists by closing money laundering loopholes. The panel found that as much as half of the estimated $1 trillion in criminal proceeds laundered worldwide each year went through American financial institutions, much of it through private banks where "a corporate culture of secrecy and lax controls" were guiding principles. They highlighted figures ranging from the brother of former Mexican president Carlos Salinas, Raul, accused of links to narcotics cartels, Gabon's president Omar Bongo, and Asif Ali Zardari, the widower of former Pakistani Prime Minister Benazir Bhutto, and helped shape the most sweeping anti-money laundering legislation passed in a generation, pushed through as part of the USA Patriot Act.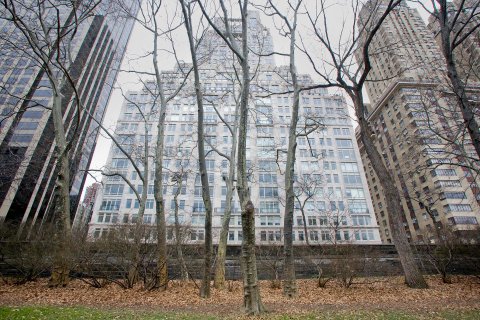 The legislation required a long list of industries to conduct some level of due diligence on their clients, including buyers of jewelry, hedge funds -- and real estate. It stipulated that those involved in selling such assets be required to analyze risk, know their clients and take steps to avoid handling dirty money. But the U.S. Treasury Department was overwhelmed by all the rules that had to be issued, recalls Elise Bean, who was the committee's chief counsel at the time.
"Everybody was covered," Bean recalls. "But then the regulators said 'we have to cover so many people, we can't do them all at once!"
In the end, the regulators decided to place their initial emphasis on increasing effort to monitor the flow of money through banks and securities firms and agreed to grant a temporary exemption to realtors (along with investment advisors and those selling yachts and aircraft).
"Here it is, 20 years later," Bean said recently. "And they've still got that 'temporary' exemption."
These exemptions coincided with a significant spike in the number of Russian buyers interested in U.S. real estate. Though Russians first began eyeing Manhattan real estate shortly after the breakup of the Soviet Union in the 1990s, it wasn't until 2000 or 2001 that the group began buying in great numbers—numbers that rose significantly in the late 2000s and early 2010s, according to Edward Mermelstein, a Ukrainian-born former real estate attorney who, when I first spoke with him back in 2012, told me he had handled more than 500 deals for Russians.
"The Russians that are coming to New York — especially in the last couple of years — are typically high-profile individuals," said Mermelstein at the time. (He now serves as head of the New York City Mayor's Office for International Affairs.) "The types of properties they are looking at reflect that. They jump from one building to the next just because it's the flavor of the year."
Though most preferred anonymity, the ones that made it in the media were memorable characters. Andrey Vavilov, a former deputy finance minister and hedge-fund magnate, survived a car bombing in a Kremlin parking lot. In the late 1990s, Russian federal prosecutors investigated whether he embezzled $230 million during the sale of MiG fighter jets to India (he denied the accusations and the case was eventually closed when the statute of limitations expired). In 2008, he sued Plaza Hotel developer Elad Properties, complaining that two penthouses in the famous Manhattan property he'd committed to buy for a cool $53.5 million had been ruined by narrow windows that "make the space more closely resemble an attic than a luxury penthouse living room." (He later acquired a condo at Time Warner Center more to his liking: a $37.5 million, 8,275 square feet penthouse with his-and-her master bathrooms and 360-degree city views).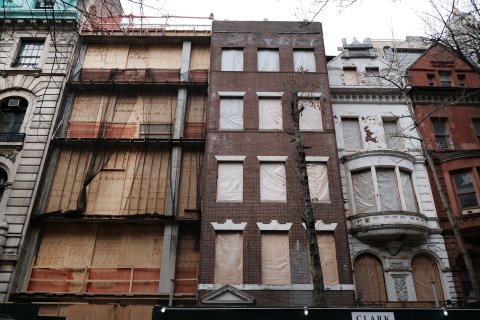 Vavilov's former neighbor at the Plaza, Russian entertainment mogul Igor Krutoy, gained prominence when he set the record for most expensive condo (before Rybolobeleva smashed it), ponying up more than $48 million for a 6,000-square foot apartment in the building. He later shelled out another $23.9 million for a mansion on Southampton's tony Gin Lane, telling his brokers he planned to demolish it and build a new one.
Perhaps the most prominent oligarch known to have purchased real estate in the city was Roman Abramovich, a close Putin associate, who built a fortune by gaining control of natural resources, like oil and aluminum, after the collapse of the Soviet Union, owns the high-profile Premier League soccer team Chelsea, a $600 million yacht and is reportedly worth at least $12 billion. He acquired six Upper East Side properties, including a block of townhouses being combined into a mega mansion, worth an estimated $92.3 million.
Catering to these mercurial buyers, say those who do so for a living, requires a unique skillset, an emphasis on discretion, and the willingness to adhere to a different set of rules.
"Normally with buyers in New York, you need to know up front what's in their bank, in terms of liquid cash, but I would never dream of asking that question," Dominique Punnett, a half-Russian broker at Stribling & Associates, told me of one Russian client who was looking for an ultra-high-end apartment at the height of the boom. The buyer had made it clear to Punnett, without explicitly saying so, that "price is not an issue."
"They come from a very different culture, and you have to understand that," explains Victoria Shtainer, a Russian-born broker with Douglas Elliman, who began meeting Russian clients through family and friends back in 2004 and by 2008 had sold them properties at many of the city's most expensive addresses, including 15 Central Park West and the Time Warner Center, the two New York City developments that foreshadowed the arrival nearby of Billionaires' Row.
Russia, she pointed out, is "not the land of opportunity — it's cutthroat."
Those who made it to the top and come here to spend the spoils, she added, expect VIP service, don't suffer fools and "are always on the defensive."
"They don't talk about who and what they are," Shtainer said. "You have to win their trust. You find that information out later rather than sooner."
If you find out at all. Many Russian buyers hid behind lawyers, underlings or the private bankers who managed their wealth. At the very least, these advisors played a key role in many of these transactions, serving as the gatekeepers for real estate agents looking to meet them—which many did, particularly during down markets.
Nikki Field, who headed a Sotheby's brokerage team dealing with the city's toniest product, was in Moscow within three weeks of the Lehman Brothers collapse in 2008. At the time, she recalled, the phone in her office was ringing off the hook with calls from wealthy clients suddenly out of a job or in financial distress, and eager to offload second homes or, if they worked at recently shuttered Lehman or Bear Stearns, sell their Manhattan properties. Field, a trim, charismatic former Pam Am flight attendant and marketing executive, quickly realized she had a problem. With credit frozen and billionaires hoarding bars of gold in preparation for the possible collapse of the western banking system, no one in the city was buying.
"Now we had to take these properties that they were leaving and sell them quickly," she said.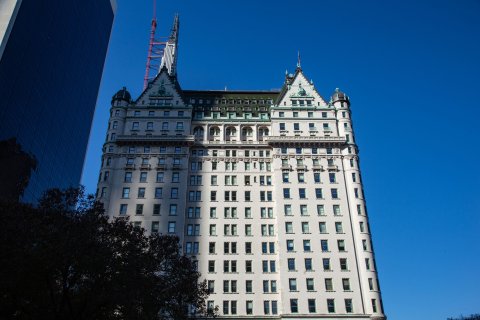 By the first week of October, a little more than two weeks after Lehman, Field was on the road. As she did in the other cities she would subsequently visit—she continued onto Hong Kong, Beijing, Shanghai, Wenzhou, Singapore and Taiwan—Fields relied on her New York office to ready the ground with phone calls or emails to local contacts at Sotheby affiliates (Sotheby's had just opened a Moscow branch). She also relied on her own local banking connections to secure meetings with private wealth advisors, who could take real estate opportunities to their, often secretive, clientele.
"They're moving a lot of money to the U.S.," she told me. "They get the comfort level of being able to say to their client, 'I know you're going to buy in Miami or New York, or Washington. We're introducing you to a Sotheby's agent that will give you all the information and help you. They have our confidence and endorsement."
Ironically, the biggest challenge interested Russian buyers faced, and the ones most likely to cause headaches for those financial advisors, was not U.S. regulatory requirements, which were relatively few, but the ones they faced from their home country.
"In order to move money out of Russia, you need to prove that taxes have been paid on those funds. And it's not a country where people like to pay taxes," Mermelstein said, adding that he only dealt with clients who actually paid their taxes.
"Problems occur when you have made a lot of money in Russia and now you are interested in investing out of Russia because you have to disclose you have made the money and paid taxes on it," he explained. "It's a question of whether they want to do that because you are exposing yourself to prying eyes."
By contrast in the U.S., under current laws, notes Transparency International's Kalman, real estate agents "are under no obligation to ask the right questions and could basically file paperwork and buy and sell property without asking those questions."
True owners
In 2015, The New York Times splashed the first story in a multipart investigation entitled "Towers of Secrecy," across the front-page of its Sunday newspaper. The series cast a spotlight on the gaping holes in disclosure requirements and their potential to facilitate money laundering by linking sales in New York City's tony Time Warner Center to a number of shady foreign buyers hiding behind LLCs. These included a gregarious Malaysian socialite and Hollywood producer named Jho Low. He would later be accused of looting the national treasury and laundering money on behalf the Prime Minister's son (some of which Low used to finance the movie "the Wolf of Wall Street" and to party with Paris Hilton in Las Vegas and St. Tropez). Others singled out included a Colombian politician subsequently jailed for corruption, and a Russian oligarch named Vitaly Malkin, who had been involved in a 1996 deal to restructure the government of Angola's $5 billion debt to Russia in an arrangement. That deal, the Times noted, "has become a symbol of official plundering in Africa among anti-corruption advocates."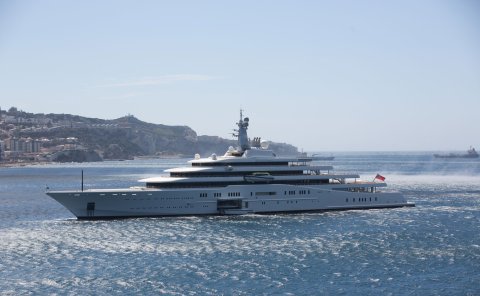 A few months later, the Treasury's Financial Crime Enforcement Network (FinCEN), instituted what it called a "Geographic Targeting Order," a temporary measure focused on new anonymous, all-cash transactions exceeding $3 million in Manhattan and $1 million in Miami. The new rules sounded promising on paper. They required title insurance companies to identify the true owners of American shell companies involved in the transactions. In one analysis subsequently conducted by FinCEN, the agency revealed that more than 30 percent of the newly identified true owners had previously been flagged in "suspicious-activity reports" filed by banks and other financial service providers for transactions they suspected might be related to money laundering or other illicit activities. FinCEN has since expanded the GTOs to multiple parts of the U.S. and have extended them each time they expire.
In practice, however, most money laundering experts say that the GTOs are littered with loopholes. For one, anyone who wishes to avoid the requirements can simply forgo title insurance. Transparency International's Kalman says the GTOs are largely viewed by many in law enforcement as having been useful for "information gathering purposes—to see what they could get back and learn how they might be improved" in the future.
The opportunity to apply those lessons may now be at hand. In 2021, after decades of inaction, Congress finally passed new legislation aimed at strengthening American money laundering laws. Among other things, the new laws will require all entities formed in the U.S. to disclose their beneficial owners and they instruct FinCEN to create a non-public registry for regulators, law enforcement and some financial institutions.
Soon after taking office, Biden announced his intention to make fighting money laundering a priority and unveiled a comprehensive anti-corruption strategy for the federal government. In the document, he explicitly mentioned real estate, indicating he was considering provisions that would extend the bank secrecy act to those involved in real estate closings, which would require them to have an anti-money laundering program. Earlier this year, his administration put out a document soliciting comment from the public and interested industry figures. It is expected to issue new rules aimed at addressing the problems in the months ahead. Bean, the former Senate investigator, is hopeful.
"For the first time we would set up a system to find out who's behind all of these entities that we're creating and unleashing on the rest of the world, when we have no idea who's behind them," she says. "There are loopholes in the new legislation, there's no doubt about that. But it would still cover an awful lot of entities. And once you get it into place, you can start working on all the exemptions and whittle them down."
None of this, however, is likely to be of much help to Biden's Task Force KleptoCapture, which will have a limited toolset with which to root out assets owned by sanctioned oligarchs.
Transparency International's Kalman notes that their best hope lies in targeting the small minority oligarchs who bought property long before Russia invaded Crimea and the U.S. first raised the specter of sanctions and "were not all that interested in hiding their identity."
"A number of them—not many—gave money to charitable organizations and were trying to build their reputations in the United States," he says.
If that fails? "You hate to rely on this, but not every criminal is a genius and sometimes people just file things," he says. "So you can hope that somebody did something sloppy. But I think there's a bunch of this money and a bunch of these condos that they're never going be able to figure out. I think finding these assets is going be very difficult."
One obvious target is Roman Abramovich, who was sanctioned late last week by British authorities. He appeared at the top of a list of sanction targets proposed last year by imprisoned anti-corruption activist Alexei Navalny, who labeled the oligarch "one of the key enablers and beneficiaries of Russian kleptocracy." Others have called him "Putin's banker." By some accounts, Abramovic, who was also close to former President Boris Yeltsin, was the first to recommend the leader appoint Putin to succeed him.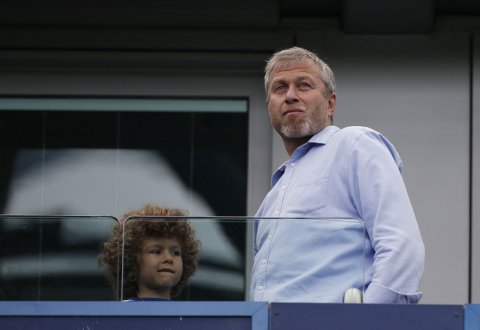 But even going after his assets won't be so easy. He signed over the deeds to most if not all of his Manhattan properties to his former wife, Dasha Zhukova, in 2018 – an action which some suggest Biden's investigators are likely to discover is unusually common among those whose assets are at risk.
"The UK action will pressure the US to follow suit," Ross Delston, an independent anti-money laundering expert and former banking regulator, says, but notes: "You're allowed to give gifts. Our laws protect private property."
So, if the U.S. attempts to go after the New York properties, "then the question would be is it derived from a criminal offense? And was (Zhukova) a knowing beneficiary? Was she involved in the underlying crime if there was one?
"Establishing that's all very hard to do," he said. "And I guarantee you she's going to have the best lawyers money can buy."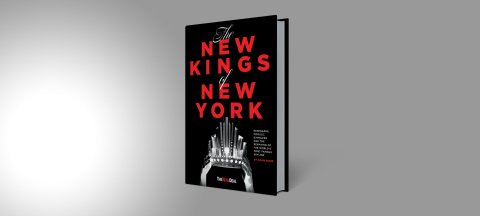 Adapted from The New Kings of New York, Renegades, Moguls, Gamblers and the Remaking of the World's Most Famous Skyline. (The Real Deal, April 12, 2022)
Correction (3/14/2022, 11:57 EST) : The spelling of Barbra Streisand's first name was incorrect in an earlier version of this article. It has been fixed.