Russian Olympian Kamila Valieva Tests Positive for Banned Drug, Report Says
Russian figure skater Kamila Valieva, the 15-year-old Olympic phenom who helped to bring her nation a gold medal, tested positive for a banned substance prior to the 2022 Winter Games in Beijing, according to a report from the Associated Press.
Valieva tested positive for a heart medication in a sample obtained before she competed in the 2022 European Figure Skating Championships in Estonia, the AP said. The drug, trimetazidine, is a heart medication reportedly used as a metabolic agent to treat chest pain and vertigo.
However, the World Anti-Doping Agency (WADA) added trimetazidine to its list of banned substances in 2014 after a study showed that it could potentially enhance athleticism. A report from The Guardian, however, stated that "the substance is not a drug that would aid performance."
Valieva has already helped Russia capture its third Olympic gold medal in a row in women's figure skating. The revelation of a positive test could potentially derail her chances to keep her hardware, or even participate in further events.
Russia, which competes in the games as the Russian Olympic Committee (ROC), previously won the gold medal in the team figure skating event. The golden performance was led by Valieva, who made history by becoming the first woman to land a quadruple jump at an Olympic Games.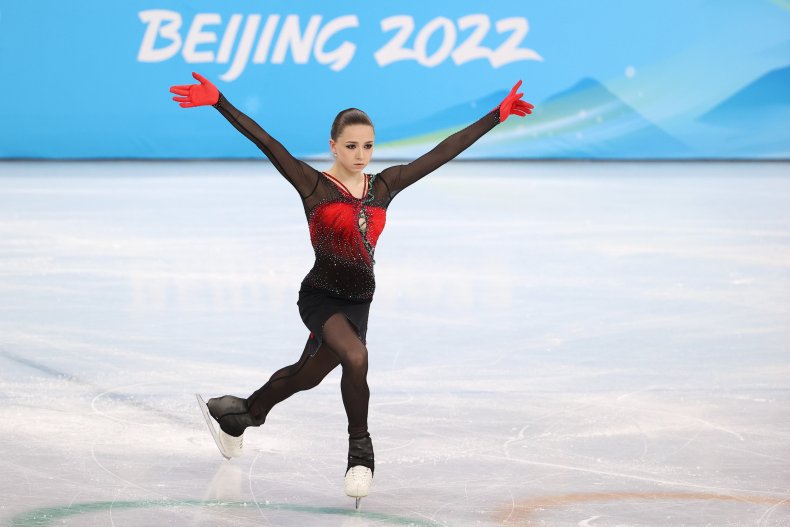 However, in the aftermath of Valieva's reported positive test, the medal ceremony for the ROC team was delayed indefinitely due to what the International Olympic Committee (IOC) called an unexplained "legal issue." It is unclear when or if the ceremony will take place.
If the ROC's gold medal was invalidated, it would move the U.S. into the top position. However, experts stated that if this were to occur, the Russians would likely appeal the decision.
"Everyone is doing absolutely everything that the situation can be resolved as soon as possible," IOC spokesperson Mark Adams said.
Russian officials were similarly quiet on the issue. When asked about Valieva by local reporters, Kremlin spokesperson Dmitry Peskov responded, "Let's, for the sake of understanding, wait for some explanations either from our sports officials or from the IOC."
Whether or not Valieva will participate in the upcoming singles event remains unknown. She was reportedly one of four ROC skaters that was not on the ice for practice Wednesday morning, but was seen skating later that day.
Across social media, reactions to the news of Valieva's positive test were mixed.
Emerson Lotzia Jr., a co-host with DraftKings, tweeted that Russia should face consequences for allowing Valieva to use the substance.
"Just ban 'em. All of 'em," Lotzia tweeted.
John Bridges, the former executive editor of the Austin-American Statesman, echoed a similar sentiment.
"Russian Olympic Committee doing just-plain Russia things," Bridges tweeted.
Despite some backlash from the news, others were quick to come to Valieva's defense.
Russian journalist Vasily Konov reportedly wrote on Russian social media, "There is no doping in the conventional sense. No! This cardiac drug has no impact on...performance, now leave Kamila in peace."
Valieva herself also reportedly liked an Instagram post from former Russian figure skater and gold medal winner Tatiana Volosozhar, which supported the 15-year-old.
The post called for Russians to start using the hashtag #Iwillneverbelieve in order to stand in solidarity with Valieva.
The International Skating Union (ISU) told Newsweek that it "cannot disclose any information about any possible Anti-Doping rule violation."
Newsweek reached out to the ROC for comment.
Updated 02/10/2022, 4:16 p.m. ET: This story has been updated with a comment from the International Skating Union.
Updated 02/09/2022, 11:00 p.m. ET: This story has been updated with additional information.