Unknown Doping Issue Halts Winter Olympics Medal Ceremony After Russia Wins Gold
An Olympic medal ceremony scheduled for Tuesday was canceled at the last minute due to an emerging "legal issue," the International Olympic Committee (IOC) said at a press briefing in Beijing.
Athletes from Russia, the United States and Japan are yet to receive their medals for Monday's figure skating team event, a final dominated by 15-year-old Russian Olympic Committee (ROC) sensation Kamila Valieva.
The delay involves the ROC and the international doping authorities regarding a drug test conducted before Beijing 2022, Olympic news website Inside the Games has reported.
Earlier, IOC spokesperson Mark Adams told reporters in the Chinese capital that the Olympic governing body was in "legal consultation" with the International Skating Union (ISU).
"You'll appreciate, because there's legal implications involved in this, I can't really talk very much more about it at this stage," he said. "We will give you an update during the day, and it will become clearer."
USA Today, citing an anonymous source, said the incident related to "the positive drug test of one member of the gold-medal-winning Russian team," although the name of the athlete was not disclosed.
Valieva's team includes Mark Kondratiuk, 18; Anastasia Mishina, 20; Aleksandr Galliamov, 22; Victoria Sinitsina, 26; and Nikita Katsalapov, 30.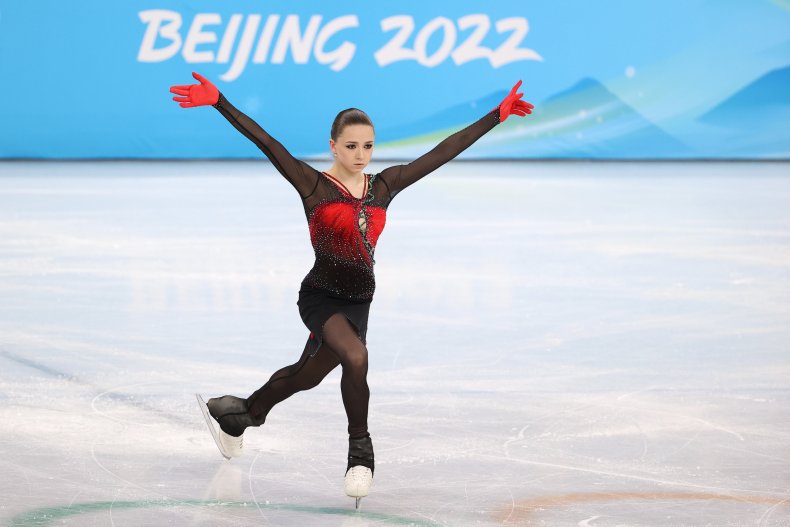 At the figure skating event held on Day 3 of the Winter Games, Kazan-born Valieva made history by becoming the first woman to land a quadruple jump at the Olympics—a feat she performed twice during her routine. Her display helped the ROC to a first-place finish with 74 points, while Team USA recorded its best-ever 65 points and Japan earned 63.
However, the athletes could leave Beijing without their medals if the indefinite delay continues and they fly out before their placements and ceremony are finalized. Adams said the IOC was "doing absolutely everything" to resolve the situation as quickly as possible. "I'm afraid, as you know, legal issues can sometimes drag on," he said.
Russia is serving a ban from major sporting competitions after being found guilty of state-sponsored doping in December 2019. It was originally banned for four years, but this was reduced to two years after an appeal to the Court of Arbitration for Sport.
Athletes who are able to prove they are clean and free of links to the decade-long cover-up have been allowed to compete under a neutral banner since the Pyeongchang 2018 Winter Olympics.
Having competed as the Olympic Athletes from Russia—or OAR—in South Korea, Russian athletes then took part in the postponed Tokyo Games in the summer of 2021 as the ROC, a designation retained for participants in Beijing.
Per IOC rules, the athletes are prohibited from displaying symbols of their country, including its flag and national anthem, throughout the games. Officially, even the full title "Russian Olympic Committee" is banned—only the acronym ROC is allowed.
Russia currently sits eighth in the Olympic medal table with two gold. At the top are Norway and Sweden, each with four gold, and the Netherlands in third with three.
Correction 02/11/22, 10:20 a.m. ET: This article was updated to reflect that Russia's doping ban was reduced from four years to two years in 2020 by the Court of Arbitration for Sport.