Russian Priest Beats Ukrainian Priest With Cross at Soldier's Funeral
A Russian priest interrupted the funeral service of a dead Ukrainian soldier last week, beating another priest from the Orthodox Church of Ukraine with a cross because of his comments about Russian President Vladimir Putin.
Video from the July 22 funeral of soldier Oleksandr Zinivy shows a Russian priest, identified as Mykhailo Vasylyuk by local activist Serhiy Timkov, rushing the podium where a Ukrainian priest, identified as Anatoliy Dudko, delivered remarks.
Dudko reportedly said that Putin unleashed the war in Ukraine in part to protect believers of the Russian Orthodox Church, which prompted Vasylyuk to approach him.
Footage shows the Russian priest trying to rip the cross from Dudko's neck before striking him with the cross in his hand. The fight was broken up by members of the military, who pulled Vasylyuk away. The funeral service then continued.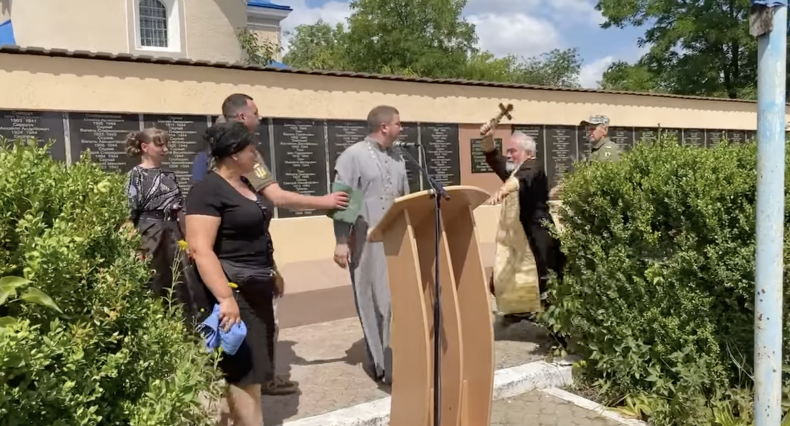 Local outlets reported that Zinivy died near Mykolaiv in the city of Vinnytsia.
Timkov, who detailed the altercation on Facebook, said Dudko suffered minor injuries as a result.
"In my opinion, [the incident] crosses all possible and impossible limits of arrogance," the activist wrote. "Based on the above, I further ask law enforcement authorities to ensure order at any gatherings where there is a conflict."
Ukrainian outlet Vinbazar.com reported that Vinnytsia police were notified of the incident and that authorities have opened up a criminal investigation into the matter.
In June, Mykhailo Podolyak, a senior adviser to Ukrainian President Volodymyr Zelensky, told the BBC that his country's military casualties were between 100 to 200 per day. A week earlier, Zelensky said the daily deaths ranged closer between 60 to 100.
On Wednesday, White House officials estimated that more than 75,000 Russian soldiers have been killed or wounded in the ongoing war in Ukraine—roughly half of the troops initially sent to invade the country in February. In its lead-up to the invasion, Russia had reportedly amassed 150,000 soldiers along its border with Ukraine.
The Kremlin, on the other hand, has remained mum about the number of casualties. Families of Russian soldiers have protested the lack of communication from government departments, who they said have provided mixed information as to whether their loved ones are still alive on the battlefields in Ukraine.
This week, the Russian language Telegram channel Mozhem Obyasnit reported that postal requests for Russians to sign up to volunteer for the war were being ignored, and that "it seems that plans to mobilize for the war are being frustrated."
While Putin has refrained from announcing mass mobilization, the latest report follows a series that have alleged Moscow is pushing to enroll more people in its military.