Russia Requests One Volunteer From Every Village Join New Battalion
Russia is reportedly engaging in a covert mobilization program for the Ukraine war in which potential troops are contacted on their cell phones and villages are tasked with finding volunteers.
The Russian language Telegram social media channel Mozhem Obyasnit ("We Can Explain"), which reports critical news about Russia and its war effort, published accounts from some of its readers about the tactics that the country's authorities are purportedly employing. The channel told its 134,000 subscribers that postal requests for Russians to sign up were being ignored and that "it seems that plans to mobilize for the war are being frustrated."
A man named Alexey from the city of Voronezh said he refused a request to take an army contract during a call from a military enlistment office. He said it was likely his phone number had been obtained from the labor exchange where he had recently been.
An unnamed Moscow man said he was contacted by a "military commissar" who said that he could earn 300,000 roubles a month ($5,000) if he joined a battalion.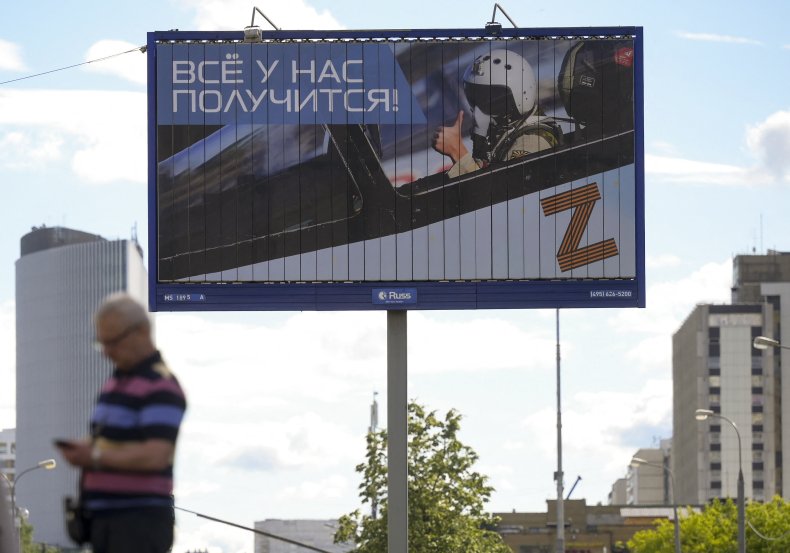 A woman from Tyumen named Elena said that recruiters came to her two sons before they took college exams and tried to talk them into signing up with the message, "you have a chance to repay your debt to your homeland" as well as "earn good money." Both refused.
A man named Andrey from the Lipetsk region said that the administration in each village needed to find at least one "volunteer," according to Mozhem Obyasnit. Andrey said that "age is not important" and that he knew of a 40-year-old who agreed to sign up "but the administration was not so lucky" because before he could do so, "he got drunk, fell off his bike and broke his leg."
The anecdotes have not been independently verified. Newsweek reached out to the Russian defense ministry for comment.
Although so far Vladimir Putin has refrained from announcing widespread mobilization, there are a number of reports of a push to enroll in the Russian military, which has suffered huge losses since the war started on February 24.
In May, Newsweek reported how vacancies for contracted military personnel have been posted on civilian job search sites HeadHunter and SuperJob, and Russian government institutions are recruiting staff for "wartime mobilization specialists."
But Russian recruits are reportedly being rushed to the front line with little to no training. Meanwhile, there is also a reluctance among many to join Russia's forces, following Molotov cocktail attacks on military enlistment offices throughout the country, including in the Voronezh, Sverdlovsk and Ivanovo regions.
It comes amid mounting losses for Putin's forces, with Ukraine saying this week around 40,000 Russian troops had been killed. Western countries say the number is much lower, while Moscow has not updated its official tally of dead servicemen from the 1,351 figure it released in March.