Russian Priests Get Camouflage Robes to Wear on the Battlefield
The metaphysical and the military in Russia could get a lot closer after the unveiling of camouflage robes and green candles designed for Russian Orthodox priests accompanying troops into battle.
The priestly garments, intended to blend in with fatigues, were displayed at the Russian Armed Forces Cathedral, a military-themed church in Patriot Park, Moscow. The church opened in June this year to commemorate the 75th anniversary of the end of World War Two, known in Russia as the Great Patriotic War.
During an international military-technical forum at the church, mannequins showed off dark green cassocks and headwear. Orthodox crosses instead of buttonholes display the first name and church rank of the wearer.
Russian news outlet OTR reported that the uniform was designed "for the work of priests during field trips and exercises."
Priests had started wearing khaki-colored vestments in 2016 against the backdrop of a military confrontation in the Donbass.
The Russian Orthodox Church, which has been used by President Vladimir Putin to foster patriotism, is playing an increasingly greater role in the country's military. It has developed closer ties with the ministry of defense, exemplified by a church dedicated to military valor.
There is a regular liturgical presence in martial matters, with priests blessing troops and sprinkling holy water on all kinds of hardware, from submarines to ballistic missiles.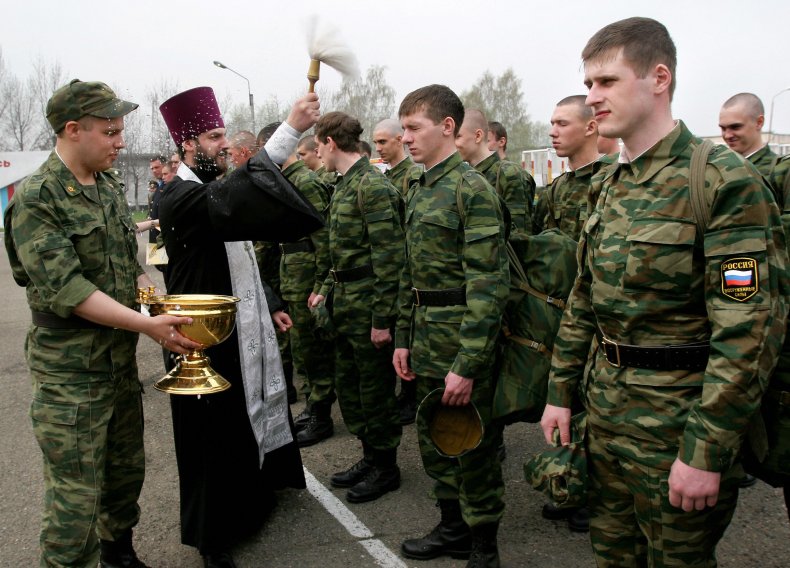 Russia's defense ministry even got Orthodox priests to help negotiate with Ukrainian military personnel during Moscow's annexation of Crimea in 2014.
However, it appears that there is a limit. Earlier this year, the Orthodox Church suggested in guidelines that priests should refrain from blessing weapons of mass destruction that can kill large numbers of people. According to the Moscow branch of the church, such violence "is not reflected in the tradition of the Orthodox Church."
The prominence of the Orthodox Church in Russian society has come at the expense of other faiths, according to activist groups who warn that followers of other beliefs considered to be foreign are being persecuted. There have been a number of recent high-profile arrests and convictions this year of Jehovah's Witnesses.
The executive director of Human Rights Without Frontiers International (HRWF), Willie Fautré told Newsweek last month that such religions are considered to be a threat to Russian identity and the moves were "in line with spiritual security invented by Putin at the beginning of this century."
However, the head of the church's department that works with the armed forces told Interfax that the latest military robes had not yet received the clearance from the church. Such a matter needed to "be done in accordance with the charter of the Russian Orthodox Church" Bishop Stephen said, adding, "this has not been done."
Newsweek has contacted Russia's defence ministry for comment.