Russian Reserves Refusing to Sign Contracts Amid Counteroffensive: Ukraine
The Ukrainian government says demoralized Russian support officers are refusing to sign up to fight against a weekslong counteroffensive by Ukrainian forces that has reportedly pushed Russian forces back to the countries' shared border.
In a Tuesday Facebook post, the General Staff of the Armed Forces of Ukraine claimed the Russian military's current shortage of tactical commanders is due to the refusal of reserve officers to sign contracts to return to the front amid the Ukrainian military's reported battlefield success.
"The level of moral and psychological condition of the opponent's personal composition continues to decrease," the general staff said in the statement. "The practice of self-calling is increasingly widespread among the occupiers to get treatment in a medical facility and avoid participating in combat in Ukraine. A large part of the military personnel do not return to the military units after the end of their vacation period."
Late Monday night, Ukrainian President Volodymyr Zelensky said in his daily address that his country's forces had retaken more than 2,300 square miles of occupied territory from Russia, which previously occupied an estimated one-fifth of Ukrainian soil. On Sunday, Ukrainian defenses destroyed enemy munitions stores in Kherson in a successful attack on Russian war-making infrastructure in the region. And in recent weeks, military analysts have speculated Russian stores of munitions are beginning to dwindle amid crushing economic sanctions from the West and reports of mass desertions and anemic recruiting to shore up their frontline numbers.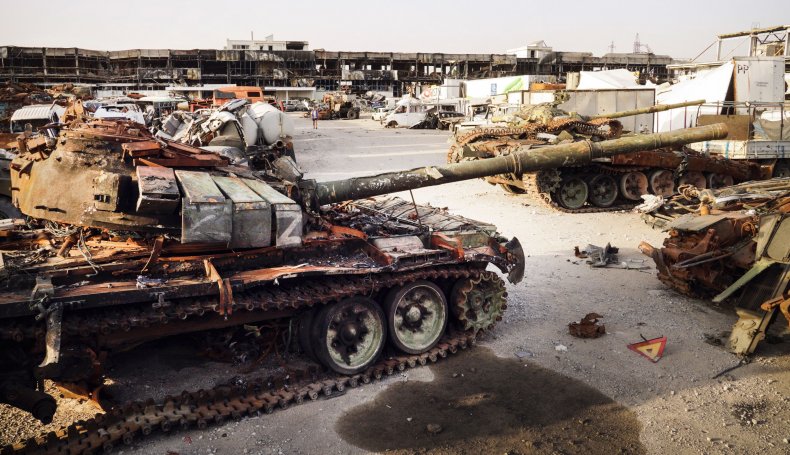 Russian forces reportedly launched dozens of air and missile strikes in nine regions across the country where they had perviously withdrawn troops, officials in Kyiv said. In other regions, the Ukrainian government says its troops' counteroffensive has remained at a stalemate with Russian forces.
Meanwhile, Russian state media reported over the weekend that Russian troops previously stationed in Balakleya and Izium—which Ukrainian forces liberated over the weekend, per Zelensky—have since regrouped and been redeployed in the direction of Donetsk, where Russian forces are now concentrating significant manpower in an attempt to hold the region.
Zelensky had previously rejected proposals by the Russian government to broker a peace deal amid the counteroffensive, saying over the weekend that Russian leadership had failed to offer a tenable proposal.
Retired U.S. General Mark Hertling said Tuesday that while Ukrainian gains were significant, he still had lingering concerns with the country's pace in the region, saying there were "some elements of Ukraine's force that can't 'keep up' with the front line fighters."