Russian Soldier Holds Up Grenades to Ukrainians, Threatens to Raze City
A video circulating on social media appears to show a Russian soldier holding up grenades after threatening to raze a city in northeastern Ukraine unless it surrenders.
A "Russian delegation" came to Konotop, a city in the Sumy region, "to 'negotiate' (i.e. threatened to level the city)," Michael Horowitz, an analyst with security consultancy Le Beck International, wrote alongside the clip on Twitter.
The clip shows a Russian soldier walk through a crowd of people outside the Konotop City Council building while holding two hand grenades in the air.
Ukrainians are heard cursing at the soldiers, telling them to "get out" and shouting "glory to Ukraine."
According to video posted on social media, Konotop's mayor, Artem Semenikhin, told his city's residents that Russian troops had delivered an ultimatum: to surrender or the city would be destroyed with artillery strikes.
"They offered us a choice: either we surrender, or they destroy the place with their artillery," he said.
He asked those assembled if they wanted to fight for Konotop.
"Who is for standing up and fighting?" Semenikhin said, with most shouting back that they wanted to fight. "We need to decide now, because their missiles are aimed at us"
A post on the Telegram channel of the Sumy Regional Military Administration said: "In Konotop, the occupiers came to 'negotiate' with the city authorities. According to the mayor Artem Semenikhin, the Russian military arrived and told him to give the city under their control. They threatened to bring artillery to the city. They were sent to the right place. At the same time, hostile vehicles were surrounded by citizens shouting 'Shame!'"
The incident came as Russia escalated its attacks on urban areas in Ukraine as the war entered a seventh day.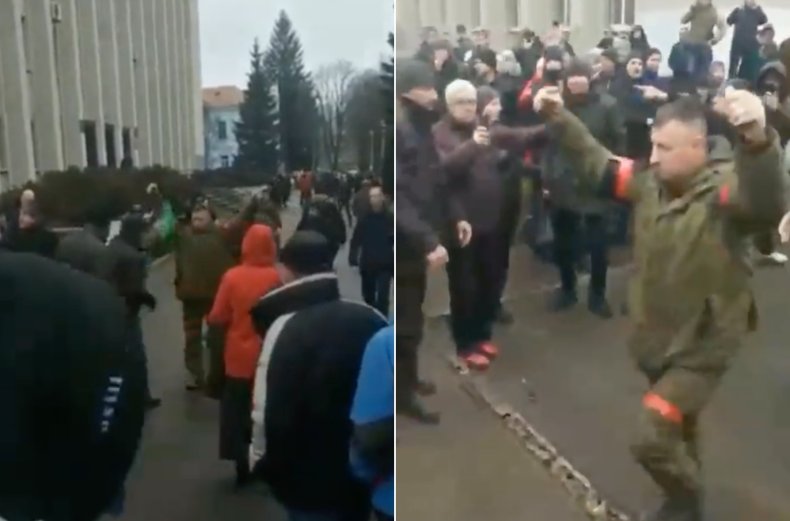 On Wednesday, a 40-mile-long convoy of Russian military vehicles was about 15 miles north of the capital Kyiv, where the main TV tower was taken out in an attack on Tuesday that killed five civilians.
Ukraine's President Volodymyr Zelensky decried Russia's escalation of attacks on crowded cities after a blast struck a central square in Kharkiv, the country's second city.
"Nobody will forgive. Nobody will forget," he said, calling the attack "frank, undisguised terror" and a war crime.
In a video posted on Facebook on Wednesday, Zelensky said Russian troops have orders to "erase our country" but praised the people of Ukraine.
"Today Ukrainians are a symbol of invincibility," he said. "A symbol that people in any country can become the best people on earth at any moment."
Follow our live blog for updates on the Russia-Ukraine conflict
Update 3/2/22, 8:12 a.m. ET: This article has been updated with additional information.
Update 3/2/22, 5:40 a.m. ET: This article has been updated with a picture.