Russian Soldiers Are Attempting Sham Marriages to Escape War
Russian troops have attempted to arrange fake marriages in an effort to escape the war in Ukraine, according to an intercepted phone call released Tuesday by Ukraine's intelligence agency.
The Security Service of Ukraine (SBU) has alleged that a Russian soldier was caught discussing an attempt to organize a false marriage proposal as an alternative to fighting. The report comes as Russian troops are thought to be increasingly frustrated after more than 100 days of war.
"The Russian occupiers are trying to make sham marriages to escape the war," the SBU wrote on Facebook, according to an English translation. "This is evidenced by telephone conversations of Russian invaders, which were intercepted by the SBU."
In the wiretapped conversation, the SBU said the soldier can be heard describing how he asked his friend to "go to the registry office and file a marriage proposal," in order to avoid the war. However, the soldier was told that his plan would not work, and noted that the Russian military has significantly cracked down on defectors in recent weeks.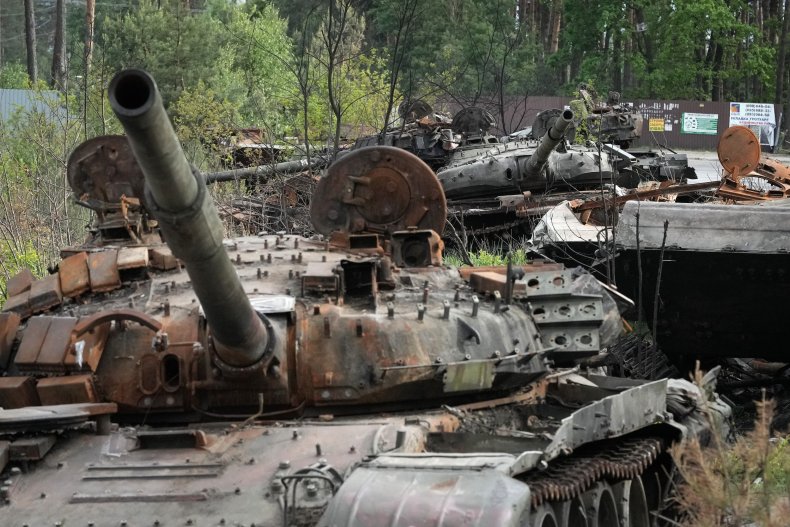 "Due to the significant number of defectors in the army of racists, control was significantly strengthened. So now they can return home only in three cases: injury, death of the occupier or a close relative," the SBU added on Facebook. "The option with a fictitious marriage, no matter how original it was, did not work for the soldiers."
The SBU report does not mark the first time Russian troops have reportedly tried to get out of the war. Last month, Ukrainian officials said that a Russian commander went as far as shooting himself in the leg to avoid going to the frontlines.
In other cases, Russian soldiers have reportedly stopped taking orders and have even sabotaged their own war vehicles. Frustrated troops have been heard stating that the war is likely to drag on for several months, and that Russia will continue to face significant losses.
"This won't end anytime soon. What the hell do I need this for? At 20 years old...I'm not at all interested in Ukraine. I need to come back and resign," one angry soldier said in an intercepted phone call last month, Newsweek previously reported.
The Russian military has been struggling with an overall shortage of troops and low morale among those who are still fighting. Ukrainian officials have estimated that some 30,000 Russian troops have already died, while at least a dozen of the nation's top military generals have been killed.
"There are good reasons for low morale on the Russian side. The war isn't going well. Its purpose is unclear, and fighting a war against a neighbor—with whom it's easy to communicate—is psychologically burdensome to soldiers," Michael Kimmage, a Catholic University history professor and former member of the secretary's policy planning staff at the State Department, told Newsweek last month.

Newsweek reached out to Russia's foreign ministry for comment.