Putin Is 100 Days Into Ukraine War and Cracks in His Support Are Showing
Multiple signs have emerged in recent weeks that suggest Russian President Vladimir Putin is losing support for the war he launched in Ukraine 100 days ago.
The war, as well as Putin personally, is believed to remain popular among the general citizenry of Russia, though some experts are skeptical of opinion polls from a country where disinformation and propaganda are rampant.
What is known, however, is that some influential and powerful Russian officials have stepped down since the military campaign began on February 24. The most recently reported resignation came from Valentin Yumashev, who left his role as a Kremlin adviser in April. Yumashev, the son-in-law of former Russian President Boris Yeltsin, has been described as a key player in Putin's rise to power after giving him his first job in the Kremlin in 1997.
About a month into the war, Anatoly Chubais, another former top Yeltsin aide who acted as Putin's envoy to international organizations concerned about sustainable development, resigned. Other Russian officials who have stepped down since the war began include Boris Bondarev, Russia's diplomat to the United Nations, and Arkady Dvorkovich, a former Russian deputy prime minister who quit his position as chairman of the state-sponsored Skolkovo Foundation.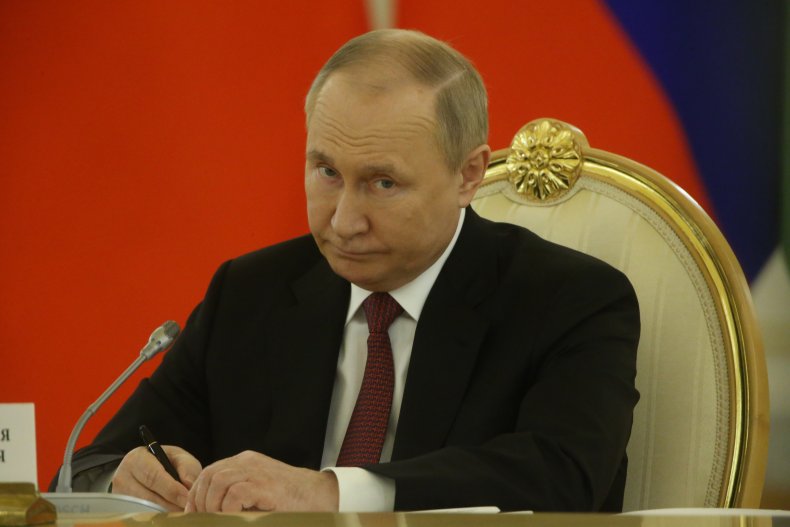 Another indication of problems for Putin was a report from the independent Russian news outlet Meduza in May that said a growing number of Russia's elite are dissatisfied with him, including some who reportedly still support his invasion of Ukraine.
As Northwestern University political science professor William Reno recently told Newsweek, support for the war is beginning to wane after Ukraine made Russia's military appear "a lot weaker than it was before February 24."
"At some point, important Russians may question whether it was worth it," Reno said.
Meduza, a Russian- and English-language independent news website based in Latvia, reported on May 24 about mounting pessimism among members of Russia's elite. Since Putin ordered his military to attack Ukraine, the overall opinion of the president and the war has changed a few times, according to the outlet.
The site stated that Putin's initial decision to go to war "horrified most Kremlin and ministerial officials, who feared that Western sanctions would ruin their careers and maybe even their lives." Soon, though, patriotism brought some pro-war sentiment, but that dissipated by April. Now, many prominent figures want the war over.
Some of the shift in opinion in regards to Putin could have come from the large strain put on the Russian people by the unprecedented sanctions imposed on Russia by the United States and other nations for the invasion. The country experienced slower than expected economic growth in the first quarter of 2022, and the United Kingdom's government in April predicted Russia would soon plunge into its deepest recession since the collapse of the Soviet Union.
"There's probably almost nobody who's happy with Putin," Meduza quoted an unnamed source close to the Kremlin as saying. "Businesspeople and many Cabinet members are unhappy that the president started this war without thinking through the scale of the sanctions. Normal life under these sanctions is impossible."
Russian state media outlets continue pushing the Kremlin's message that its "special military operation," as the Kremlin refers to the invasion, is a just cause. The Kremlin has made a variety of claims to justify the war, including that it is fighting neo-Nazis in Ukraine as well as that it is a target of a "hybrid war" by the West.
However, even Russia's state media has experienced some dissent. High-profile journalists, such as TV anchors Zhanna Agalakova and Lila Gildeyeva, have quit their jobs in protest. Their resignations came after Martina Ovsyannikova, who was an editor on Kremlin-controlled Channel One, made international news when she disrupted a live news program to protest the war.
Even with such examples of fading support, many experts don't expect Putin to cease his attacks on Ukraine.
Putin "has staked his entire political career on this war," Michael Kimmage, a history professor at Catholic University and former member of the secretary's policy planning staff at the State Department, recently told Newsweek. "How it goes will determine Russia's future one way or another."
Kimmage added, "In my assessment, he will do everything possible to maneuver for advantage and to seek gain within the existing conditions. He will continue to prosecute the war."
Newsweek reached out to the Russian Foreign Ministry for comment.