Russians Deserting During Mobilization Face 10 Years in Jail—Bill Proposal
Russian soldiers who desert during wartime could face up to 10 years in jail under sweeping legislation passed by politicians on Tuesday.
The bill, passed by the Russian parliament's lower house, the State Duma, includes amendments to the Criminal Code that would also introduce punishments for looting, destruction of weapons and military equipment, and unauthorized surrender.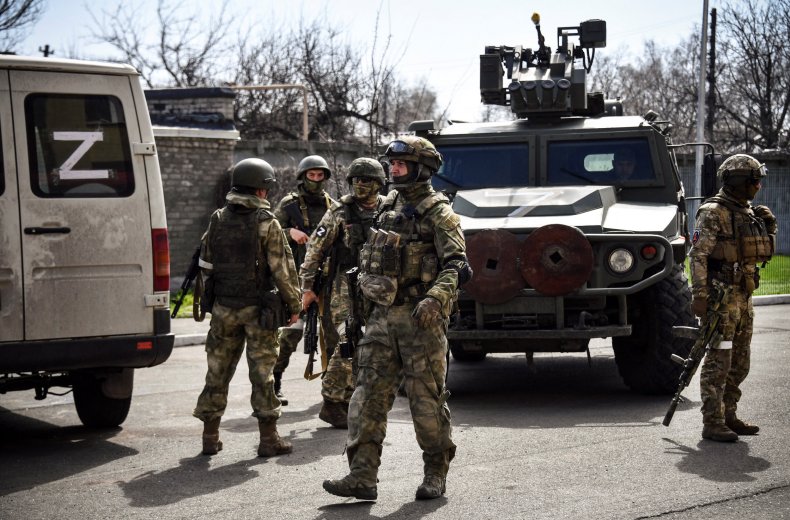 The legislation is authored by deputies Dmitry Vyatkin, Ernest Valeev, Vasily Piskarev, Andrey Kartapolov, Leonid Slutsky, Oleg Nilov, Vladislav Davankov, Viktor Sobolev, Nikolai Kolomeytsev, as well as senators Andrey Klishas and Olga Kovitidi.
It introduces the concepts of "mobilization, martial law and wartime" previously not mentioned in the criminal code.
According to the draft law, the unauthorized abandonment of a unit during a period of mobilization and martial law will result in a severe punishment.
Those who are absent for a period of two to 10 days will face up to five years in prison—up from one year. Russian soldiers who are absent for a period of 10 days to one month could face a jail term of seven years—up from three years. Meanwhile, leaving a unit for more than a month will result in a punishment of up to 10 years, up from five.
Soldiers who disobey orders from superiors during wartime, or refuse to fight, will also face, according to the legislation, two to three years behind bars, and in more severe cases, three to 10 years.
The legislation also proposes a 10-year sentence for military-industrial sector workers who fail to hit delivery targets and deadlines on state orders.
Human-rights lawyer Pavel Chikov said on his Telegram channel that the State Duma voted for the legislation unanimously.
The bill still needs to be passed by Russia's upper house of parliament, the Federation Council, before being sent to Russian President Vladimir Putin's desk to be signed into law.
A source in the Federation Council told Russia's state-run news outlet RIA Novosti that the upper house will consider the bill at a meeting on Wednesday.
It comes amid growing discussion about whether Russia should introduce martial law and declare a general mobilization to boost the size of its army.
Since Putin declared what he has called a "special military operation" in Ukraine on February 24, he has been hesitant to announce war mobilization—a move that would allow the president to draft conscripts and mobilize reserve forces under Russian law.
Last week, a member of Russia's State Duma Security Committee called for Putin to declare mass mobilization in the country.
"Without full mobilization, transfer to a military footing, including the economy, we will not achieve the proper results," State Duma member Mikhail Sheremet said during an interview with URA.RU. "I am talking about the fact that today the society should be consolidated as much as possible and purposeful for victory."
Others have suggested however that mobilization would be damaging to Russia and Putin.
Vadym Skibitsky, deputy head of Ukraine's military intelligence told the Kyiv Post in an interview published Monday that it would signal that Russia has not been able to fulfill all the tasks it declared, that Putin's so-called "special operation" has not achieved results, and real war is being fought.
Skibitsky said declaring a general mobilization in Russia would mean declaring war on Ukraine and recognizing that Russia "is an aggressor."
Echoing his remarks, Alexander Khodakovsky, a Kremlin-backed commander and former political leader in the self-proclaimed Donetsk People's Republic (DPR) in eastern Ukraine, said it would be a "powerful blow" to the country, "which it will not withstand."
Newsweek has reached out to Russia's Foreign Ministry for comment.