Russian Troops Deserting in Face of Counteroffensive: Ukraine
Russian soldiers are attempting to desert when met with the counteroffensive by Kyiv's troops, according to the Ukrainian Armed Forces.
In its daily update, the General Staff of the Armed Forces said on Friday that Russia was focused on establishing full control of the Donetsk region, the captured districts of Kherson, as well as parts of the Kharkiv, Zaporizhzhya and Mykolaiv regions.
Ukraine said that over the span of 24 hours, Russia had carried out 45 air and five missile strikes in which there were civilian casualties. But it stated that Kyiv's forces were "conducting a successful counteroffensive in the Kharkiv direction" in which they had advanced almost 30 miles in three days.
On Thursday, Ukrainian president Volodymyr Zelensky said in his nightly address that his forces had recaptured almost 1,000 square kilometers (390 square miles) and "liberated dozens of settlements."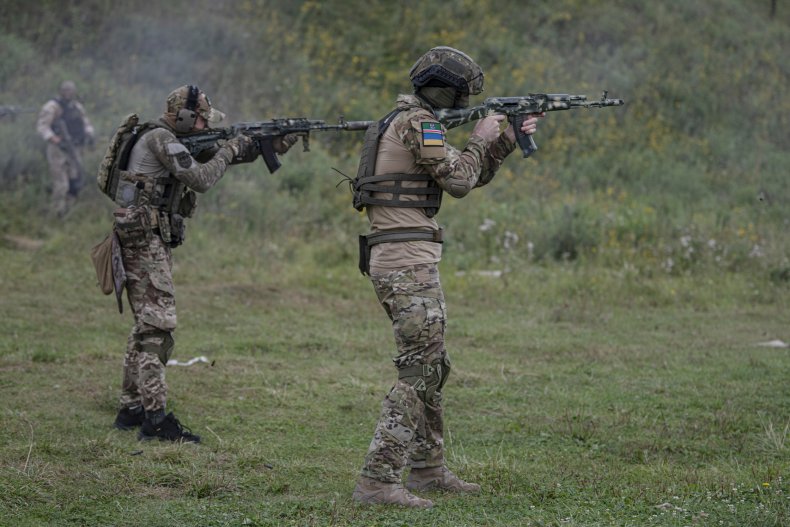 Ukraine's armed forces said that according to intelligence, some Russian units had suffered "significant losses" and had tried "to evacuate wounded personnel and damaged military equipment to the areas of Vilkhuvatka and Borodoyarske settlements" in the Kharkiv region.
"Personnel of the occupying forces in civilian clothes resort to desertion and try to return to the territory of the Russian Federation," the assessment said. "During the day, more than 15 such cases were noted," it added.
Newsweek reached out to the Russian defense ministry for comment.
Ukrainian armed forces also said on Friday that Russian troops were switching to "terrorist" tactics in parts of the Kherson region, where civilians in the settlement of Velyka Oleksandrivka were being used as "human shields."
It also warned of a growing threat of a strike on Ukraine from Belarus, where military exercises had begun.
British defense officials also noted the start of military exercises on Thursday in Belarus, which are due to last until September 14 close to Brest near the Polish border, near the capital Minsk, and in the northeastern region of Vitebsk.
However, Friday's assessment by the British Ministry of Defence [MOD] said it was "highly unlikely" the exercises indicated "preparations for direct Belarusian involvement in the Ukraine war."
Meanwhile, some Russian officials have disputed how far Ukraine had advanced, including its claim it had recaptured the city of Balakliya. The BBC reported that verified social media posts show Ukrainian flags flying from administrative buildings in the city's center on Thursday.
However, local Moscow-appointed official Vitaly Ganchev told Russian state TV that the city remained under Russian control, state news agency TASS reported.
"Neither Balakleya nor Shevchenkovo have fallen under the control of Ukraine's formations," he said. "We are carrying on with our work as usual."