Ukraine Map Reveals Just How Much Territory Retaken in Counteroffensive
Ukraine's forces have recaptured a swath of territory in the Kharkiv region as a counteroffensive against Russian troops continues, with a map shared on social media purportedly depicting the "liberation" of seven towns.
U.S. think tank the Institute for the Study of War [ISW] said that Ukraine had captured up to 150 square miles in the eastern region on Tuesday and Wednesday, and advanced at least 13 miles deep into Russian-controlled territory north of Izyum toward Kupyanskisk.
The gains follow Russia sending troops to counter the Ukrainian offensive in the southern Kherson region, whose Russian-occupied capital is a strategic prize for both sides.
President Volodymyr Zelensky said in his nightly address on Wednesday that "this week we have good news from the Kharkiv region" adding that "every citizen feels proud of our warriors."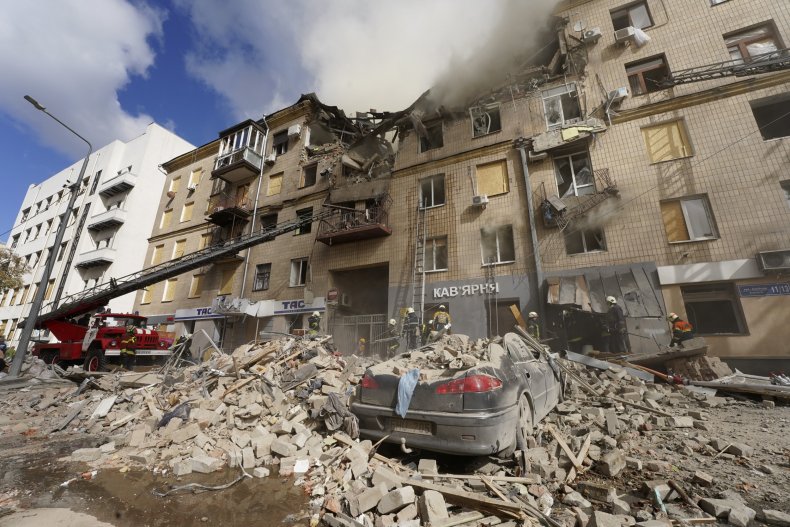 He said the greater Russia's losses, "the more reliable the defense of Zaporizhzhia, Mykolaiv and the cities of the Dnipropetrovsk region will be," and that "the faster we will be able to liberate the Azov region and the entire south."
While he paid tribute to his country's 25th airborne brigade, 92nd separate mechanized brigade and the 80th airborne assault brigade, he would not name the settlements that had been recaptured, in keeping with Ukraine's secrecy over the counteroffensive.
But the Ukraine War Map Twitter account shared an image that named the places where Kyiv's forces had made gains.
The message to its nearly 150,000 followers said that Ukrainian forces had "continued their advance in Kharkiv [region] and have liberated the following settlements: Semenivka, Volokhiv Yar, Vovchyi Yar, Kalynivka, Yakovenkove, Bairak, and Nova Husarivka."
In a follow-up tweet it said that "southeast of Bakhmut, Russian forces have taken control of the settlement of Kodema."
Newsweek reached out to the Russian defense ministry for comment.
Despite the reported gains by Ukrainian forces, the city of Kharkiv was the scene of Russian shelling which killed two people and left five injured, regional governor, Oleh Syniehubov said on his Telegram channel.
Meanwhile in Sloviansk, also in the east, three bodies were recovered from a building that had been shelled by Russian forces.
In its daily update, the U.K. Ministry of Defense said on Thursday that Ukrainian troops had likely destroyed a military pontoon bridge at Darivka, a crossing point along the Dnieper river by Kherson. It added that Ukraine had managed "to impose pressure on Russian forces as they attempt to contain Ukrainian attacks."
U.S. Secretary of State Antony Blinken made a surprise trip to Kyiv on Thursday as the United States unveiled nearly $2.7 billion in new military support for Ukraine.
Blinken met Ukraine Foreign Minister Dmytro Kuleba and visited a children's hospital, where those injured from Russian bombardments were being treated.