Russians Abandoning Positions in Kharkiv Counter-Offensive: Report
Russian troops are reportedly abandoning their positions in Kharkiv amid reports of a Ukrainian counteroffensive in the currently occupied region.
Military analyst Rob Lee shared what he called a "pessimistic" account from a Russian source on the Telegram messaging app on September 7.
The source wrote that Russian forces in the Kharkiv region are abandoning not particularly well-fortified positions and that Ukrainian forces are bypassing towns and urban fights to advance deeper behind Russian lines.
"They [Ukrainian troops] don't get involved in city fights...but leave behind our guys, surrounding them and hitting them with artillery," the source wrote, adding that the Russian troops who are left behind "do not have heavy weapons and they simply cannot counteract Ukrainians."
"Our forces threw some troops into Shevchenko to hold back the enemy. But Ukraine simply bypassed this along the outskirts, throwing a portion of its forces to contain our troops, and successfully moved on to Kupyansk.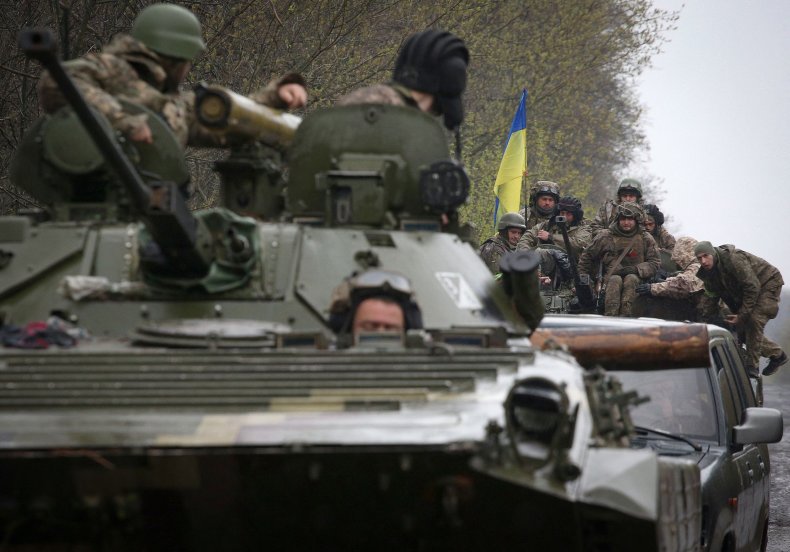 "An hour ago, behind Shevchenko, I noticed a long column of foreign vehicles heading towards the glorious Kupyansk."
The source added that in general, things are "pretty bad" in Kharkiv.
"There has not been much resistance from our side for the third day already. Our troops abandon not particularly well-fortified positions and retreat."
Newsweek has been unable to independently verify the claims.
Igor Girkin, a former Russian military leader, has weighed in on Kyiv's reported counteroffensive in Kharkiv, assessing that Russian troops may be encircled in Balakliya, an occupied town.
Girkin, who prefers to go by Igor Strelkov, published his assessment of the situation on his Telegram channel as reports emerged that Ukraine's armed forces had launched an unexpected offensive on the Kharkiv front this week.
The former military leader, citing sources, said Russia's troops failed to contain Ukraine's soldiers. Girkin also said new Russian recruits didn't know how to use heavy weaponry in Balakliya, and suggested that there has been an "unfortunate lack of training."
Girkin also cited his sources as saying Ukraine is delivering attacks with "outstanding audacity" and "on armor and wheels...seizing positions."
He acknowledged reports that two units of the Russian SOBR (Special Response Unit) were reportedly surrounded in the area.
Pro-Russian Telegram channels have also reported the loss of their positions and the successes of the Ukrainian army in the region, saying that fighters with the special purpose police units from the Samara region and Bashkortostan were surrounded by Ukrainian troops.
A pro-Kremlin Telegram channel run by blogger Volodymyr Romanov reported that a Russian unit was surrounded near Balakliya. The Rosich Telegram channel also wrote that the fighters of the SOBR were surrounded.
Russian state-run news outlet RIA Novosti reported Thursday that Kremlin-installed authorities in Kharkiv are evacuating women and children from the Kupyansk and Kupyansky districts due to Ukrainian shelling.
Newsweek has reached out to Russia's foreign ministry for comment.