Video Appears to Show Russian Soldiers Attacking With Wooden Sticks
Albert Einstein's purported quote that another World War "will be fought with sticks and stones" might have been taken literally by Russian troops, according to one interpretation of a social media discussion about whether Moscow's troops' weapons are fit for battle.
"Imagine your own country sending your own to die with sticks. This is what ruSSia is. Wake the f*** up," one Twitter user captioned two minutes of drone footage seemingly showing two injured Russian soldiers lying on a field amid gunfire. A large stick is propped on the ground next to one of the soldiers, who grabs it while trying to crawl away.
The video ends with other soldiers attending to what appear to be their dead bodies.
The footage comes as British defense officials said that Russia is suffering from artillery ammunition shortages that are so severe that "extremely punitive shell-rationing is in force on many parts of the front."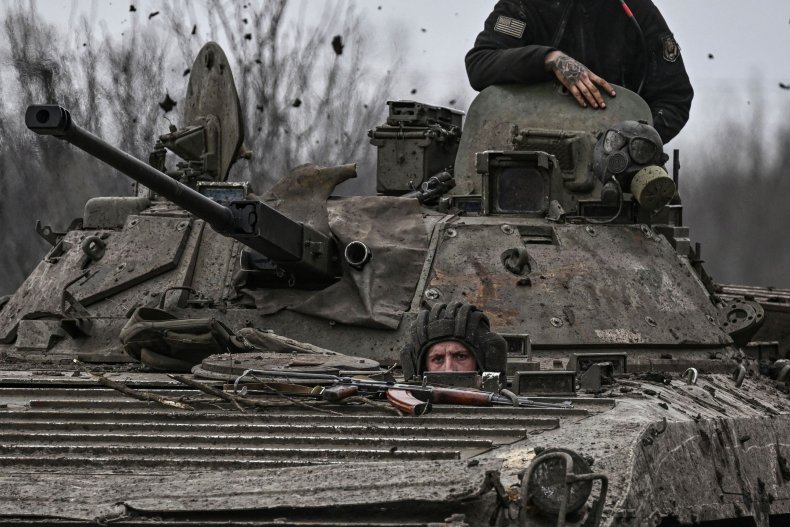 "Near Bakhmut, where the Russian soldiers are taking major casualties, the Ukrainian drone recorded them being sent into the attack with sticks instead of rifles," Operator Starsky, a Ukrainian National Guardsman, tweeted next to still (and graphic) images from the video.
This prompted a lively debate in which Twitter users speculated about the reason the soldiers had the stick. One person noted that one of the two soldiers pictured "had a rifle" although was "not sure if he had ammunition." Operator Starsky added in the thread, "I bet he didn't, but I'm sure he had pebbles!"
Others suggested that the wooden stick was used because one of the soldiers may have been injured. "The two invaders look like they got lost and one uses a long stick as a crutch, that's what I think," wrote a Twitter user.
"I think they got hit with artillery shell, and I assume his rifle got blown away or destroyed with shrapnel," one person tweeted. "He also got wounded, then picked up a stick as sort of a [crutch]. That's something that makes sense given the full context."
Operator Starsky replied, "it could happen but in the military world you don't lose your rifle, it's worse than being dead, especially in the Russian army."
Newsweek reached out to the Russian defense ministry via email for comment.
An update on Tuesday by the U.K. Ministry of Defense concluded that an ammunition shortage was one of the main reasons why no Russian formation has been able to generate "operationally significant offensive action."
"Russia has almost certainly already resorted to issuing old munitions stock which were previously categorized as unfit for use," the ministry said in the update, which emphasized Russian losses and Ukrainian gains.
Meanwhile, Ukraine's defense ministry said in its latest update on Tuesday that 740 Russian troops had been killed over the previous 24 hours, taking the total fatalities of Moscow's forces to 160,540, a tally which is much higher than other western estimates.