Russian Spy Ship Operating Near U.S. Coast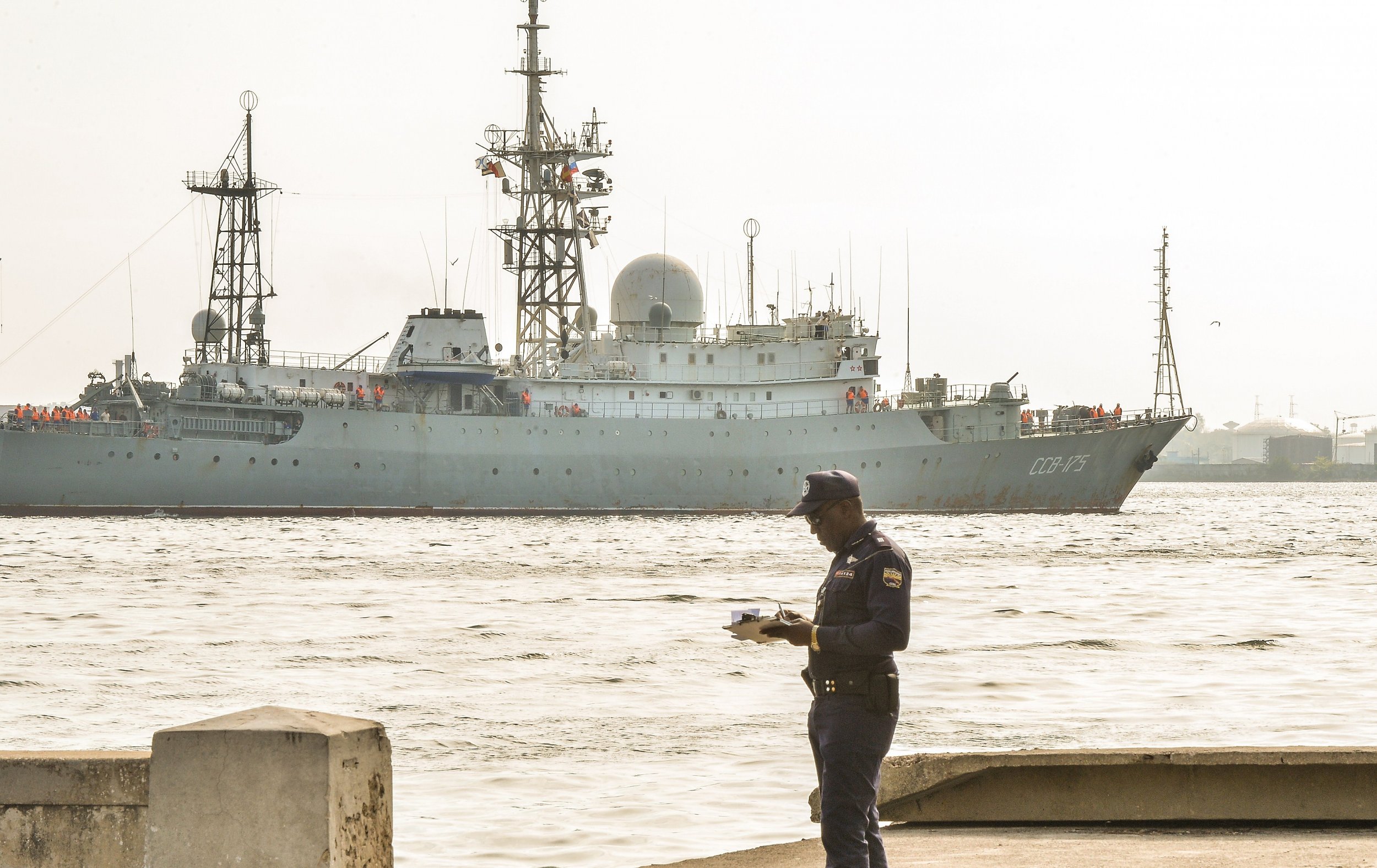 The Viktor Leonov, a Russian spy ship, is operating near the U.S. roughly a year after it popped up off the coast of Connecticut.
On Thursday, Fox News reported that unnamed officials said the Russian vessel was in the Caribbean and heading north toward the Florida coast. During a phone call on Friday, a spokesman for U.S. Southern Command confirmed to Newsweek the Viktor Leonov is in the region. "We have a general awareness that it's in the area," the spokesman said, but could not confirm an exact location.
In a statement provided to Newsweek, U.S. Southern Command added, "We are aware of Russian naval activities in our hemisphere. We work closely with our interagency partners to be aware of maritime contacts of interest, while recognizing the right of sovereign nations to freely navigate in international waters and visit countries they have agreements with. Freedom of the seas applies to all maritime nations, all navies, everywhere—so long as they understand and comply with internationally-recognized responsibilities that come with that freedom."
Separately, a spokesman for the Pentagon said via email he could not "specifically" confirm whether the military was tracking the Russian spy ship, but did say, "The U.S. Coast Guard and U.S. Fleet Forces track all vessels, foreign and domestic, and we're well aware of what is in the area."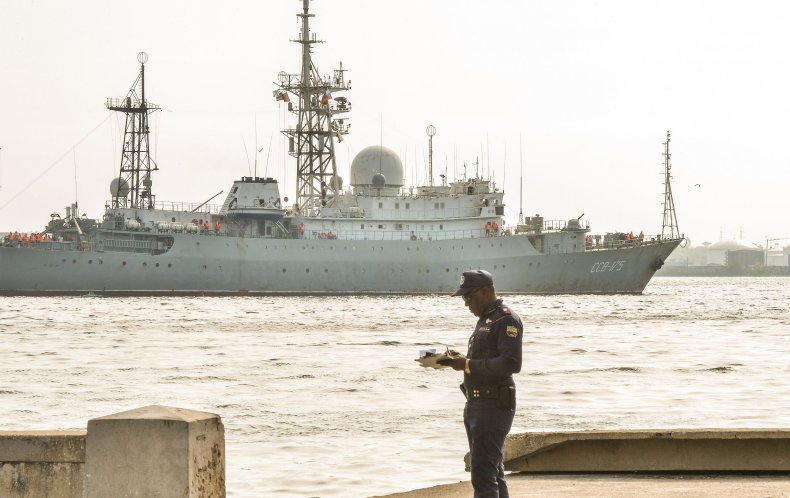 Last February, as the Viktor Leonov patrolled near Connecticut, President Donald Trump described the situation with Russia as "not good" when questioned by reporters.
When asked if he believed Russian President Vladimir Putin was testing him with such moves, Trump said, "I think Putin probably assumes that he can't make a deal with me anymore because politically it would be unpopular for a politician to make a deal––I can't believe I'm saying I'm a politician, but I guess that's what I am now––because, look, it would be much easier for me to be tough on Russia, but then we're not going to make a deal."
Trump added, "The greatest thing I could do is shoot that ship that's 30 miles offshore right out of the water," apparently referring to the Viktor Leonov.
Newsweek reached out to the White House for a comment on the Viktor Leonov's reappearance this year, but did not hear back by the time of publication.
The Viktor Leonov, a high-tech, Vishnya-class spy ship that's roughly 300 feet long, is equipped with surveillance equipment that intercepts various electronic signals, including radio. When it popped up near Connecticut, some lawmakers expressed concern that it was gathering information on Naval Submarine Base New London, the U.S. Navy's primary submarine base on the East Coast. At the time, Democratic Senator Richard Blumenthal of Connecticut, a member of the Senate Armed Services Committee, said, "It is collecting information, apparently, because it wants to spy on our military.
"This Russian spy ship may be just part of a testing of a new administration which has been all too cozy with Vladimir Putin's regime in Russia," Blumenthal added.
The Department of Defense downplayed the incident. "There's been a lot made of this Russian ship, the Viktor Leonov, reported to be off the East Coast of the U.S.," Capt. Jeff Davis, a Pentagon spokesman, told reporters last February. "It's not something we've seen where they've entered U.S. territorial waters, and as such, it's lawful and very similar to operations we do in places around the world."
The Viktor Leonov also was spotted off the coast of Georgia last March.
Zachary Fryer-Biggs contributed to this report.