Russian State TV Host Says Stalin's 'Methods' Must Be Used Against Ukraine
A Russian propagandist has called for brutal "methods" used by Soviet dictator Joseph Stalin to be introduced into the country's ongoing invasion of Ukraine.
TV anchor Vladimir Solovyov told guests on the state-run Russia-1 channel that Russia's military needed to retaliate with brutality against Ukrainian forces.
Solovyov regularly parrots the Kremlin narrative that Russia's invasion is to "de-Nazify" and remove a terrorist threat from the country, an analysis rejected by Ukraine and its allies including the U.S.
He previously said Russia was "facing off against NATO" and had called for a strike on the U.K. parliament.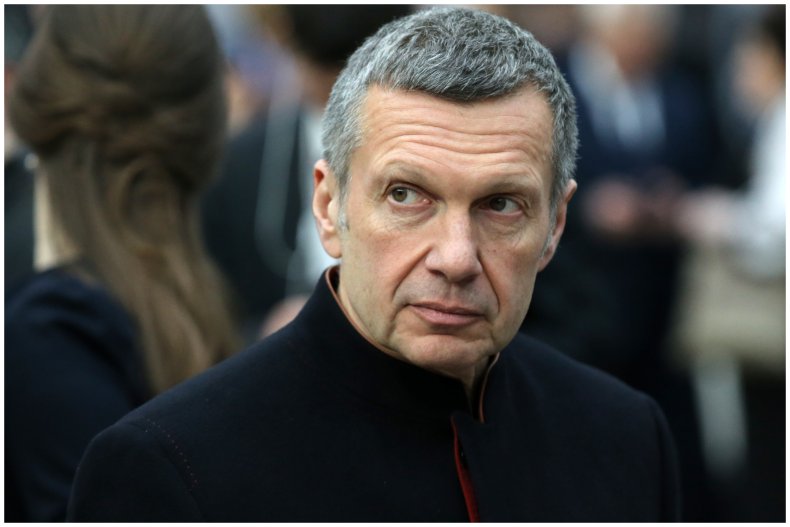 The propagandist once again focused on Ukraine and said the methods of prominent Soviet intelligence officials Pavel Sudoplatov and Lavrentiy Beria were the ones to use.
The short clip, shared by Anton Gerashchenko, an advisor to Ukraine's internal affairs ministry, has been viewed more than 132,200 since it was shared on Twitter on Tuesday.
Per Gerashchenko's translation, Solovyov said: "So, the question for us is, when do we begin to retaliate ruthlessly and mercilessly? When will we begin to implement the wording of [Russian President] Vladimir Vladimirovich Putin, the commander-in-chief? 'We'll whack them, even in the outhouse.'
"We are at war with terrorists and this must be very clearly understood. And we must use the methods that were used during Stalin's time."
He added: "Well-developed theory and practice by such outstanding figures as Comrade Sudoplatov who were able to solve the tasks at hand. I'm not afraid of this surname, Comrade Beria."
Sudiplatov, born in what is now modern-day Ukraine, was a high-ranking intelligence officer in the Soviet Union. He was involved in major operations, including the assassination of Stalin's rival and leading communist Leon Trotsky in 1940.
Beria was one of Stalin's secret police chiefs and carried out multiple rapes of women as well as the torture and murder of many others. He was found guilty of treason in 1953 and executed that same year.
Michael Clarke, professor in the War Studies department at King's College London, told Newsweek: "There is no doubt that the rhetoric being used here is genocidal.
"Stalin and his people like Beria and Sudoplatov certainly conducted policies that were subsequently classed as belonging within the definition of genocide, which was coined and defined quite carefully after the Second World War in relation to Nazi behavior.
"Given that these views are aired so openly on state-controlled TV channels, we must assume that the Kremlin is happy to make them part of the general rhetoric surrounding its invasion of Ukraine.
"The question is whether it can keep really keep control of the barbaric monster it is unleashing."
Praise of the Soviet Union and its figures is not new for Solovyov or the wider Russian establishment.
Earlier this year, history professor Elena Ponomareva told Solovyov that she considered the Soviet Union to have been "a fair peoples' nation."
Solovyov responded to her claims that the Soviet Union, which collapsed three decades ago, would exist if people still thought about it with the statement "The USSR is my motherland."
Henry Sardaryan, dean at the Moscow State Institute of International Relations said territories of the Russian empire and the Soviet Union are "Russia's territories."
In a clip shared by The Daily Beast's Julia Davis earlier this year, Sardaryan said no other nation should even question Moscow about the idea that former Soviet states should be part of Russia.
The Soviet Union's former members include Armenia, Azerbaijan, Belarus, Estonia, Georgia, Kazakhstan, Kyrgyzstan, Latvia, Lithuania, Moldova, Russia, Tajikistan, Turkmenistan, Ukraine, and Uzbekistan.
Last year, Putin invoked Soviet figures like Vladimir Lenin and Stalin and claimed Russia "created" Ukraine.
The Russian leader said it was a "mistake" when the Bolsheviks gave land to Ukraine and claimed doing so was to stay in power.
Update, 03/09/23, 9:03 a.m. ET: This article was updated with comment from Michael Clarke.