Putin Ally Calls for Striking Parliament in London: 'No More Red Lines'
Vladimir Solovyov, a Russian state TV host and a staunch ally of President Vladimir Putin, called for striking London in a rant criticizing Western nations' support for Ukraine.
"Can't we finally strike at London? What is the problem?" Solovyov asked his audience during a segment of his show posted to Twitter on Sunday with English subtitles by Anton Gerashchenko, an adviser to the minister of internal affairs of Ukraine.
"No, no, no—only at military targets. Well, at the parliament, too," the Russian propagandist added.
Solovyov continued ranting about his opposition to western nations arming Ukraine, pointing out that it enables the Eastern European country to strike territory that Russia claims but is not recognized by the West, such as Crimea. Moscow forcibly annexed the peninsula from Ukraine in 2014—drawing international backlash.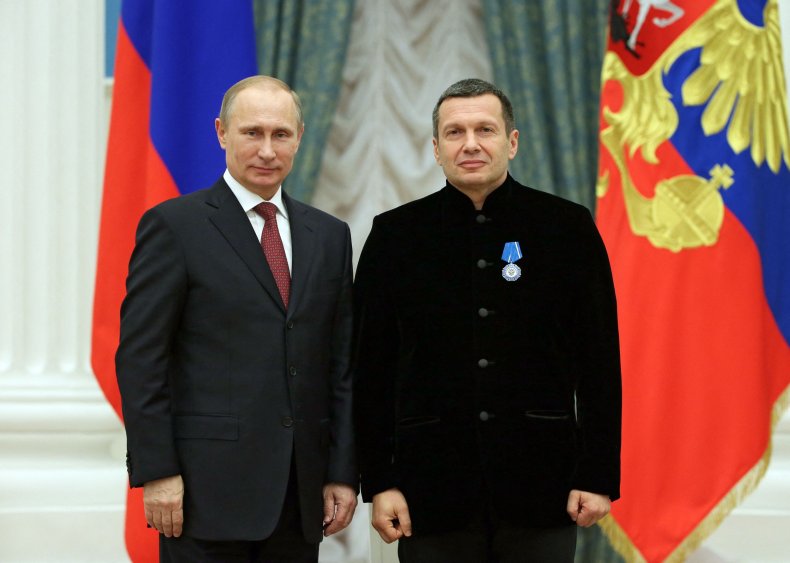 "Well, they're going to give planes [to Ukraine] to strike deep into Russia's territory. At the same time, they cunningly say: 'No, well, we just don't recognize Crimea as Russia,'" Solovyov said.
"You will now determine what Russia is for you? Not the people in Russia will determine it, not a referendum, not a vote, but you will determine what Russia is for us?" he asked.
"In this case we will not recognize at all—for us then there is no England at all. No France. No Germany. Instead, there are Nazi states united by hatred for everything Russian," the Putin ally said.
"And so let's get serious. Do they think there are no red lines? OK. Well, let's show them that there are no more red lines. Let's strike! So that the fist would ring," he said.
Some NATO members, such as the U.S. and the United Kingdom have been supplying Ukraine with tanks and weaponry, as well as other forms of military assistance to help troops fight Russian forces in the ongoing war, which has already lasted nearly a year. Putin's forces launch a full-scale invasion of the Eastern European country last year on February 24, drawing swift and widespread international condemnation.
Meanwhile, Russia recently lost more than a dozen tanks, armored vehicles and an aircraft, according to an update published Sunday by Ukraine's General Staff. The Ukrainian military said that its forces had shot down a Russian Su-25 aircraft, a single-seat, twin engine Soviet-era plane.
The General Staff also reported that 900 Russian soldiers had been killed during the past 24 hours. Newsweek couldn't independently verify those figures.
Previously on Thursday, Solovyov targeted EU diplomats as he suggested that they should be expelled from Russia in a "sealed container" or "packed in a sealed wagon."
In a heated televised rant, Solovyov asked his audience if Russia has "any European Union representation."
"A bunch of scumbags! We should pack them all into a sealed wagon, not a plane, but in a truck, seal them up and get them the hell out of the country in a 20-foot container," Solovyov said.
"Don't want them ever to be heard of again! Why do we tolerate these Nazi scum at all? Does anyone need to explain anything? No. There's nothing to explain," he said.
In the weeks after Russian President Vladimir Putin launched the invasion of Ukraine last February, European nations expelled dozens of Russian diplomats.
The decision was criticized by the Kremlin which described it as a "short-sighted move" that would only make communication difficult. In response to the expulsions, Russia announced in May 2022 that it was expelling dozens of European diplomats.
Newsweek reached out to the Russian foreign affairs ministry for comment.