Russian State TV Airs Threats to Norway, EU Diplomats
Kremlin propagandist Vladimir Solovyov and leading Russian military analyst Igor Korotchenko have issued threats to Norway and EU diplomats in separate appearances on state TV this week.
A clip of Solovyov, a prominent television host, was shared on Twitter by Anton Gerashchenko, an adviser to the Minister of Internal Affairs of Ukraine. "Solovyev suggests sending out all EU diplomats out of Russia 'packed in a sealed wagon' or a 'sealed container,'" he tweeted.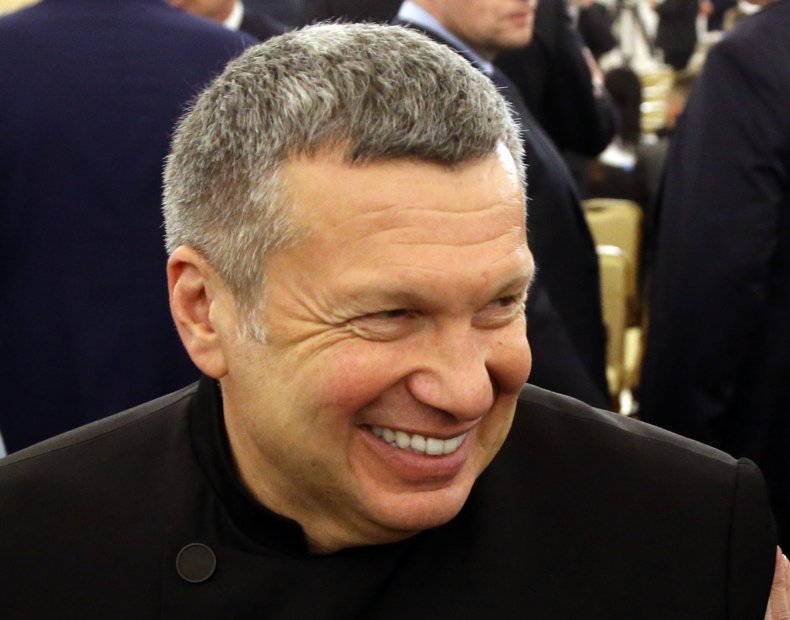 State television host Solovyov began his heated rant by asking his audience if Russia has "any EU representation."
"A bunch of scumbags! We should pack them all into a sealed wagon, not a plane, but in a truck, seal them up and get them the hell out of the country in a 20-foot container," Solovyov said. "Don't want them ever to be heard of again! Why do we tolerate these Nazi scum at all? Does anyone need to explain anything? No. There's nothing to explain."
Just weeks after Russian President Vladimir Putin launched a full-scale invasion of Ukraine on February 24, 2022, members of the European Union expelled dozens of Russian diplomats.
The Kremlin said the decision to expel its diplomats was a "short-sighted move" that would only complicate communication. In May 2022, Russia responded by announcing the expulsion of dozens of European diplomats in a "retaliatory" move.
In a separate state TV segment on the 60 Minutes program, military analyst Korotchenko took aim at Norway, a member of the North Atlantic Treaty Organization (NATO) military alliance.
Twitter channel TheKremlinYap, which shares state TV segments, shared the one-minute clip of Korotchenko's remarks on Thursday.
"Provocations against Norway, especially on Svalbard, are possible if Russians started talking about it," the channel tweeted. "But Korotchenko forgets that Norway is in NATO. Hybrid operation against Norway is still more complex than operations agains[t] Baltic countries. Hence less attractive for Russia."
"Now about Norway," Korotchenko began. "The Russian Federation at one time concluded with this party a very disadvantageous for us maritime boundary delimitation treaty. In particular, we transferred several shelf areas and sea areas to Norway's jurisdiction to the detriment of our national interests."
Korotchenko appeared to be referring to a 2010 maritime boundary agreement on where the Arctic border should be drawn. The foreign ministers of Norway and Russia signed a treaty on September 15, 2010 on maritime delimitation and cooperation in the Barents Sea and the Arctic Ocean.
It sought to bring to an end disputes between the two nations in the Barents Sea, the part of the Arctic Ocean adjoining the northern coasts of Norway and Russia.
In July 2022, State Duma chair Vyacheslav Volodin asked a senior lawmaker to explore "denouncing" the agreement. Officials had accused Norway of blocking food deliveries meant for Russian-populated settlements on the Svalbard archipelago.
"That was signed by the corresponding treaty. And who prevents us from entering there now? Deputies in the State Duma can announce an initiative to denounce the said agreement. Breach it, and return to the former maritime boundaries of the shelf delimitation with Norway," Korotchenko continued.
"And if Norway tries to object, we have the Northern Fleet, which is capable of protecting Russian economic interests in the said region. But we have to teach! We can birch Norway publicly, at least from the point of view of depriving it of those economic preferences, which we, I do not know why, suddenly gave them."
In 1949, Norway was the only NATO member to share a border with the Soviet Union.
Newsweek has contacted Norway's Ministry of Foreign Affairs for comment.
Do you have a tip on a world news story that Newsweek should be covering? Do you have a question about the Russia-Ukraine war? Let us know via worldnews@newsweek.com.