A presenter on Russia's state-owned Russia 1 has threatened that a nuclear weapons deployment will be the only option left to Russia after Finland and Sweden join NATO.
"Their official reason [to join NATO] is fear. But they'll have more fear in NATO. When NATO bases appear in Sweden and Finland, Russia will have no choice but to neutralize the imbalance and new threat by deploying tactical nuclear weapons," presenter Dmitry Kiselyov reportedly said on the channel.
Finland's parliament is expected to ratify the country's request to become a NATO member today, with Sweden due to follow suit in quick order. The two countries are overtly defying the Kremlin's recent threats against them joining NATO, with their decision to end decades of neutrality being almost entirely motivated by the Russian invasion of Ukraine.
Finland and Sweden would be warmly welcomed into the alliance and their application would be fast-tracked, said NATO Secretary-General Jens Stoltenberg. But Russia has threatened "retaliations" if the two countries will go through with their application process.
Russian President Vladimir Putin warned his Finnish counterpart that it would be a "mistake" for Finland to seek NATO membership "since there's no threat to Finland's security." A phone call between the two leaders, initiated by Finland, did not ease up tensions between the two countries over Helsinki's will to join NATO.
On Saturday, Russia cut off electricity supplies to Finland, according to the Finnish grid operator. The decision to suspend supplies was allegedly linked to problems with payments and not the current political situation, according to Russian energy supplier RAO Nordic.
Russian news media and authorities have in the past threatened a nuclear strike in response to the way Western countries are mobilizing against Moscow.
Back in April, Russian journalist and editor-in-chief of Russian state-controlled RT, Margarita Simonyan, wrote on Telegram that British support of Ukrainian strikes on Russian soil left Moscow no other option than the "complete destruction" of Ukraine and "a nuclear strike."
In an interview with state TV Russia 1, Russian defense committee deputy chairman Aleksey Zhuravlyov mentioned a potential nuclear strike on the U.K., saying that the RS-28 Sarmat hypersonic nuclear missile—also known as "Satan-2"—could strike Britain in "200 seconds."
A nuclear threat came from Putin himself when, at the beginning of the invasion of Ukraine, he announced that ​​he was moving his "deterrent forces"—widely understood as Russia's nuclear weapons—to "combat ready" status.
But despite these harsh warnings and threats, the actual risk of a Russian nuclear strike in response to Finland and Sweden joining NATO is unclear. Whether Putin would decide to respond to the situation by using the country's nuclear weapons, is unknown—but most political experts and Western intelligence expect him not to.
Newsweek has contacted Russia 1 for comment.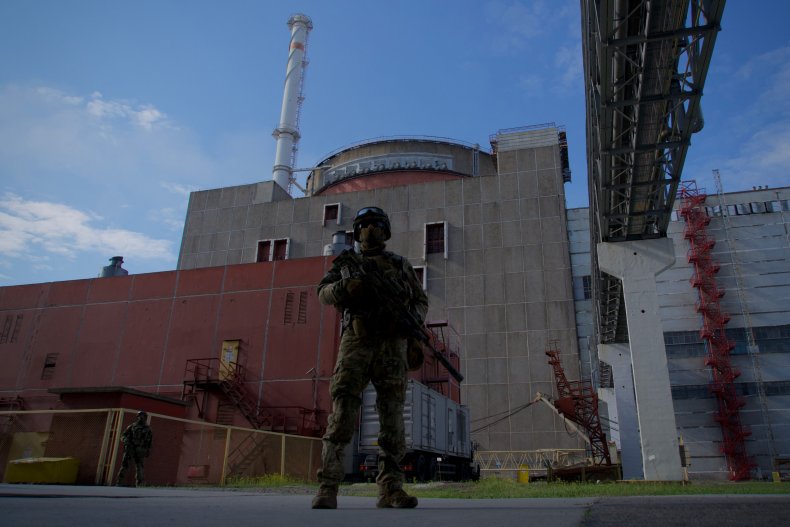 Update 05/16/22, 6:25 a.m. ET: This article has been updated to add the name of the Russia 1 presenter.
Correction 05/16/22, 7:05 a.m. ET: This article has been updated to indicate that Russia 1 had mentioned nuclear weapons deployment not a nuclear strike.