Russian Su-35 Shot Down by Ukraine as $85m Aircraft Goes Up in Flames—Video
A Russian fighter jet has been shot down near the city of Nova Kakhovka in Ukraine's southern Kherson region, according to the Armed Forces of Ukraine.
In a statement on social media, the air force command of Ukraine's armed forces said that at around 8 p.m. Tuesday, a unit of Ukraine's anti-aircraft missile forces shot down a Russian fighter, "presumably an Su-35," in the area of ​​Nova Kakhovka.
It said that the Russian Sukhoi Su-35S fighter aircraft, worth $85 million per unit, attempted to attack an aircraft belonging to Ukraine's air force.
"There is visual confirmation of the downing of the plane, the pilot ejected," the post said. "In addition, during the current day, units of the anti-aircraft missile forces of the Air Force shot down 5 enemy unmanned aerial vehicles of the operational-tactical level."
"Glory to Ukraine! Together to victory!" the statement proclaimed.
Videos circulating on social media appear to show the moment the aircraft was struck midair, and burst into flames, before plunging to the ground. Some videos show the jet crashing into a field and exploding upon impact, causing thick plumes of black smoke to rise into the air.
The Sukhoi Su-35S is the latest generation of the Soviet-era Su-27 fighter jet, designed to intercept and destroy air targets in long-range and short-range air battles. The aircraft is also designed to carry out ground attack missions.
The Su-35S is armed with a 30mm cannon, has 12 hardpoints for bombs and missiles, and can reach speeds of up to 1,553 miles per hour. It has a flight range of approximately 2,174 miles.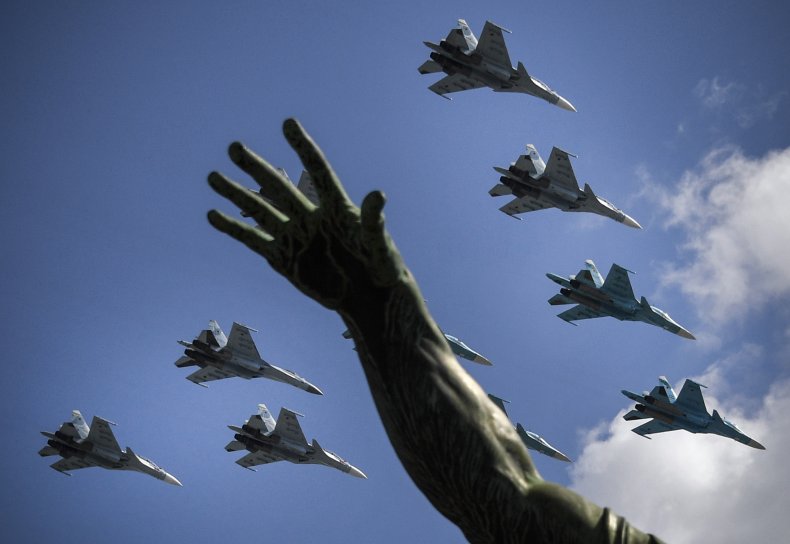 According to United Aircraft Corporation (UAC), the manufacturer of the Su-35S, the aircraft "combines the qualities of a modern fighter (super-maneuverability, superior active and passive acquisition aids, high supersonic speed and long-range, capability of managing battle group actions, etc.) and a good tactical airplane (wide range of weapons that can be carried, modern multi-channel electronic warfare system, reduced radar signature, and high combat survivability)."
The latest incident comes after Ukrainian media outlets claimed on Monday that a Russian Su-34 bomber—which reportedly costs approximately $36 million per unit—was reportedly shot down by Russia's own forces over Ukraine's eastern Luhansk region.
The jet was reportedly downed near Alchevsk, a city in the Luhansk region—one of the areas where the war is currently focused. Alchevsk is currently under the occupation of Moscow-backed separatist forces.
Russia's air force has largely under-performed throughout the war, according to Britain's defense ministry.
Newsweek has reached out to Russia's foreign ministry for comment.