Russian TV Banned in Latvia Until Putin Gives in to Ukraine's Demands
As the Russian invasion of Ukraine rages on, Latvia is banning Russian television until the Kremlin gives in to Ukrainian President Volodymyr Zelensky's demands.
Latvia's ban will go into effect on June 9 and will not end until Russia ends the war or surrenders and gives back Ukrainian territory, according to Latvian news outlet Delfi. It is the latest rebuke of the invasion from European leaders, who have overwhelmingly backed Ukraine amid the conflict, which began in late February.
Ivar Abolins, the chair of Latvia's National Council for Electronic Media (NEPLP), said the ban was made based on new regulations that do not allow programs registered in a country that threatens the independence and sovereignty of another, according to Delfi.
Russian television has widely been used by government authorities to promote propaganda in favor of Russian President Vladimir Putin's decision to invade Ukraine. In early March, Russian authorities banned news outlets not run by the state, limiting the information provided to the people.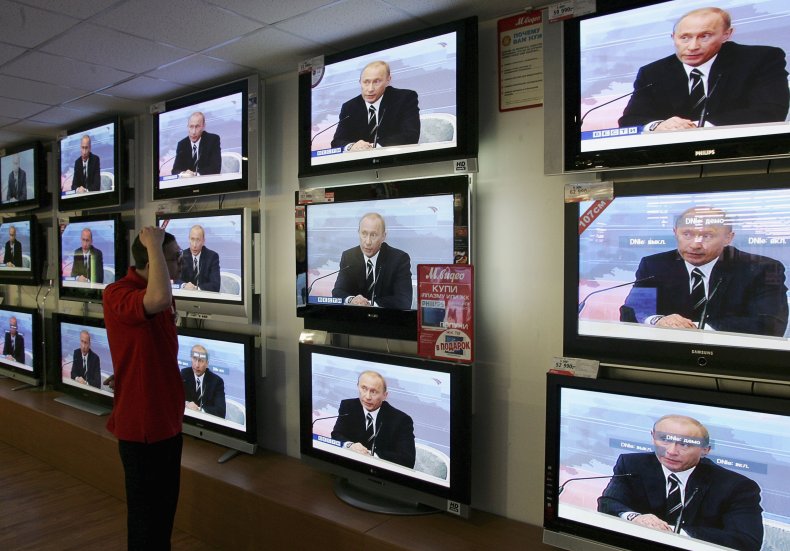 Latvia announced that independent Russian television channel Rain, which was forced to temporarily shut down in March, will now be allowed to operate out of Latvia, according to Delfi.
Latvia initially attempted to block Russia television channels in March, but a court reinstated some of the channels in late April, ruling that the council did not successfully argue how entertainment channels could threaten the country's security, according to Delfi.
But on May 26, Latvia's parliament passed amendments allowing NEPLP to restrict foreign shows produced in countries that threaten other countries' sovereignty, Delfi reported.
In total, more than 80 channels will be banned in the coming days.
Since the start of the war, Latvia, once part of the Soviet Union, has supported Ukraine. The Baltic nation is part of the North Atlantic Treaty Organization (NATO) and European Union. In late February, just days after the conflict began, Latvia joined other European nations in supplying funds to Ukraine's armed forces.
Latvian President Egils Levits said in an interview with CNN in March that European nations have a responsibility to support Ukraine.
"We know that aggression against Ukraine is not only aggression against the state, but at the same time aggression against the West," he said, praising Ukraine for defending Western values.
Latvia has also supplied weapons to Ukraine, including Stinger anti-aircraft missile systems. In total, Latvia's military aid has surpassed more than $200 million, its defense ministry said in April. In March, Latvia's parliament voted to ban public displays of the letter "Z," which has been used as a pro-Russia symbol amid the invasion.
The Russian TV ban comes more than 100 days into the war. Russian authorities hoped for a quick takeover of Ukraine, but the military was met with strong resistance. Fighting continues in parts of eastern Ukraine, with the city of Sievierodonetsk seeing intense conflict in the past week.
In a statement to Newsweek on Tuesday, the Russian Presidential Press Office described Latvia's move as "a direct limitation to freedom of speech and direct restriction of media freedom."
Update 6/14/22, 9:36 a.m. ET: This story was updated with comment from Russia.