True Meaning Behind Russian 'Z' Symbol Finally Revealed
A Russian news presenter has given one explanation of the significance of the letter "Z" which has become a prominent propaganda symbol for Vladimir Putin's invasion of Ukraine.
During the news program Vremya (Time) on Channel One, anchor Vitaly Eliseev said rehearsals were under way for the Victory Day parade marking the end of World War II—known in Russia as the Great Patriotic War.
He said on Monday night that the celebrations on May 9 will involve more than 11,000 troops and there will be eight MiG-29 planes which will fly in the formation of the last letter of the alphabet.
In the segment first tweeted by Russia media watcher and Daily Beast journalist, Julia Davis, Eliseev said the "Z" that the planes would form on the day is supposed to symbolize two number 7s stacked, one of them upside down.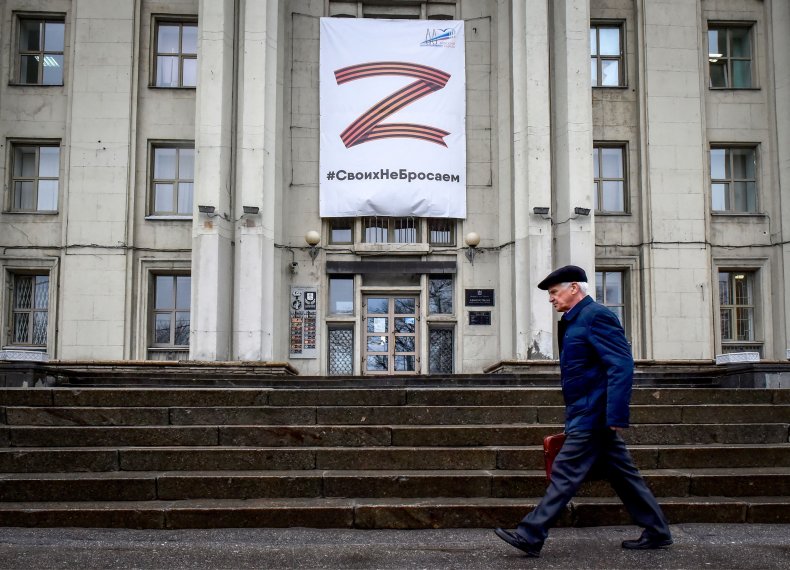 He said this represents 77 years since Victory Day and he described the letter as "one of the symbols of the special military operation to defend the Donbas," using the Kremlin-approved expression for the war in Ukraine.
"So, to celebrate the ending of WWII Putin decided to start a WWZ," Davis tweeted, adding in a separate message that "Russia is basically an oversized North Korea, but worse."
Newsweek has contacted the Kremlin for comment.
The letter Z does not exist in the Cyrillic alphabet but has become a ubiquitous logo for Russian support since the invasion started on February 24.
It has appeared on the back of Russian military vehicles, on billboards and even merchandise. A number of politicians have also donned clothing and badges with the insignia, including Mikhail Delyagin and convicted Russian spy, Maria Butina.
In Kazan, the capital of the Russian republic of Tatarstan, children at a hospice were reportedly forced to stand outside in the snow lined up in a "Z" formation in a stunt reportedly organized by Vladimir Vavilov, chairman of a cancer charity who runs the hospice.
Michael Clarke, former director of the British defence think tank, the Royal United Services Institute (RUSI), told Sky News the symbols were probably linked to the locations of deployed units.
Meanwhile, Kamil Galeev, a fellow at the non-partisan think tank the Woodrow Wilson Center said in a Twitter thread on March 6 that some interpret the Z as representing Russian words and phrases "Za pobedy" [for victory] or "Zapad" [West].
Whatever the explanation, he said it has become "a symbol of new Russian ideology and national identity" and that it has sinister overtones. "To put it simply, it's going full fascist".