Russia took military action against Ukraine in order to change a post-Soviet Union "world order" in which the U.S. and NATO have become dominant global forces, Russia's ambassador to the U.S. said.
Anatoly Antonov justified his nation's "special military operation," the term the Kremlin uses to avoid calling the invasion a war, by saying it is meant to halt the West's expanding dominance worldwide, according to an interview published Monday by Politico.
"It's a very narrow approach to say the 'Russian invasion of Ukraine,'" the ambassador told the news outlet. "We are talking about changing the world order that was created by the United States, by NATO countries after the dissolution of the Soviet Union."
Antonov's comments echo the Kremlin's latest justifications for Russia's invasion of Ukraine, which began nearly two months ago. Last week, Russia's foreign minister said the action was meant to put a stop to a "rules-based" global order imposed by the West.
"Our special military operation is meant to put an end to the unabashed expansion [of NATO] and the unabashed drive towards full domination by the U.S. and its Western subjects on the world stage," Sergey Lavrov told Russian media.
"This domination is built on gross violations of international law and under some rules, which they are now hyping so much and which they make up on a case-by-case basis," the foreign minister said.
Speaking to Politico, Antonov said, "We don't want to see any threat coming from that territory. We don't want this country to become a member of NATO. We don't want the United States or other NATO countries to use this territory against the Russian Federation."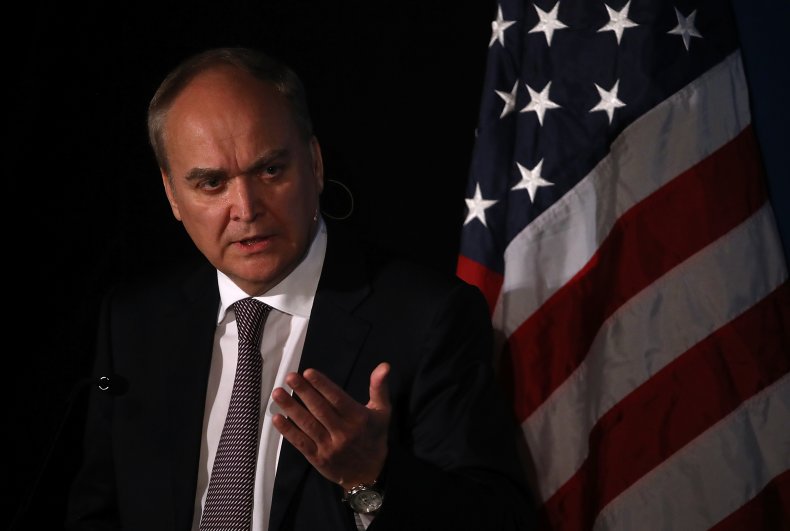 Since the start of the war, Russia has put several spins on its reasons for its military aggression against Ukraine. At the beginning of the invasion in late February, President Vladimir Putin said he was seeking the "denazification" of the country. He made baseless claims that the administration of Ukrainian President Volodymyr Zelensky was overrun by "Nazis" who promoted "genocide" against Russians. Zelensky is Jewish.
Putin also said Russia took military action because Ukraine's pursuit of NATO membership posed a threat to his country's national security. However, in response to the war, Zelensky said last month that Ukraine will no longer seek NATO admission.
More recently, Russian forces are now concentrating on Ukraine's eastern Donbas region, with the goal being to "liberate" territories that contain Russian separatists. The change in focus comes after the Russian military faced fierce resistance from Ukrainian troops in the first several weeks of the invasion and failed to capture any major city.
Zelensky said in an interview published Sunday that if Russian forces take over Donbas, it could "influence the course of the whole war" and pose a new threat to the capital city of Kyiv.
Newsweek has reached out to Russia's Foreign Ministry for additional comment.