Russian TV Discusses if Economy Now 'Equal' to Iran, North Korea or Cuba
Guest speakers on Russian state TV recently discussed how Iran, North Korea, and Cuba survived international sanctions, debating whether or not the Russian economy is now "equal" to that of any of those countries.
"There are three paths for countering Western sanctions: the Cuban path, the North Korean path, and the Iranian one," a Russian TV host said during a segment that was posted with English subtitles to Twitter on Friday by Francis Scarr, a journalist with the BBC Monitoring.
The clip then cuts to a visual report showing how Cuba, Iran, and North Korea prevented their economies from collapsing by finding solutions to counter sanctions.
After the recent Russian TV segment report ended, the host and guest speakers debated about which economic situation is similar to Russia's current sanctions, which have been imposed due to its war in Ukraine. Imports of Russian oil and products were banned after the war was launched last February.
"Which of those models suits us best?" the host asked, to which one of the guest speakers responded, "The Iranian one of course. It's difficult to say 'Iranian scenario' because until a while ago, as the Soviet Union, we sponsored all those countries, but now we're deciding which one we're equal to. So in terms of both the nature of its economic policy and its domestic resources, Iran is the closest to us."
Another guest speaker added that Iran is similar to Russia for being a "multi-ethnic" state, and that both countries have "very difficult neighbors."
The Russian state TV report mentioned the U.S. sanctions on Iran, which were imposed in 1979 after the seizure of the U.S. Embassy in Tehran following the Islamic Revolution. The report added that those sanctions were "similar to the current anti-Russia ones."
The U.S. sanctions on Iran included freezing Iranian government assets in the United States and U.S. banks overseas, and a full trade embargo was placed later on until an accord was signed with Iran in 1981.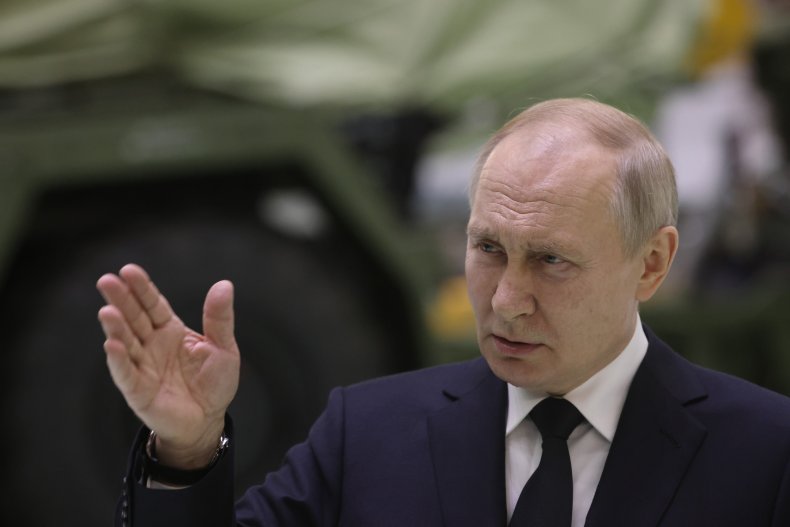 The embargo was later lifted and most assets were unblocked, but the U.S. imposed a new embargo in 1987 on Iranian goods and services for supporting "international terrorism," according to the U.S. Treasury.
Sanctions also expanded to include banning Iran's involvement with petroleum development. The U.S. continued to expand its sanctions on Iran to tighten restrictions on companies providing the country with equipment and expertise to run its oil and chemical sectors, and targeted groups in Iran such as the Basij Resistance Force, a paramilitary unit working under the Islamic Revolutionary Guard Corps (IRGC).
In efforts to survive the sanctions, Iran relied on manufacturing its own products. Iranian manufacturers were also able to use informal payment systems to get money in and out of the country without resorting to banks, according to NPR.
The Russian state TV report also mentioned the U.S. trade embargo imposed on Cuba in 1962, which still maintains in place due to former Cuban President Fidel Castro's decision to take control of privately owned properties and other productive assets. The sanctions were also announced as a response to his support for "violent communist" revolution through the Western Hemisphere, according to The Heritage Foundation, a U.S.-based think tank.
In the 1990s, the "Cubans were saved by Soviet aid" according to the Russian state TV report. However, Cuba had to resort to other economic solutions after the collapse of the Soviet Union, and therefore relied on rum and cigar exports, which Russian state TV described as "illegal."
Meanwhile, North Korea faced international sanctions in 2006 for developing nuclear weapons, but it was able to "bypass" them with China's help, according to the Russian state TV report. North Korea relied on cybertheft, transfer of crypto, and "dissemination" of ransomware for income, according to a report by the RAND Corporation, another U.S.-based think tank.
Following the Russian state TV report, one guest speaker said that "there's not a single country in the world with more experience existing under blockade and economic sanctions than us [Russia]."
Newsweek reached out to Russia's foreign affairs ministry for comment.