Russian TV Host Asks Why Guest Isn't in Jail After Calling for Peace Talks
Russian State TV host Vladimir Solovyov has condemned one of his previous guests for calling for peace talks with Ukraine in a clip that has gone viral on social media.
In the last week while on his show, one of Solovyov's guests, former member of Russia's Parliament Boris Nadezhdin, said it was impossible for Russia to defeat Ukraine.
He also called for peace talks in a surprising criticism of Russia's invasion of Ukraine, which appears to have stalled, temporarily at least.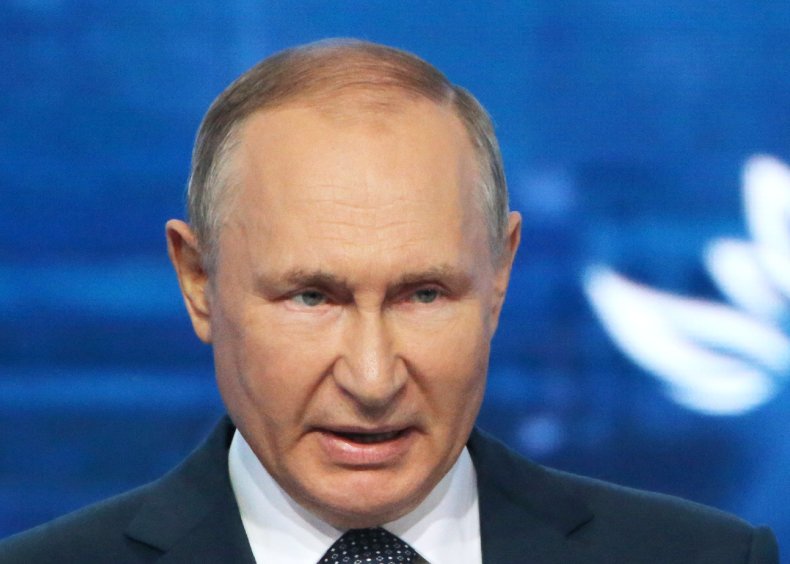 Nadezhdin argued Russia should either fully mobilize against Ukraine or leave the country and seek peace talks.
Nadezhdin is a former member of the Union of Right Forces, an economically liberal, Western-leaning party of the center-right that was dissolved in 2008.
A clip of Nadezhdin's comments also went viral and have so far been viewed more than 6.8 million times on Twitter.
Many viewers questioned whether Nadezhdin's comments could land him in trouble with the Kremlin.
In a more recent video that has been viewed more than 100,000 times and was shared by the Daily Beast's Julia Davis, Solovyov had questioned why Nadezhdin had not been disciplined or thrown in prison for his comments.
"After my clip featuring Boris Nadezhdin went viral, top Russian propagandist Vladimir Solovyov wondered out loud why he wasn't thrown in jail," Davis wrote as a caption.
"Nadezhdin criticized unnamed officials for advising Putin to invade Ukraine and called for peace talks."
"The other day, on one of our federal TV channels, a Russian citizen, a man who is quite popular in Russia, a former Duma Deputy," Political Analyst Vasyl Vakarov began as he spoke about Nadezhdin.
But Solovyov interrupted and said: "[Boris] Nadezhdin? He is neurotic, who gives a damn.
"Typically, these people get 15 days [in jail], [he] didn't get it yet, but he will. He is a man who started on top and ended up scraping the bottom."
Vakarov attempted to continue his point, and said that if it was said on a federal channel there are many people who would like to say the same but don't have a way of doing that.
In 2019, Russia passed a law that would allow courts to fine or jail offenders for 15 days for disrespecting the government, according to a Guardian report. The law has proved controversial and some critics have claimed it is reminiscent of Soviet-era legislation.
The law would allow individuals to be fined up to 100,000 roubles (£1,678) for indecent online posts that show a clear disrespect for society, the country, Russia's official state symbols, the constitution, or the authorities, according to the report.
Newsweek has contacted the Russian Ministry of Foreign Affairs for comment.