Russian Warships From Four Seas Launch Historic War Game Off Syria Coast
Russia has deployed warships and aircraft from four different fleets to the coast of Syria as it launches a historic drill, despite concern that Moscow and its allies are preparing for a bloody showdown with nearby rebels.
The drill is "the first in Russia's contemporary history" of its kind, according to the country's Ministry of Defense. Moscow has sent military vessels from the Northern Fleet, the Baltic Fleet, the Black Sea Fleet and the Caspian Sea flotilla to the Mediterranean Sea.
"A total of 26 combat ships and vessels of the Russian Navy, including two submarines, as well as 34 aircraft," the ministry announced on Friday. "The flagship of the group will be the missile cruiser and the Northern Fleet Marshal Ustinov."
Over the course of the drill, Russia will also fly Tu-160 strategic bomber jets, anti-submarine Tu-142 and Il-38 jets, as well as Su-33 fighters and Su-30SM naval aviation aircraft. The official objectives of the exercise will include anti-submarine warfare, defense of maritime communications, anti-piracy operations, rescuing a capsizing vessel and live-fire practice with artillery and missiles.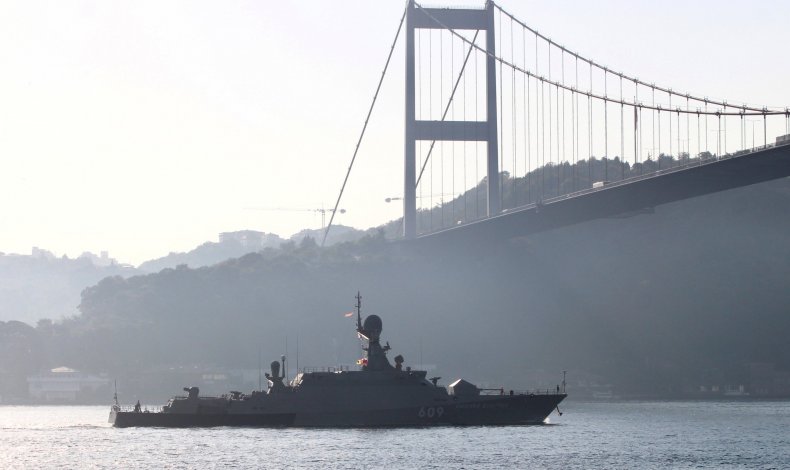 The timing of the drill has raised concerns that Moscow is planning for a new engagement in Syria. Tensions between the Bashar al-Assad regime and the last rebel stronghold have boosted the odds of a new escalation in recent weeks, in what U.N. Special Envoy to Syria, Staffan de Mistura, has described as "a perfect storm" for a wider clash.
This is not the first time Russia has deployed a naval contingent off Syria's Latakia coast. It has retained a near-permanent presence to support its ongoing air force operation that has been fighting for the Assad regime since 2015.
The recent build-up follows a series of comments from Moscow and Damascus stressing the need to eliminate anti-regime forces in Syria's Idlib province. Despite the West urging caution, Russian Foreign Minister Sergey Lavrov warned the U.S. earlier this week "not to play with fire."
Lavrov called the U.S.-led operation in Syria "illegitimate," as Moscow has repeatedly argued only forces at the behest of Assad are present in Syria legally. Speaking on Thursday, Defense Secretary James Mattis stressed that U.S. forces would not fall in line with the allies of the regime.
"Our goal is to move the Syria civil war into the Geneva process so the Syrian people can establish a new government that is not led by Assad and give them a chance for a future that Assad has denied them, with overt Russian and Iranian support," Mattis said.