Russian Warships Head Toward Syria Armed With Cruise Missiles After Strikes Kill Turkey's Troops
A pair of Russian warships have set out for the waters off of Syria, a deployment that came just a day after airstrikes attributed to Moscow's ally there killed dozens of Turkish troops.
The two Black Sea Fleet frigates, Admiral Makarov and Admiral Grigorovich, "simultaneously began passing through the Turkish Bosphorus and Dardanelles Straits towards the Mediterranean Sea," the Russian Defense Ministry said Friday. Both vessels were described as being "equipped with high-precision weapons: the Kalibr-NK missile system," as they undertake their planned transit from Crimea's Sevastopol to join Russia's permanent Mediterranean Task Force abroad.
As two ships sailed, their crews "completed a series of naval combat exercises in the fleet's training ranges in the Black Sea," the ministry said.
Upon arrival, the ships were set to join their fellow Admiral Grigorovich-class Admiral Essen, which, like the Admiral Makarov and Admiral Grigorovich, can carry up to eight Kalibr-NK launchers capable of hitting targets more than 1,600 miles away. Russian surface ships and submarines have utilized Kalibr missiles to strike Islamic State militant group (ISIS) positions as part of Moscow's campaign to support Syrian President Bashar al-Assad against a rebel and jihadi uprising.
On Friday, however, Syria was directly engaged with another enemy: northern neighbor Turkey, which on Thursday lost at least 33 troops with additional wounded in airstrikes that threatened to bring the two countries to war and potentially set off a larger confrontation between international forces.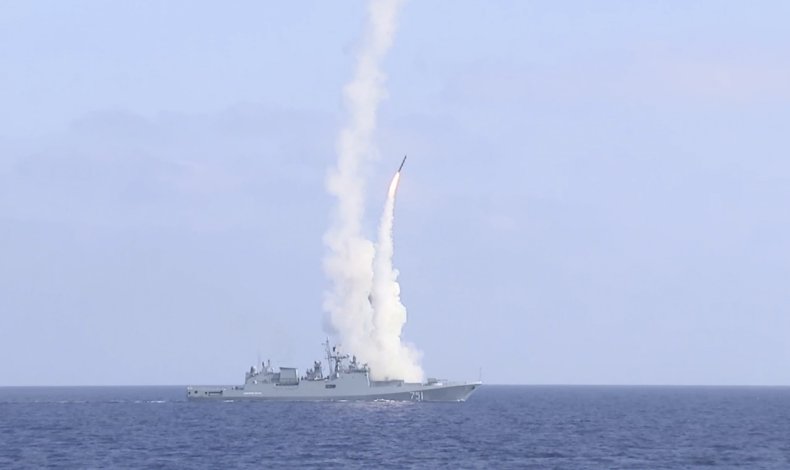 Support from Iran and Russia has helped the Syrian government gain the upper hand in the country's almost nine-year civil war, allowing the military to retake nearly all opposition-held territory with the exception of the northwestern province of Idlib and some other strips of land along the border with Turkey. Ankara backed the insurgency from the onset of the conflict but has recently found itself in direct conflict with Damascus as rival operations collided.
Syrian troops and their allies have steadily advanced into Idlib as a ceasefire brokered by Russian President Vladimir Putin and Turkish President Recep Tayyip Erdogan broke down. Turkey has sought to halt this advance by sending more troops and equipment that both Syria and Russia allege have been supplied to jihadis such as Hayat Tahrir al-Sham, the former Syrian branch of Al-Qaeda that dominates Idlib.
The Russian Defense Ministry told reporters Friday that Turkish troops were embedded "in the terrorist units' battle formation," according to the state-run Tass Russian News Agency. A Kremlin National Security Council readout that same day stated that the "tragic cases when Turkish soldiers lost their lives occurred during the terrorists' offensive operations. It was pointed out that Turkish military personnel was not supposed to be anywhere outside their observation posts in Idlib."
A number of Turkish troops have been killed over the past month in raids blamed on the Syrian military, but Friday's attack proved by far the deadliest yet. Turkish forces have retaliated to attacks on their positions, killing what they claim to be up to 2,000 Syrian soldiers along with dozens of weapons such as surface-to-air missile systems, along with vehicles, equipment and ammunition depots.
Syrian Foreign Ministry and Defense Ministry officials dismissed these figures as an "exaggeration" designed to cover up the Turkish military and allied insurgent's losses throughout the latest Syrian military offensive, according to the state-run Syrian Arab News Agency.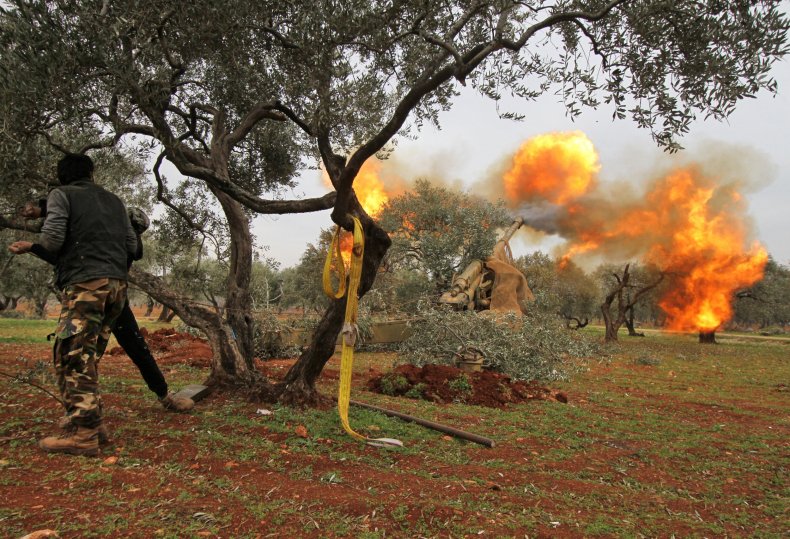 Still, Ankara has pressed for support from a powerful group of partners: the U.S.-led NATO Western military alliance. Turkey was recently criticized by NATO allies for ignoring pleas not to launch a cross-border offensive against Pentagon-backed Kurdish fighters and for purchasing Russia's S-400 surface-to-air missile system. But the 29-member coalition condemned the strikes that killed Turkish troops on Thursday.
"Allies offer their deepest condolences for the death of Turkish soldiers in last night's bombing near Idlib. Allies condemn the continued indiscriminate air strikes by the Syrian regime and its backer Russia in Idlib province," NATO Secretary-General Jens Stoltenberg said in a statement Friday. "We call on them to stop their offensive. To respect international law. And to back U.N. efforts for a peaceful solution."
A number of individual alliance leaders also offered their solidarity, and the White House released a readout of a call between Erdogan and President Donald Trump.
"President Trump expressed his condolences and condemned yesterday's attack that killed Turkish personnel in Syria," the statement read. "President Trump reaffirmed his support for Turkey's efforts to de-escalate the situation in northwest Syria and avoid a humanitarian catastrophe. The two leaders agreed that the Syrian regime, Russia, and the Iranian regime must halt their offensive before more innocent civilians are killed and displaced."
Amid Trump administration threats of intervention against a looming Syrian offensive in Idlib back in August 2018, Moscow sent its largest-ever force to the Mediterranean and warned of retaliation against any attacks threatening Russian personnel.
President Trump as otherwise indicated, however, that he sought to further extract the U.S. from the conflict, turning what's left of the fight against ISIS to Russia, Iran, Iraq and Syria. Once a leading supporter of the insurgency against Assad, the U.S. has gradually refocused its mission to defeating ISIS and, as of October, maintaining control of oil and gas fields.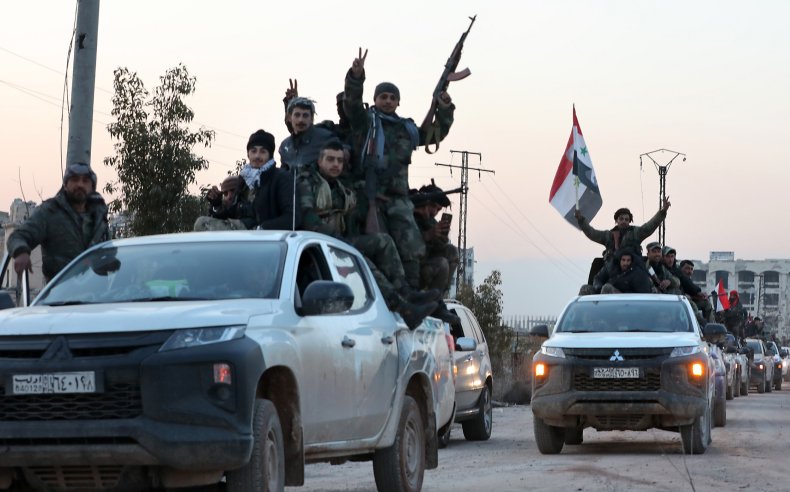 Meanwhile, fierce ground fighting continued between the warring sides in Idlib, especially over the strategic town of Saraqib. The town lies on the strategic axis of two major highways the Syrian government seeks to wrest out of rebel hands.
The Syrian Observatory for Human Rights, a U.K.-based monitor with ties to Syria's exiled opposition, reported on continued Russia and Syrian airstrikes across Idlib, with Syrian shelling at times targeting Turkish military positions and Turkish drones retaliating with airstrikes.
The Turkish Defense Ministry announced later Thursday the death of another Turkish soldier and the wounding of two others. The ministry claimed to have neutralized another 56 Syrian soldiers and to have destroyed more Syrian military weapons and equipment in retaliation.
With no clear end in sight for escalating violence in Idlib, Putin and Erdogan have agreed to hold a face-to-face meeting, potentially next week in the Russian capital.
U.N. Secretary-General António Guterres pleaded for combatants to avoid civilian casualties and described the recent exchanges of hostilities of Syrian and Turkish forces as "one of the most alarming moments" of the seemingly intractable conflict. He told reporters in New York that "now it's time to give a chance for diplomacy to work, and it's essential that fighting stops."