President Donald Trump said Tuesday that it is time for the United States to pass the fight against the Islamic State militant group (ISIS) on to Russia, Iran, Iraq and Syria, and to instead focus on maintaining control of oil resources in the region.
Speaking at a press conference in the Indian capital of New Delhi, Trump said that "nobody's done more than I've done" to battle ISIS in the Middle East, "but at the same time, Russia should do it, Iran should do it, Iraq should do it, Syria should do it." He focused on the Islamic Republic in particular, saying "Iran hates ISIS and they should do it."
"We've done a great job, we've taken our soldiers essentially out of Syria except for little hotspots we figure we'll develop," Trump added. "We've taken the oil and the soldiers we have there are the ones guarding the oil, we have the oil, so that's all we have there."
He said the U.S. continued to maintain a "small force" in Iraq and Afghanistan but was "moving out and moving around."
Trump's comments soon caught the attention of Iranian Foreign Minister Mohammad Javad Zarif, who considered them an admission of "what we all knew: US troops in Syria to 'have the oil'" and "that Russia, Syria, & Iran can fight ISIS, confessing, "Iran hates ISIS.'"
The top Iranian diplomat also criticized Trump's assertion that his forces were contributing to the battle against the jihadi group, referencing his decision to assassinate Revolutionary Guard Major General Qassem Soelimani last month in the Iraqi capital of Baghdad. "But not only did US NOT fight ISIS, it cowardly murdered its #1 enemy—with ONLY Trump cronies & ISIS celebrating," Zarif tweeted.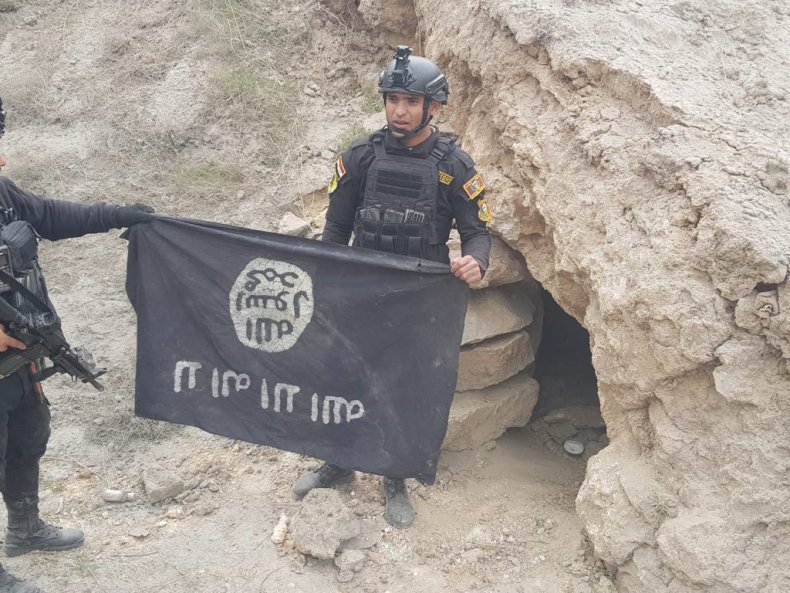 Soleimani was among the first to respond to ISIS' rapid gains in Iraq and Syria, assisting local government forces and Kurdish fighters while mobilizing allied Shiite Muslim militias to beat back the ultraconservative Sunni Muslim insurgency. When a U.S.-led coalition intervened in the two neighboring nations in 2014, Washington and Tehran found themselves on the same side in Iraq but on opposing ends of Syria's civil war.
The U.S. had initially supported the 2011 rebel and jihadi uprising against Syrian President Bashar al-Assad but shifted but in 2015 teamed up with the majority-Kurdish Syrian Democratic Forces seeking to defeat ISIS. Around this same time, Russia intervened in favor of the Syrian government and its allies against opposition and militant groups.
Both Iraq and Syria had declared victory over ISIS by late 2017, the year Trump inherited the anti-ISIS campaign from his predecessor, and the U.S.-backed Syrian Democratic Forces officially claimed to have defeated the group last March. Remnants of the group's self-proclaimed caliphate remain active, however, as do tensions between local, regional and international forces.
The U.S. and Iran's long-running dispute devolved into renewed unrest in the wake of the Trump administration's decision in 2018 to leave a multilateral nuclear deal and begin imposing strict sanctions against the Islamic Republic. Iraqi lawmakers have called for the immediate withdrawal of U.S. forces and Iran-aligned militias have staged attacks, spurring a cycle of tensions that culminated last month with Soleimani's death and retaliatory Iranian missile strikes on Iraqi bases housing U.S. personnel.
In Syria, the U.S. continues to oppose Assad's rule, accusing the leader of war crimes, but the Pentagon repositioned forces in October to instead prioritize controlling oil facilities in the country's northeast. Syrian Democratic Forces deployed elsewhere struck a security agreement with Damascus and Moscow in order to help defend against a new offensive staged by Syrian insurgents and their main remaining international backer, Turkey.
Russia, Syria and Iran have all called on the Trump administration to pull troops out of Syria, and confrontations between the U.S. on one side and Russian soldiers and pro-government fighters on the other have at times turned violent. Trump had initially signaled in October that he was pulling out of Syria altogether but his administration has since neglected to provide a timeline for any such withdrawal.
He then called on other players to step up their roles in fighting ISIS. "Russia hates ISIS as much as the United States does, Iran hates ISIS. We're fighting a war for Russia? We're fighting a war for Iran? You look at Syria, Syria hates ISIS, we're over there killing ISIS, don't forget we're 7,000 miles away," The president told reporters at the time.
"Russia's much closer, Iran is right there, Turkey is right there, they all hate ISIS, Turkey a little bit less so, but the others very much," he then added.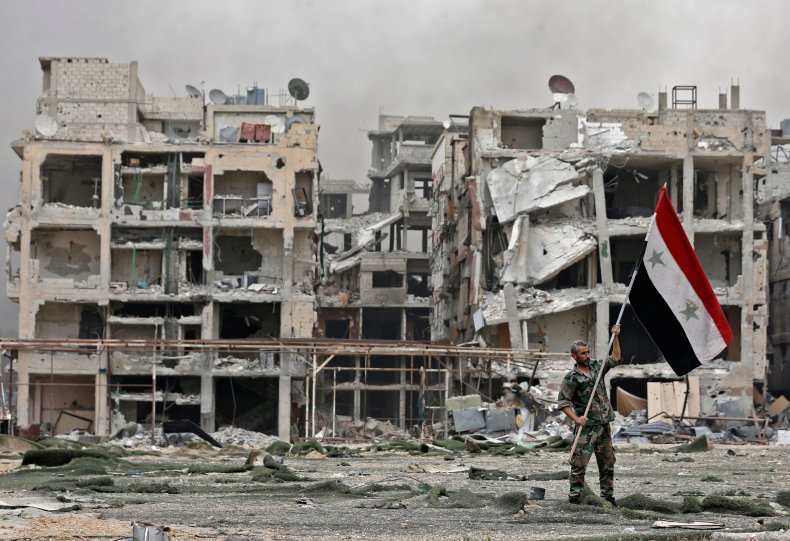 While Russia has recently focused on supporting Syria and its allies retake parts of Idlib province from jihadi groups not aligned with ISIS and Turkey-backed rebels, the U.S.-led coalition has continued to advertise its efforts to back local forces fighting ISIS in Iraq and Syria. Last week, the coalition shared a press release regarding recent operational successes.
Anti-ISIS operations have remained especially active in Iraq. On Tuesday, Iraq's Counter-Terrorism Service announced new operations targeting ISIS fighters in the Khanouka mountains of Al-Sharqat town in Saladin province, north of Baghdad.
Fears of renewed ISIS influence have also emerged in Egypt's Sinai Peninsula. The jihadi group established a branch in the restive region years ago and fighters have claimed deadly attacks mainly targeting security forces and members of the country's Christian minority.
ISIS' Sinai affiliate claimed attacks on Egyptian troops in recent weeks, including the bombing of a gas pipeline that runs through Israel. The latest violence comes shortly after ISIS spokesperson Abu Hamza al-Qurayshi called on fighters to target Israeli and Jewish targets in a message later translated into Hebrew by the group's media outlets.
The number of remaining ISIS fighters around the world is unknown. James Jeffrey, Trump's envoy to the U.S.-led coalition against ISIS, estimated in August about 15,000 ISIS militants remained in Iraq and Syria alone, though he noted this figure had "a standard deviation of significant thousands in either direction."