Donald Trump Says Turkey Hates ISIS 'A Little Less' Than U.S., Russia, Iran and Syria
President Donald Trump said that the Islamic State militant group (ISIS) was a common foe of the United States, Russia, Iran, Syria and Turkey—but the latter may not be quite as engaged as the others.
At a press conference alongside his Italian counterpart, Trump defended his decision to withdraw U.S. troops from northern Syria as Turkey and allied Syrian rebels advanced toward Kurdish-led forces backed by the Pentagon against ISIS but considered terrorists by Ankara. The president said that he would not get involved with Turkey's dispute against the Kurds and the Syrian government, which have since teamed up following the U.S. exit, and that lingering jihadi threats could be solved by other powers.
"Russia hates ISIS as much as the United States does, Iran hates ISIS. We're fighting a war for Russia? We're fighting a war for Iran? You look at Syria, Syria hates ISIS, we're over there killing ISIS, don't forget we're 7,000 miles away," Trump told reporters.
"Russia's much closer, Iran is right there, Turkey is right there, they all hate ISIS, Turkey a little bit less so, but the others very much," he added.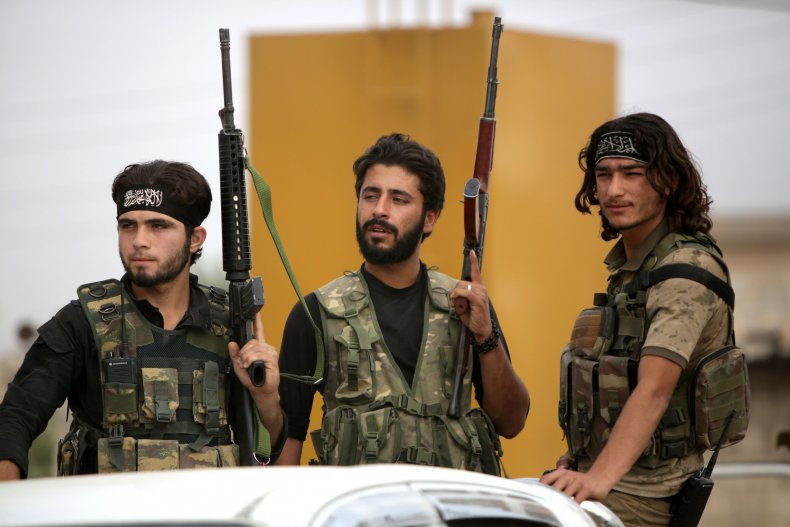 The U.S. and Turkey were initially on the same side upon entering Syria's protracted civil war, and were joined by Israel, Qatar and Saudi Arabia in backing a 2011 rebel and jihadi uprising against Syrian President Bashar al-Assad. As the conflict wore on, however, Ankara gradually became the last major sponsor of the insurgency as the Pentagon refocused its efforts to backing the majority-Kurdish Syrian Democratic Forces in 2015.
Russia entered the fight around this same time on behalf of Assad, who had already received backing from Iran and allied militias. The two rival campaigns backed by the Syrian Democratic Forces and Syrian government managed to devastate much of the militants' standing army, leaving the two factions with the largest share of the country.
Turkey, however, remained supportive of the opposition, which came to include an array of mostly Sunni Muslim Arab groups, some espousing ultraconservative Islamist ideologies. Turkish President Recep Tayyip Erdogan has ordered at least two major cross-border incursions prior to the ongoing operation, arguing they were to secure his country from both ISIS and the Kurdistan Workers' Party (PKK)—a group outlawed by both the U.S. and Turkey and linked by the latter to the Syrian Democratic Forces' People's Protection Units (YPG).
"If you look at the Kurds, and again, I say this with great respect, they're no angels," Trump told reporters Wednesday. "Take a look at PKK, ISIS respects PKK, you know why? Because they're as tough or tougher than ISIS, you take a look at a lot of the things having to do, you have to say it, nobody wants to say it, we're making the Kurds look like angels."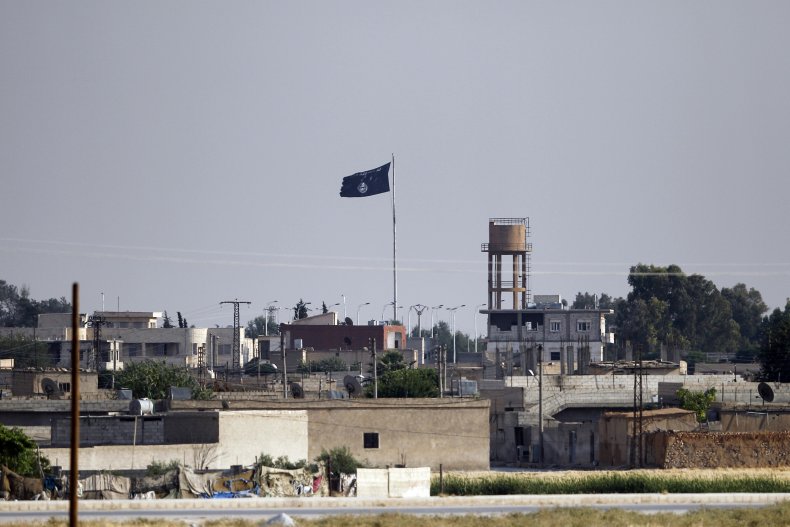 The Syrian Democratic Council, the political wing of the Syrian Democratic Forces, however, argued it was their foes that resembled ISIS, saying that "The practices of the Turkish affiliated forces are similar to ISIS, even though these forces have different names" in a statement sent to Newsweek.
With the U.S. military pulling out of positions across northern Syria, the Syrian troops and allied Russian forces have assumed a number of the abandoned sites. Asked by Russia's state-run RT outlet about a potential direct clash with Turkey, Assad's media adviser Butheina Shaaban warned Wednesday that "everything is possible" and condemned what she called "a Turkish invasion and aggression."
Tehran, too, has criticized the action, urging Ankara to halt the attack on Syrian territory. Moscow also has expressed concern, with Russian President Vladimir Putin's special envoy to Syria warning that Russia "will not allow" a clash between Turkey and Syria.
Putin has invited Erdogan to visit the Black Sea city of Sochi soon for talks regarding the situation in northern Syria. A Trump administration delegation, including Vice President Mike Pence and Secretary of State Mike Pompeo, has arrived in Ankara to meet with the Turkish leader over recent events in the war-torn country.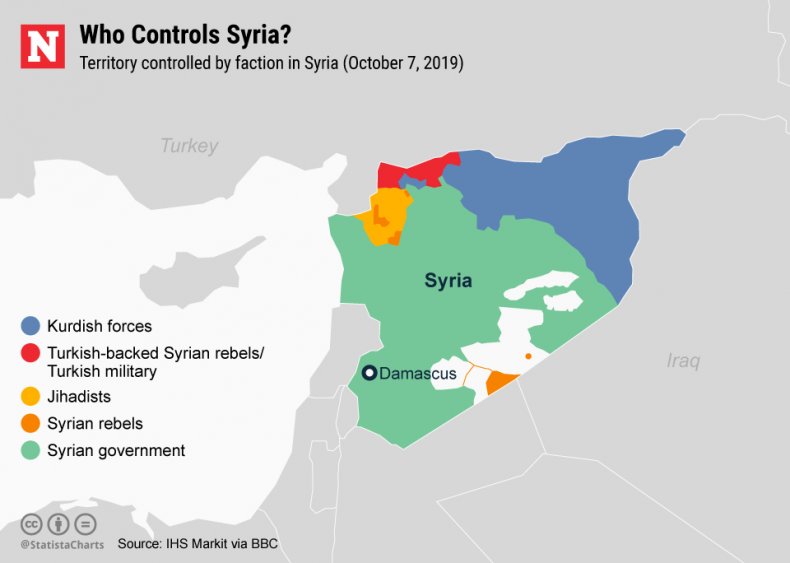 Source: Statista