Russians Claim to Find Plentiful Food and Water in Azovstal Plant After Surrender
Russian sappers explored the abandoned Azovstal plant and say they discovered plentiful supplies of food, water and equipment left by the Azov Battalion after their surrender.
After seizing Mariupol last week, Russian sappers have cleared the area of mines and destroyed over 12,000 explosives, adding that the port city has now returned to normal activity.
Meanwhile, members of the People's Militia of the Donetsk People's Republic (DPR) said they found entire workshops and plentiful food supplies in the catacombs of the city's Azovstal metallurgical plant, suggesting that hundreds of holed-up Azov fighters there did not need to surrender.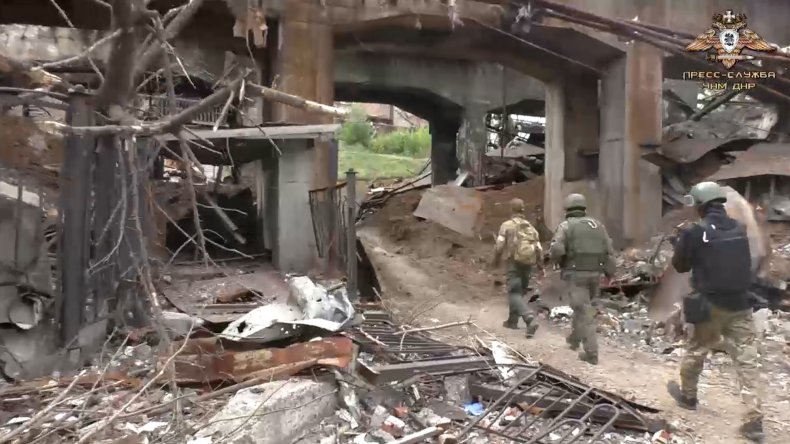 The militia released a video from their explorations of the plant, saying they found 41 workshops, 80 auxiliary buildings and 22 canteens along with large workshops for allegedly producing explosives, including blast furnaces and rolling mills.
Pro-Russian soldiers also found a large network of tunnels stretching for kilometers under the Azovstal plant, calling it a "city within a city."
There was also a plentiful supply of drinking water that would have lasted the Azov Battalion for at least several more weeks.
According to the militia, there was also a healthy supply of food, medicine and electricity.
Pro-Russian soldiers said they found pasta, sunflower oil, stewed pork, sardines, and different types of canned goods.
Meanwhile, Azov fighters apparently communicated with the use of portable satellite routers after a Starlink router was found in a pickup truck.
Their barracks were located on the lower levels of the Azovstal plant and the DPR claimed they tried to destroy all evidence of their activities before surrendering to Russian troops last week.
The DPR militia said they found electric devices such as phones and laptops that had been destroyed or wiped clean before the Azov soldiers gave themselves up.
Pro-Russian sappers are continuing to explore the abandoned plant after only searching around 30 percent so far, adding that they expect to discover many more secrets about its former inhabitants before the conflict is concluded.
In other developments, Ukrainian officials said Russian forces have attacked more than 40 towns in the eastern Donbas region.
They added that five civilians died, 12 were wounded and 47 civilian sites were destroyed or damaged in the latest attacks.
Russian President Vladimir Putin signed a decree Wednesday that makes it easier for Ukrainians in occupied areas to become citizens of Russia.
Russia has also done away with the upper age limit for contractual service in its military.
Ukraine has called Russia's offer to lift the blockade of its Black Sea ports in return for the lifting of some sanctions "blackmail."
The blockade has led to shortages in wheat and cooking oil across the world.
Russian troops invaded Ukraine on February 24 in what the Kremlin is still calling a "special military operation."
May 26 marks the 92nd day of the war.
From February 24 to May 26, the total combat losses of Russian troops stand at around 29,600 personnel, according to the General Staff of the Armed Forces of Ukraine.
The Ukrainian military also claims that Russia has lost 1,315 tanks, 3,235 armored fighting vehicles, 617 artillery systems, 201 multiple launch rocket systems, 93 anti-aircraft systems, 206 warplanes, 170 helicopters, 2,225 motor vehicles and fuel tankers, 13 vessels, 502 unmanned aerial vehicles, 47 units of special equipment, and 114 cruise missiles.
This story was provided to Newsweek by Zenger News.