Russian Orthodox Church Is Security Threat to Ukraine, Says President
The Russian Orthodox Church poses a "direct threat to the national security of Ukraine," the country's president has said.
Orthodox Christianity has been the most popular religion in both Russia and Ukraine for centuries, despite decades of official atheism, enforced by the Soviet Union. The religious links between Ukrainians and Russians, which date back to Medieval times, have become more contentious in recent years. Mass protests against a pro-Russian government in Kiev in 2014 triggered a Russian military incursion, a Moscow-backed insurgency in eastern Ukraine and a wider collapse in relations between the nations.
The Russian Orthodox Church has retained very close ties with the Kremlin, polarizing worshippers in Ukraine. Moscow's patriarchate, which Orthodox churches in Ukraine were under before the Soviet Union's collapse, views itself as the sole legitimate office for the faith. However, a parallel Kiev patriarchate emerged in Ukraine in 1992. The two are sharply opposed on the nation's spiritual identity. This issue is now a question of security, Ukrainian President Petro Poroshenko said at a church anniversary for both Moscow and Kiev on Saturday.
"I believe it is absolutely necessary to cut off all the tentacles with which the aggressor country operates inside the body of our state," Poroshenko said. The Ukrainian leader added Moscow's church was "separated from the state only on paper," in a statement from his administration.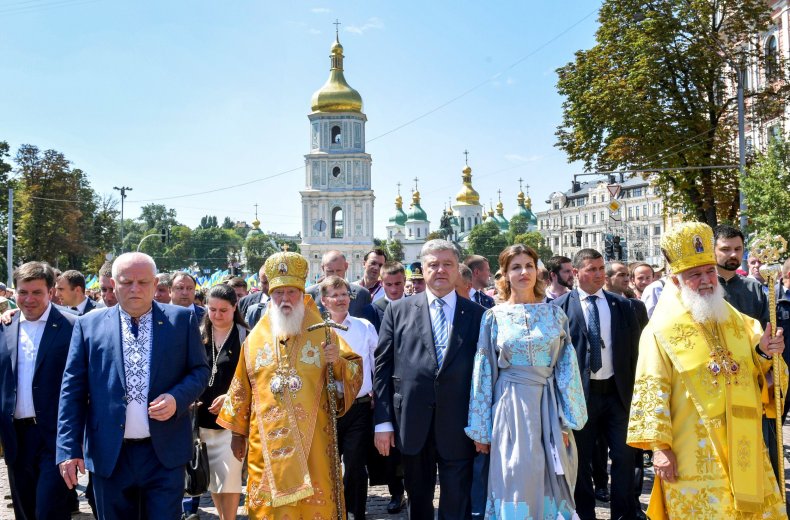 Poroshenko explained his remarks by labeling the Russian Church an originator of the "Russian World doctrine," a broad philosophy that views various peoples in eastern Europe and central Asia in terms of their similarities to Russians. Orthodox countries where large groups speak Russian often fit into the vague description of the term. Moscow's Patriarch Kirill, who has called Russian President Vladimir Putin's reign "a miracle from God," is himself partial to the term. Naming Ukraine and Belarus as part of this "Russian World," the head of Moscow's church said in 2015 the idea was not based on politics but shared values that underpin "the eastern Slavic civilization," state news agency RIA Novosti reported.
The stark difference in the attitude towards Putin by the Moscow church and the much more critical Kiev patriarchate has become a recurring theme for Poroshenko, following Russia's annexation of Crimea from Ukraine in 2014 and the ensuing conflict in the Donbas region. Many Russian and pro-Russian fighters in Donbas have embraced philosophies that hinge on similar religious ideas. Reports from the region even claimed that some of them were occupying church property while fighting Ukrainian forces in Donbas. The Church has denied any formal support, but Poroshenko has repeatedly voiced alarm at the Moscow church's ideological stance.
"It completely and irresponsibly supports the revanchist, imperial policy of the Kremlin," Poroshenko said of the Russian church on Saturday. "A situation such as this is a direct threat to the national security of Ukraine. It simply mandates us to act."
Read More: What are Russia's International Army Games, that India, China and Iran are attending?
He did not announce any actions against the Russian church, promising that Ukraine's government would "not meddle in purely internal church matters." However, he vowed to stop other countries from doing that too. The Ukrainian leader has spoken favorably of a campaign to obtain official recognition for a unified Ukrainian Orthodox Church, despite Kirill and Russia's opposition. Speaking on Saturday, Poroshenko endorsed the idea in his speech, but said he did not want a contentious schism.
"A war in the name of religion is war against religion itself," Poroshenko said, citing the patriarch of Constantinople. "A joint creation of an independent church cannot be a reason for disagreement, an excuse for conflict or violence. On the contrary, it is a road to peace, calm and mutual understanding."