What Are the International Army Games? Russia, China, Iran and Others Kick Off Combat Olympics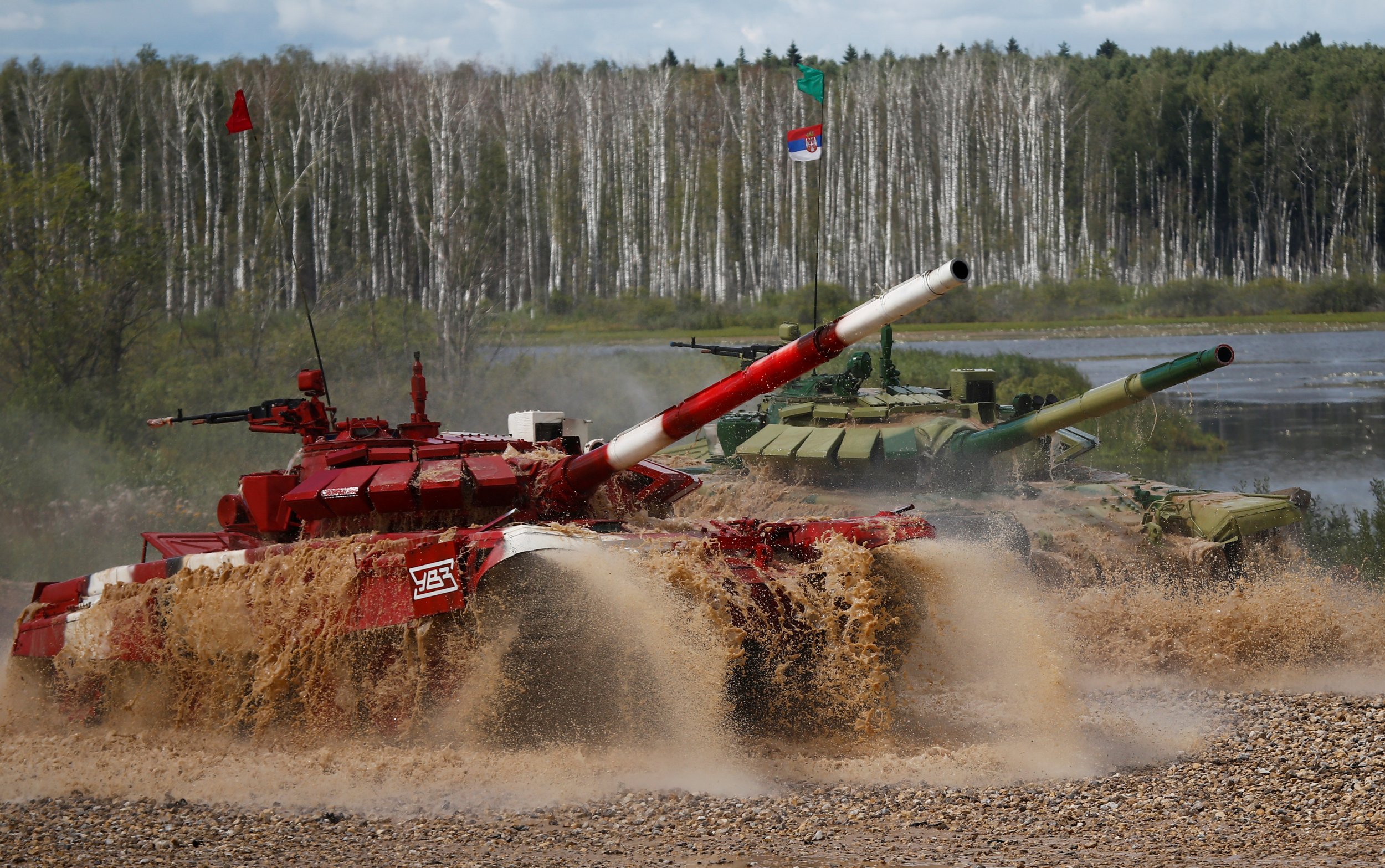 Russia has launched its fourth annual International Army Games, which will pit its troops against China, India, Iran and from 28 other countries in a spectator sports version of warfare on land, sea and in the air.
The competition, which Russia has gradually expanded, will go on for two weeks and include heavy-duty events such as the marquee tank biathlon and fighter jet maneuvering contest Aviadarts, but also smaller scale competitions such as a service dog race or a field kitchen cook-off. Russian Defense Minister Sergei Shoigu has hailed this year's installment of the games as the biggest yet, as Russia will share hosting duties with six other countries and welcome 181 teams from the participating states.
"This is almost a third more than last year," Shoigu said when announcing the final roster for the event last month. "For the first time service personnel from Algeria, Vietnam, Sudan, Myanmar, Pakistan and the Philippines will show their mastery," he told Russian state news.
So far, Russia has been the most eager participant, frequently fielding the most teams and finished with the most wins across all competitions. Russia's success in one of the games' most popular events—the tank biathlon—led to army chief Oleg Salyukov declare Russia's tank crews as the "best in the world" last year. Given that Russia offers its own military kit to nations who want to participate but are unwilling to ship their tanks to an obstacle course outside Moscow or their jets to the competition's airfield, the event has also served as an opportunity to advertise Russian military technology to prospective buyers.
As far as the U.S. and NATO militaries are concerned, Russia annually and publicly invites them. Last year, Salyukov taunted NATO allies, claiming they "are not ready" for the contest. However, a NATO official told Newsweek that Russia's insistence on holding military drills that violate agreed rules has thwarted interest in joint events.
NATO has suspended practical cooperation with Moscow in protest of the annexation of Crimea in 2014, while Russia has been reluctant in its diplomatic outreach. Speaking about the event last year, a NATO official said that "such invitations are no substitute for proper transparency and confidence-building measures—such as OSCE observation of military exercises—which Russia routinely avoids."
Read More: Trump said he got a "dictator or two" to increase NATO defense spending
Greece is the only NATO ally scheduled to take part in the event and it will only participate in one competition. Israel and Egypt, both of which receive considerable military aid from the U.S., will participate and both will face-off on the tank biathlon circuit against regional rival Iran and a team from the Syrian military.
The competitions will go on until August 11, wrapping up with the finals of the most popular events of the games and the closing ceremony.