Trump Says at NATO He Got 'A Dictator or Two' to Spend More on Military
President Donald Trump boasted that during his trip to NATO this month he was able to convince U.S. allies, including "a dictator or two," to spend more on defense.
Trump segued into discussing his tempestuous summit with NATO leaders at the start of the month, after a string of self-praising remarks in front of a boisterous crowd of supporters in Granite City, Illinois.
The president hailed his tariff policy, before weighing in on his visit to Brussels earlier this month, where he struck a combative tone upon arrival, before changing course and declaring triumph in managing to convince allies to spend more on defense—something no major allies' leaders have confirmed actually happened at the summit.
Trump has continued to extoll the virtues of his NATO strategy however, telling the Illinois crowd: "They said I was too nasty to NATO and too nice to Russia," according to a CSPAN broadcast of his rally. "The one thing I know about NATO for sure is that it is better for Europe than it is for us. A lot better for Europe," Trump argued, doubling down on spurious figures relating to the alliance.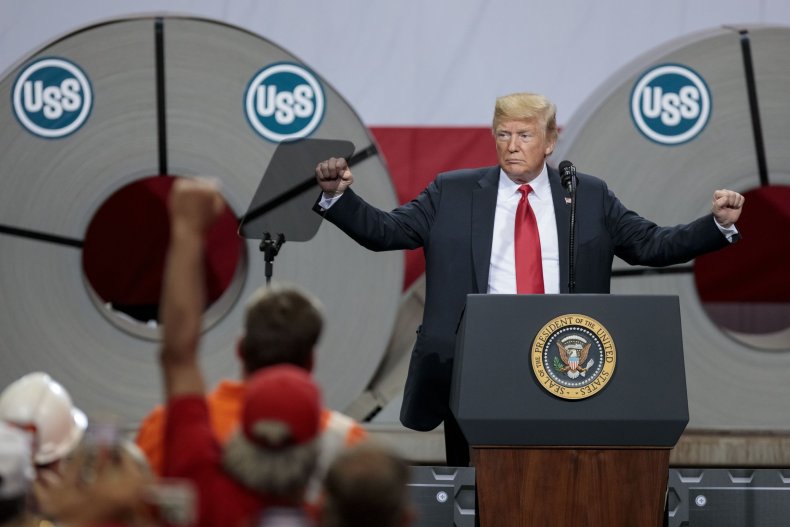 While U.S. spending on collective defense is easily the highest out of the 29-member bloc, Trump has repeatedly suggested that European allies have "bills" to pay for the alliance.
The facilities operated by the alliance itself are minimal and serve to coordinate the militaries of all allied nations. Members fund and determine the size of their respective militaries and the only NATO target is a non-binding agreement struck in 2014 that countries should aim to all spend at least two percent of GDP on national defense.
Although suggesting this be increased, before the end of this month's summit, Trump left Brussels without clearly stating whether this will happen.
"At the end of that meeting, they agreed that they would be paying up. Hundreds of billions of dollars more money will be spent on NATO and we're not going up, by the way. We're not going up," he said at the rally.
French President Emmanuel Macron was among those to confirm that no new agreements were made earlier this month, but allies merely "confirmed" the commitment from 2014.
Italy's Giuseppe Conte said "there is no additional spending" for his country either. Trump has continued to argue that measured praise from senior NATO officials for his calls that countries spend more on defense means his approach is successful.
"The head of NATO, the Secretary General [Jens] Stoltenberg, great guy, he is my biggest fan in the whole world. He said without President Trump these people just weren't paying their bills and now they're paying their bills and they're proud to do it. But the press said I treated them badly. I treated them with disrespect.
"These are kings, queens, presidents, prime ministers and a dictator or two—they were the ones that actually were able to pay the easiest—so I did a good job with you for NATO," Trump concluded.
Trump did not elaborate on which NATO countries' leaders he regards as dictators. When asked if NATO considers any of its members to be dictatorships, a NATO official referred Newsweek to ask the White House for clarification. The White House did not immediately respond.
Read More: Trump is complaining that the U.S. must spend "less" on defending Europe but his administration is outspending Obama's
Previously, Trump's Defense Secretary James Mattis hailed NATO as an organization of "democratic nations" and repeatedly referred to allies as "our democracies," at last month's NATO ministerial.
President George W. Bush regarded Belarus as "the last remaining dictatorship in Europe," in comments that his Department of State reiterated in 2005. Belarus is not a NATO ally, but has continued to be governed by President Alexander Lukashenko to this day.
The Pentagon and the Department of State did not immediately respond to a request for comment on whether it stood by these previous assessments.
Jacob Parakilas, expert at think tank Chatham House's U.S. and The America's Programme says Trump's claim may be more a case of disregard for accuracy than any strategic point about specific NATO allies' politics.
"Honestly, while I think there are things to worry about in terms of Trump's attitudes towards democratic vs. authoritarian leaders, I wouldn't read too much into this quote," he says. "It strikes me as a casual-to-the-point-of-inaccuracy way of characterizing the heads of state and government represented in NATO. That's reflective of his own lack of interest in other countries' governance, but nothing more than that."