Russia Invited NATO Militaries to Join Tank Olympics, But They 'Aren't Ready,' Says Russian General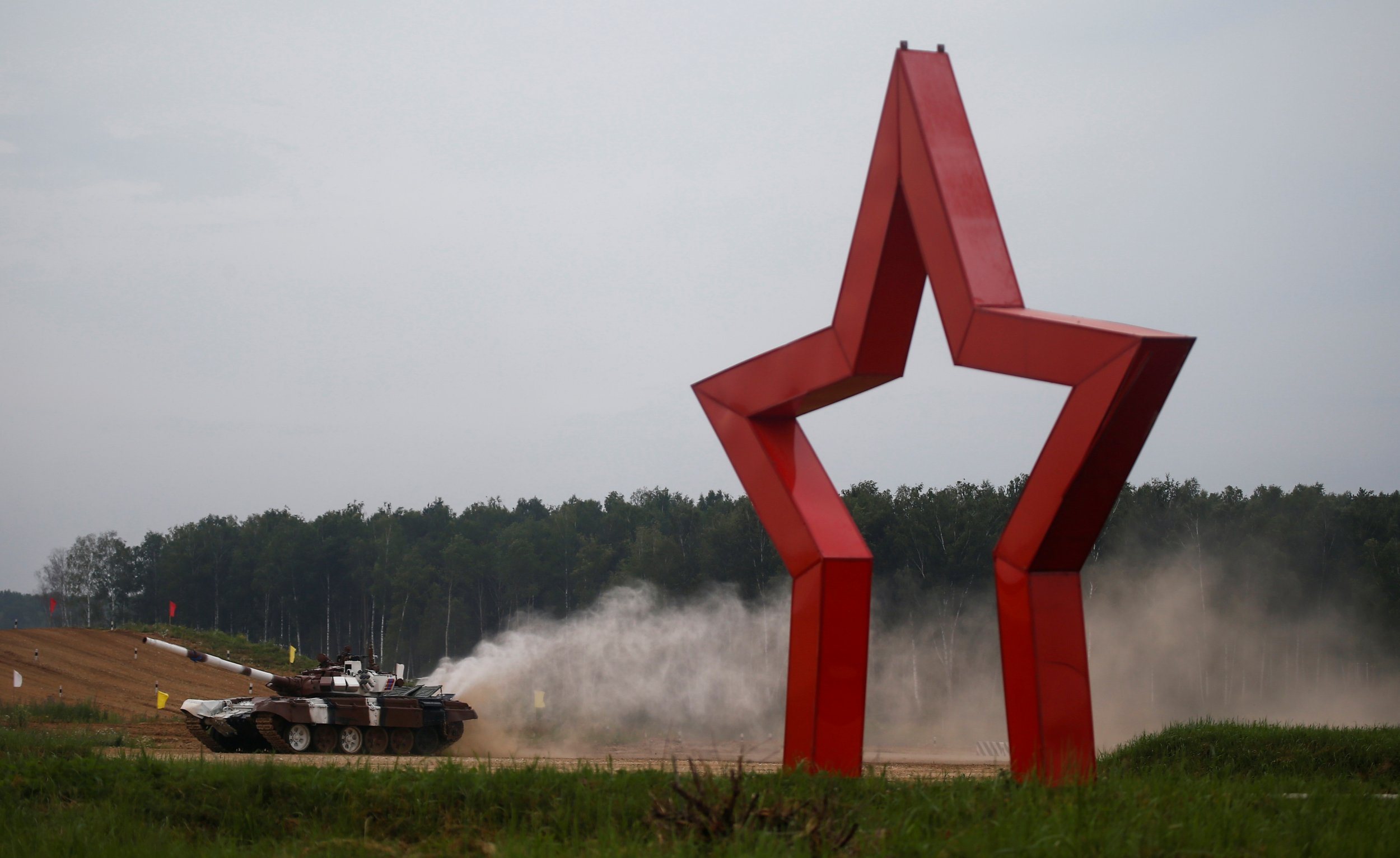 Russia's tanks are the "best in the world" and are ready to take on NATO members, according to a Russian army chief who gave state news agency Itar-Tass a chest-thumping statement Monday, ahead of the International Army Games.
Russia is sharing hosting duties with three other countries for this year's International Army Games, a boisterous event that is one part Olympics and two parts military training. China, India, Iran and others are attending the third annual event of its kind that opened Friday; Commander in Chief of Russian Ground Forces Oleg Salyukov said the games were open to NATO members, but none chose to attend.
Read more: Russia wants its new generation of jets to destroy missiles with lasers. Will it work?
"I have spoken about this repeatedly," Salyukov said. "We sent invites to 78 countries, including NATO countries. When I am asked about this, I joke that maybe they are not ready. But we are ready for a fair contest."
The general noted that NATO and Russia ties have been deeply hampered by their opposing views on Russia's annexation of Crimea and conflict in eastern Ukraine. "But we are ready, and the [defense] minister said this—we are inviting them," he said, underscoring that the event is meant to inspire friendly competition.
Communication between Russia and NATO has been patchy since the start of hostilities in Ukraine in 2014, with Russia refusing to hold a senior military-to-military call until March of this year. NATO countries have not participated in either of the previous two installments of the games.
A NATO spokesman did not immediately respond to Newsweek's request for comment on Salyukov's statement, or on whether NATO was directly aware of invites sent to its members.
Salyukov referenced one of the the most popular event disciplines in the games: the tank biathlon. The biathlon is an obstacle-course race between tank crews with a round that tests firing accuracy. In the games, visiting countries have a choice to use their own tanks to compete, as China has, or use Russian military-issue tanks.
"Of course I would say that our tanks are the best in the world," Salyukov said. "This I simply know. It is one thing if I say it, but it is quite another when a country sends their guys and they have to master these machines, get firing and, even if they don't finish in the top three, to have a good showing."
Currently, Russia offers its T-72B3 tank for competition, but the pride and joy of the Russian army lies in its incoming kit: the T-14 Armata tank, which is is the main battle tank that Russia hopes will replace the 1990s model. Its manufacturer hails the machine as indestructible by existing anti-tank weapons. While some experts contest whether that is technically true or even possible, the machine's specs are an impressive upgrade for Russia at a time when tank warfare is not a priority area for Western armies. Its true capabilities are yet to earn the "best in world" epithet as it is still a prototype, and its time in the limelight has been largely limited to parade appearances, during one of which a model broke down.
The notable departure in design from the European kit betrays a divergence in strategy, according to a report by the Carnegie Endowment for Peace earlier this year. Tank design in the West is dedicated to providing a sturdy line of defense to cover retreating personnel in the face of greater numbers. Tactically this gives the crew an advantage in defensive positions, such as firing from a position of cover behind a hill or a ridge, which is known as "hull down."
The design of the Armata T-14 is much more suited to advance and assault, rendered more vulnerable if static and, since its turret is unmanned, at a huge disadvantage if forced to provide suppressive fire from "hull down."
Russia's International Army Games began last Friday and are set to continue for 14 days, at the end of which the country with the highest average finishes across all disciplines claims victory.