Russia's Nuclear-Capable 'Valentina' Stealth Bomber Has Over 20-Ton Payload
Russia recently announced a plan to resume production of the nuclear-capable Tu-160 stealth bomber that has a payload capacity of more than 20 tons.
On Tuesday, Russian state-run news agency TASS reported that Russia was resuming production of the Tupolev Tu-160 stealth bomber and naming its newest one for Valentina Tereshkova, the first woman to travel to space.
"The first built Tu-160M has been named in honor of Valentina Tereshkova," United Aircraft Corporation (UAC) Chief Yury Slyusar said.
The Tu-160 bomber was named the "Blackjack" by NATO and was manufactured by the Russian aerospace company Tupelov Design in the 1970s.
The announcement that Russia was planning to resume production of the bomber comes amid the ongoing war Ukraine, which will hit the one-year mark on February 24.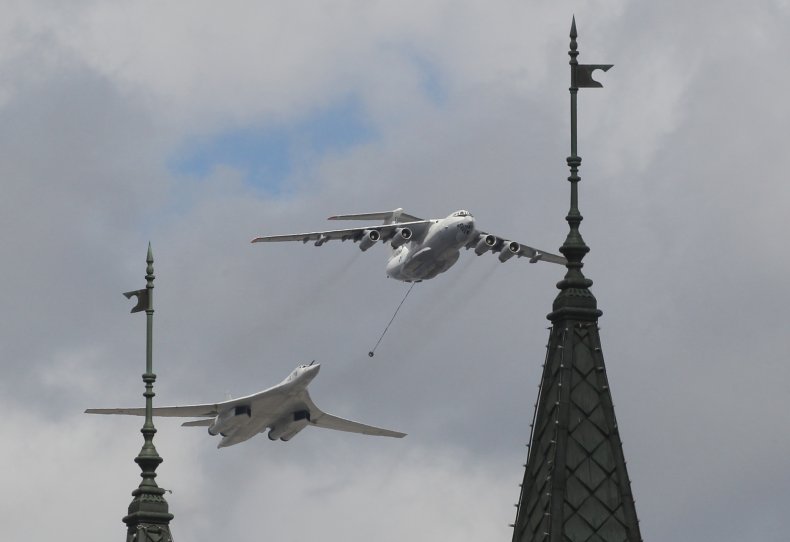 According to Tupelov Design, the Tu-160 made its first flight in 1981 and "by 2000, 36 Tu-160 aircraft had been produced."
The Tupelov Design website says that the Tu-160, also nicknamed the "White Swan," has set numerous world records as the "largest supersonic aircraft" and "as well as the world's heaviest combat aircraft having the highest gross take-off weight among bombers." The aircraft traveled with a payload size of 30 tons during a 1,000-kilometer flight.
Russian state-run news outlet RIA Novosti reported in 2018 that the Tu-160 had a payload size of more than 45 tons, or 99,208 pounds. TASS also reported on Tuesday that the aircraft is built to carry nuclear and conventional weapons.
Ian Williams, a member of the International Security Program at the Center for Strategic and International Studies, told Newsweek that the maximum payload for the Tu-160 could near 30 tons (a little more than 27,000 kilograms) but noted that the "typical" payload is smaller.
"Your typical payload would be closer to maybe 12,000, 15,000 kilograms," Williams told Newsweek on Wednesday. "There's the max payload but then the more operational, realistic payload....There would be drawbacks to loading your bomber up that heavy, it's going to affect speed, affect fuel consumption, it's going to affect the range. They are the best bomber [Russia] has."
Amid the war in Ukraine, there has been the continued fear of the possible use of a nuclear weapon. Last month, Reuters reported that Putin ally and former Russian President Dmitry Medvedev wrote on Telegram: "The defeat of a nuclear power in a conventional war may trigger a nuclear war.
"Nuclear powers have never lost major conflicts on which their fate depends," Medvedev added, according to Reuters.
This week, former Russian Army commander Andrey Gurulyov spoke about the use of a nuclear bomb while appearing on Russian state-run TV channel Russia 1.
"We need to win, that is all," he said. "We have to achieve this with the means that we have. I would remind you that a nuclear weapon is not just a bomb, it is the heritage of the whole Russian people."
In September, NATO Secretary General Jens Stoltenberg warned against the use of nuclear weapons saying, "Any use of nuclear weapons is absolutely unacceptable, it will totally change the nature of the conflict, and Russia must know that a nuclear war cannot be won and must never be fought."
Newsweek reached out to the Russian Foreign Ministry for comment.
Update 2/15/23, 12:55 p.m. ET: This story was updated with comment from Ian Williams.