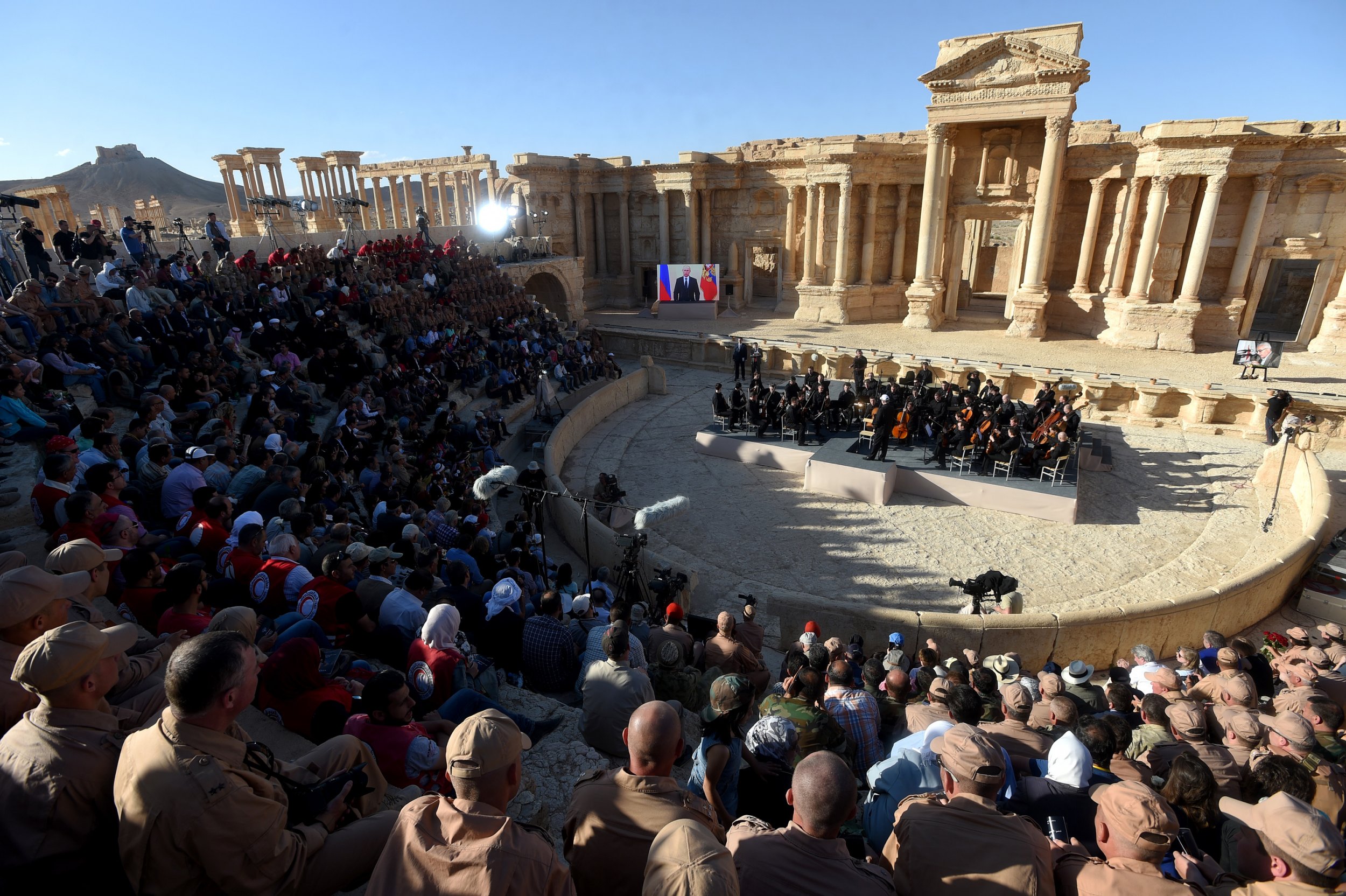 A famous Russian conductor has brought life back to the Syrian city of Palmyra after its liberation from the Islamic State militant group (ISIS), leading a classical concert in the ruins of the ancient city's Roman Theater.
Valery Gergiev conducted St. Petersburg's Mariinsky Symphony Orchestra, guiding them through performances of compositions by Bach, Prokofiev and Shchedrin in a concert entitled " With a Prayer from Palmyra: Music Revives the Ancient Walls" that was also shown on Russian state television.
Russian soldiers assisting the Syrian regime, Russian government figures and journalists witnessed the concert, as well as remarks from Russian President Vladimir Putin in a speech broadcast from their homeland.
"Thank you for today's amazing humanitarian act—the concert in a Palmyra liberated from terrorists. I see it as a sign of gratitude, of remembrance, of hope," the former KGB agent said.
"Today's action involved major inconvenience and dangers for everyone, being in a country at war close to where hostilities are still ongoing. That has demanded great strength and personal courage from you all," he said.
Gergiev is a Putin supporter and the Russian leader's friend and cellist Sergei Roldugin joined the concert to play a solo. Roldugin was named in the recent Panama Papers scandal as being the figurehead for a $2 billion offshore tax avoidance program linked to Putin.
Gergiev has conducted similar concerts after Russia's military victories in previous years. In 2008, he led a concert in the biggest city in the separatist Georgian region of South Ossetia, Tskhinvali, after the six-day Russo-Georgian War. He also supported Putin's decision to annex the Crimean Peninsula in 2014.
ISIS captured the ancient Syrian city from the forces of Syrian President Bashar al-Assad in May 2015, going on to destroy a number of the city's artefacts and killing opponents in the ancient theater. Syrian forces supported by Russian air strikes eventually reclaimed the city in an offensive in March.