Russia's Vladimir Putin Says Worldwide Tensions Might Worsen Due to COVID Pandemic
Russian President Vladimir Putin warned on Wednesday that the coronavirus pandemic has contributed to worsening global tensions.
"The coronavirus pandemic has become a major challenge to mankind, and it has accelerated structural changes, the preconditions for which were already in place," Putin said during a virtual meeting of the World Economic Forum.
"We have every reason to believe that the tensions might be aggravated even further," he continued, citing experts who compared the current state of global affairs to the late 1920s and early 1930s.
Putin added that parallels could be drawn between the past and present in terms of the scale of what he called systemic "challenges and potential threats."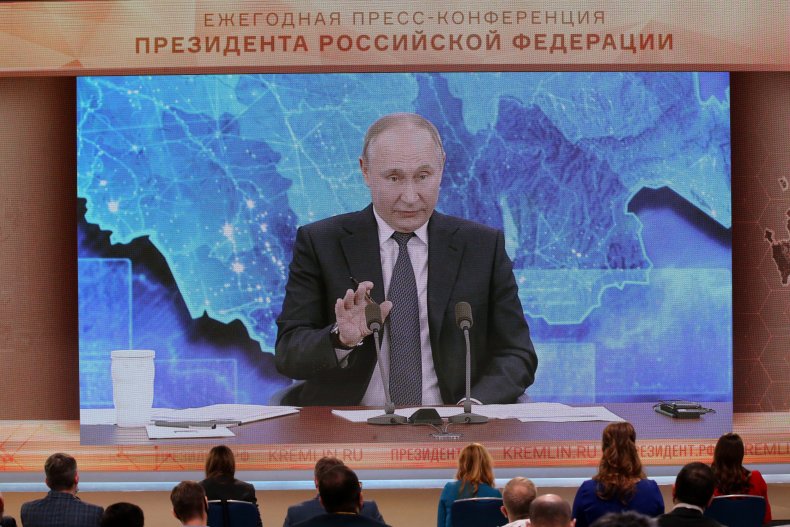 Putin then noted that the pandemic has increased social stratification, which he said, "causes a sharp polarization in public opinion" between right- and left-wing radicalism.
He also said that domestic political processes were becoming more violent.
"All of this cannot but impact international relations, making them less stable and predictable," Putin said.
The Russian leader added that "the failure and inability to centrally resolve such issues resulted in the catastrophic World War II" in the 20th century.
"Of course, nowadays such a heated conflict is not possible, I hope that it's not possible in principle because it would mean the end of our civilization," Putin said. "But I would like to reiterate, that the situation might develop unpredictably and uncontrollably if we will sit on our hands doing nothing to avoid it."
"And there is a possibility that we may experience an actual collapse of global development that might result in a fight of all against all," he continued.
A fight could lead to the "destruction of traditional values" and the loss of fundamental freedoms, such as the right to choice and privacy, according to Putin.
He noted that the common responsibility today is to avoid that dystopian future.
Putin's statements came as the world recorded over 100.4 million coronavirus cases and 2.1 million deaths since the start of the pandemic in early 2020, according to data from Johns Hopkins University.
As of Wednesday morning, Russia reported over 3.7 million cases and 69,900 deaths over the course of the pandemic.
Putin has recently faced recent challenges in regards to the poisoning of Alexei Navalny, a 44-year-old Russian politician and anti-corruption activist who is one of Putin's most well-known critics.
On Tuesday, President Joe Biden spoke with Putin for the first time since taking office and confronted the Russian leader about the incident.
The White House said, in a summary email to Newsweek about Biden's call with Putin, "President Biden made clear that the United States will act firmly in defense of its national interests in response to actions by Russia that harm us or our allies."
Newsweek reached out to the Kremlin's press office, but didn't hear back in time for publication.